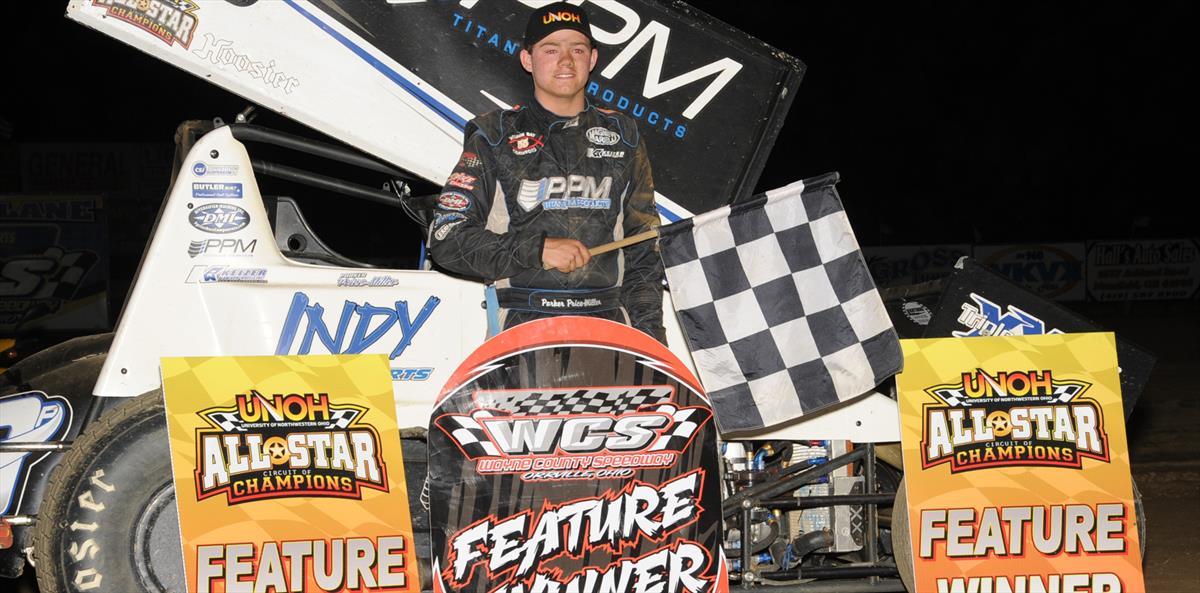 PETERSEN MEDIA
One week after picking up his first career 410ci winged sprint car win, Parker Price-Miller proved it was no fluke as he bested the All Star Circuit of Champions on Saturday night at the Wayne County Speedway.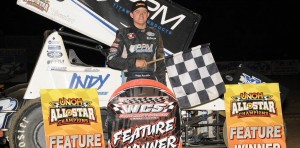 "What a great weekend," Price-Miller said. "After winning last weekend, it was awesome to come out and get another one, this time with the All Stars."
After losing an engine early in the night on Friday, Price-Miller and his team set their sights on the All Star event on Saturday night.
31 cars checked into the event, and Price-Miller got his night off to a great start as he timed the PPM Titanium Products/Indy Race Parts/Keizer Wheels No. 9p machine in third quickest.
With his time being second fastest in his group, the Kokomo, IN driver would line up third in a very strong heat race, before a second place finish would take him directly to both the Dash, and the feature event.
Following the Dash grudge draw, Price-Miller found himself with the three-pill, and went on to put on a dominating performance, as he picked up the win in convicning fashion, and earned the right to start on the pole.
"I was pretty happy with the three-pill after the draw, and to be honest, I was just hoping we could maintain, and line up in at least the second row," Price-Miller added.
Picking up where he left off at the dash when the 30-lap feature came to life, Price-Miller was hard on the throttle, and quickly opened up a very sizeable lead. Opening his lead up to nearly two-seconds on the extremely slick surface, Price-Miller was very strong as lapped traffic became a factor.
In traffic, Price-Miller saw his large lead evaporate, as Rob Chaney pulled up to his rear bumper, and pressured for the lead. In the race's closing laps, Chaney made a move for the top spot, but Price-Miller was able to make a counter move, as he went on to score his first career All Star Circuit of Champions win.
"I can't thank my entire team enough for all of their hard work and support," Price-Miller added. "Rick Ferkel and I have something working, and I can't wait to see how we continue to progress."
Price-Miller and his team would like to thank PPM Titanium Products, Indy Race Parts, Keizer Wheels, CSI Shocks, Select Equipment, Wesmar Racing Engines, Esslinger, and Triple X Race Components for their continued support.
2015 BY THE NUMBERS: Starts- 16, Wins- 2, Top 5's- 4, Top 10's- 6
ON TAP: Price-Miller will hit the famed Williams Grove Speedway on Friday, Port Royal on Saturday, and will close his weekend out during the "Party at the Path" at Path Valley on Sunday.
STAY CONNECTED: Stay connected with Parker by following him on Twitter @Parker_PM9.
PETERSEN MEDIA: Petersen Media is a promotional agency that can handle your public relations, marketing, and any other promotional needs. Petersen Media utilizes multiple tactics to help you reach your intended audience, to boost awareness.
For more information contact sales@petersenmediainc.com, by phone at 916-342-3424, visit www.petersenmediainc.com,  www.facebook.com/PetersenMedia, or follow www.twitter.com/petersen_Media.
________________________