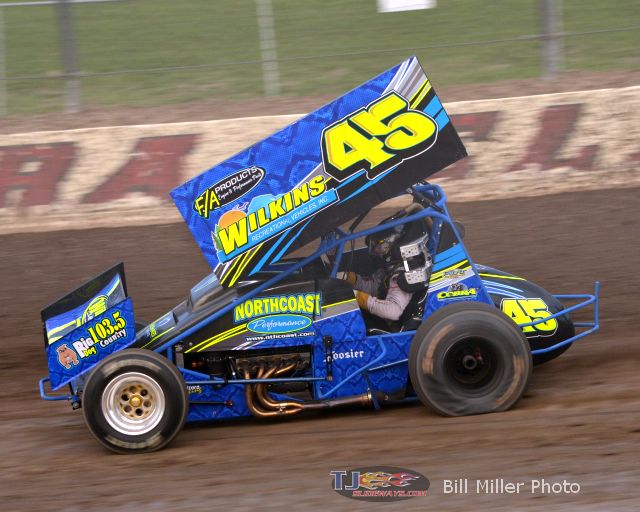 By Rich Vleck
CANANDAIGUA, NY, (May 2, 2015)- After more than a dozen dominant seasons in a sprint car, a win for Chuck Hebing on opening night has seemingly become commonplace.  On Saturday Night though it was clear how much it meant for him to be back in Victory Lane.
Hebing, of Ontario, NY, passed Steve Poirier on lap 12 with a harrowing move in turn three and drove away for his fifth career sprint win at Canandaigua Motorsports Park.  Even though "Cobra" has always run well at the "Land of Legends", his win Saturday Night was his first there since 2007.
"To win in front of all of our friends and beat Steve (Poirier) and all of these guys at the top of their game is pretty good because he does it pretty regularly," said Hebing in Victory Lane. "We had a hell of a car tonight.  Unbelievable.  We tried some changes on the car and the thing was killer."
In the first Patriot race at Canandaigua in five years, Hebing finished second in his heat race and drew the fourth starting spot for the A-Main.  The local favorite wasted no time getting to third but with champions Bryan Howland and Steve Poirier in front of him, it was a tall task to go for the lead.
Polesitter Howland appeared to be set up for the bottom line while Poirier ran the higher groove, with Poirier taking the lead away on the third lap.  Even though Poirier's No. 28FM was running up the track, Hebing had it in his head from before the race started that he was going to forge his own groove even higher up the track.
"Jason (Barney) usually wins it on the bottom and that's not my thing.  I saw the brown ring around the top and we set up for that and it worked out."
Hebing's lap 12 pass for the lead on Poirier started with a needle-threading move, splitting Poirier and the wall.  As the duo entered turn three, Poirier drove in high, but Hebing never lifted and held on around the long corner to come away with the lead.
Only two cautions occurred in the feature, with the final one on lap six; with a long green-flag run, lapped traffic became the focus and Hebing only got stronger in this phase to build his lead to more than two seconds and allow him to cruise to the win.
Before pulling in to Victory Lane, Hebing did a partial "donut" with his Wilkins RV No. 45, reminiscent to his celebration when he won his first career Patriot feature there in 2003.  Hebing's win on Saturday Night was his 41st Career PST Checkered Flag, easily the most in series history.
Another stat worth noting is that this marks the sixth time that Chuck Hebing has won the PST America season opener, seven if you consider PST-only season openers.
Hebing was not the only driver slicing through lapped traffic, as Poirier was also moving around the track comfortably.  The 2010 Canandaigua PST winner was impressed after the race with the speed Chuck had on the top and wondered what could have been done differently to win.
The 2009 CMP winner Bryan Howland won his heat and was impressive in the feature, and was pleased to finish on the podium with a brand new car.  Howland had to hold off Shawn Donath in the closing laps, who finished fourth in his new Panther Chassis.
Jason Barney was dominant in his heat and was the favorite if the top line was not as strong, but the three-time CMP winner would have to settle for fifth.
A solid run was recorded by Sammy Reakes IV, as he won his heat and finished sixth.  Steve Collins won the Evingham Site Excavation Four Laps of Fame Dash for Cash and had a solid seventh-place showing, just ahead of Canandaigua's own Darryl Ruggles who crossed in eighth in addition to winning the 305 sprint race on the night.
Jeff Cook had a solid run all night and drove up to ninth.  The drive forward of the night though was turned in by Dave Just, who had to use a buy-in provisional to get in the race and drove up from 23rd to finish in 10th in his first sprint start at Canandaigua.
A total of 27 sprints helped to overflow the pits on a Chamber of Commerce Night in Ontario County.  Three-time CMP winner George Suprick was in the feature until mechanical issues in the dash knocked him out of competition.  Other than the caution for the 87, there were only two other yellow flags during PST action on the night.
For More Information, visit www.PatriotSprintTour.com.
Patriot Sprint Tour America Series Results: 5/2/15, Canandaigua Speedway, Canandaigua, NY.
A-Verdi A-Main (25 Laps)- 1. Chuck Hebing (45), 2. Steve Poirier (28FM), 3. Bryan Howland (51), 4. Shawn Donath (53), 5. Jason Barney (87*), 6. Sammy Reakes IV (17), 7. Steve Collins (67), 8. Darryl Ruggles (48JR), 9. Jeff Cook (10c), 10. Dave Just (54J), 11. Tommy Wickham (75), 12. Mike Stelter (36), 13. Scott Just (54JR), 14. Paul Habeck (25H), 15. Scott Kreutter (52), 16. Rob Dietrick (10k), 17. Paulie Colagiovanni (10), 18. Alysha Ruggles (48A), 19. Steven Hutchinson Jr. (2), 20. Kyle Drum (47), 21. Jake Muench (14), 22. Steve Glover (121), 23. Dane Lorenc (00), 24. Derek Jonathan (81).
Buy-In Provisionals: Dave Just (54J), Derek Jonathan (81).
Did Not Start: George Suprick (87)
Did Not Qualify: Keith Granholm (13), Dave Wickham (80)
Lap Leaders- Howland 1, Poirier 2-11, Hebing 12-25.
B-Main (8 Laps, Top 4 Transferred to A-Main)- 1. Alysha Ruggles (48A), 2. Kyle Drum (47), 3. Tommy Wickham (75), 4. Paul Colagiovanni (10), 5. Steve Glover (121), 6. Dave Just (54J), 7. Derek Jonathan (81), 8. Keith Granholm (13), 9. Dave Wickham (80).
Evingham Site Excavation Four Laps of Fame (4 Laps)- 1. Steve Collins (67), 2. Mike Stelter (36), 3. Scott Kreutter (52), 4. Scott Just (54JR), 5. Dane Lorenc (00), 6. George Suprick (87).
Heats (8 Laps, Top 6 Transferred to A-Main from Each)-
Race 1: Reakes, Dietrick, Donath, S. Just, Lorenc, Muench, Drum, D. Just, Jonathan.
Race 2: Barney, Hebing, Suprick, Collins, Habeck, Kreutter, T. Wickham, Glover, Granholm.
Race 3: Howland, Poirier, D. Ruggles, Stelter, Cook, Hutchinson, A. Ruggles, Colagiovanni, D. Wickham.
Hoosier Tire Canada/ Mike Emhof Motorsports Recipient: Hebing
Pole Position Raceway Pole Driver: Howland
Patriot Sprint Tour America Series Point Standings (Top 10)- Hebing 150, Poirier 145, Howland 141, Donath 138, Barney 135, Reakes 132, Collins 129, D. Ruggles 126, Cook, 123, D. Just 120.
Evingham Site Excavation Four Laps of Fame Dash Series (Top Five)- Zimbardi and Collins 6, Brown Lorenc and Stelter 5.
Patriot Tank Lines Hard Charger of the Season Standings (Top Five)- D. Just 12, T. Wickham 10, C. Turner 9, R. Turner 8, Brown 7.
Danny Willmes Enterprises Lap Leader Standings (Top Five)- Barney 16, Hebing 14, Poirier 10, Cook 9, Howland 1.
305 Sprint Car Feature: 1. 48J – Darryl Ruggles, 2. 35 – Nick Cooper, 3. 22 – Jonathan Preston, 4. 45 – David Ferguson, 5. 36 – Steve Doell, 6. 26 – Lee Sanders, 7. 22X – Bob Dreste, 8. 99K – Dan Kuhn, 9. 99 – Charlie Donk, 10. 21 – Will Glover, 11. 25H – Paul Habeck, 12. 17 – Josh Azzi, 13. 10 – Kelly Hebing, 14. 66 – Erik Karlsen, 15. 20K – Ed Kelley, 16. 48A – Alysha Ruggles. DNS: X – Dan Bennett.