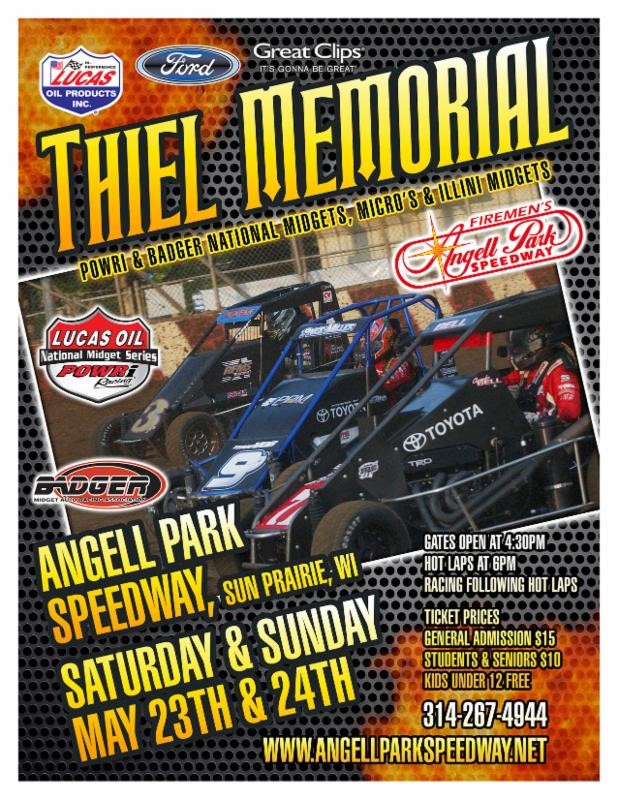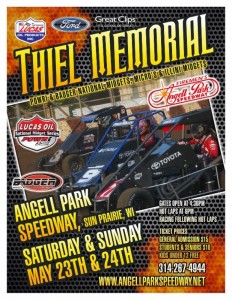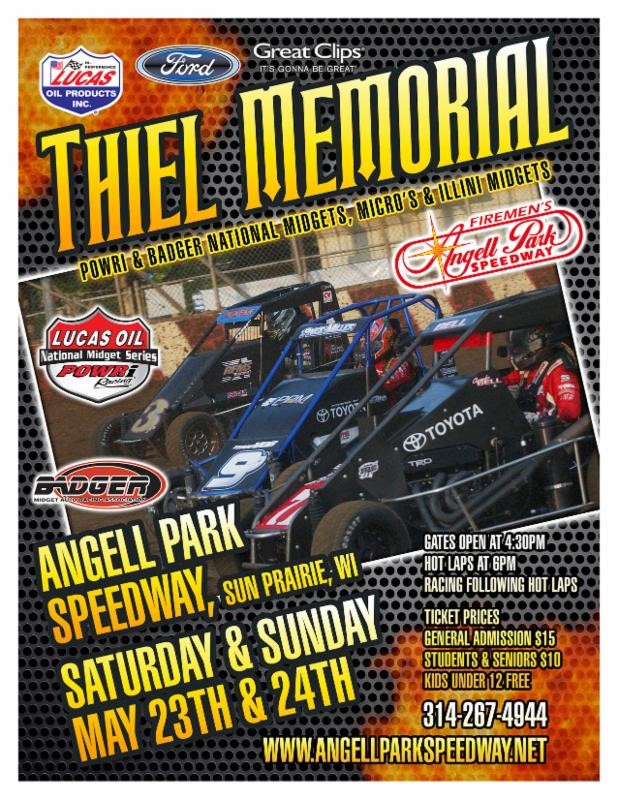 From POWRi
Millstadt, IL — (May 19, 2015) — The POWRi Lucas Oil National Midget Series will make their annual Memorial Day Weekend appearance at the famed 1/3rd mile Fireman's Angell Park Speedway for the Thiel Memorial on Saturday, May 23rd and Sunday, May 24th. Both nights of the Thiel Memorial will be run as two completely separate events, with no cars getting locked into the Sunday feature from the Saturday event. Friday's show will be the standard POWRi payout, while Sunday's finale will pay $3000 to WIN and $300 to start (both payouts can be found under the "DOWNLOADS" section on powri.com). The Thiel Memorial will be two of three co-sanctioned events with the Badger Midgets Auto Racing Association (BMARA) at the prestigious Angell Park Speedway. The third co-sanctioned event will be the 34th annual Pepsi Nationals set for July 5th.
Christopher Bell took the opening night of Thiel Memorial in 2014, fending off challenges from fellow Keith Kunz Motorsports teammate, Tanner Thorson. For the finale, the shoe would be on the other foot as Thorson claimed night two of the Thiel Memorial in spectacular fashion, earning his first career POWRi Lucas Oil National Midget Series victory.
Angell Park Speedway's front gates will open at 4:30pm on May 24th and May 25th. Hot laps are at 6 pm. General admission for Saturday is $15. Students, ages 12-18, are $10, children 12 and under FREE. General admission for Sunday is $20.
***This weekend only, POWRi will add an additional $200 of show up money to each car owner of POWRi Lucas Oil National Midget Series members. This is a $100 for each night, for a total of $200 for the weekend. We would like to thank our sponsors for their continued support.***
For more information, go to www.POWRi.com.