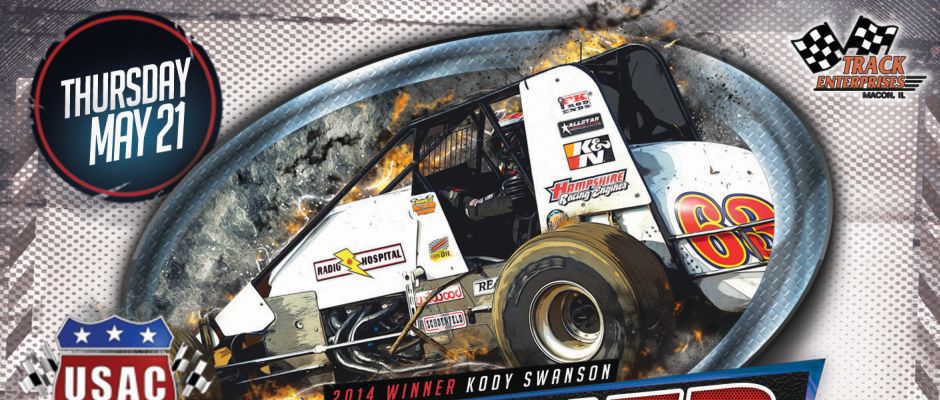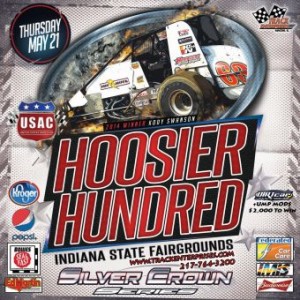 From Track Enterprises
Anticipation is building with the huge entry list that has come together for the 62nd running of the Hoosier Hundred. The Thursday, May 21 event will be pivotal in the early battle for USAC's 2015 Silver Crown Championship.
Thursday's 100-mile race at the Indiana State Fairgrounds has tradition dating back to 1953. Defending Silver Crown Champion Kody Swanson is the odds-on favorite to repeat as the winner in Thursday's race but with the list being large, it is tough to pinpoint who may step up to knock him off the pedestal.
Kody's success of six victories in the last 11 Silver Crown races dates back to 2014 when he claimed the series crown, plus victories at both of this week's venues. He enters the week with a nine-point lead over Jacob Wilson after winning the May 1 "Rollie Beale Classic" at Toledo, Ohio.
An expanded field for Thursday night's "Hoosier Hundred" includes some surprises for race fans. Among entries are USAC Champions Brian Tyler, who returns after a brief hiatus, and Rickey Hood, who returns after a lengthy hiatus.
Former "Hoosier Hundred" race winners Levi Jones, Jerry Coons Jr. and Dave Darland and previous Lucas Oil Raceway Silver Crown race winners Tanner Swanson, Bobby Santos and Tracy Hines are also top prospects for victories this week.
The UMP Modifieds will join the USAC Silver Crown cars for a $2,000 to win, $200 to start feature event. The pre-entry list for the Modified event includes the likes of Ken Schrader and Kenny Wallace but a healthy field of competitors that look to keep the NASCAR stars out of victory lane.
Thursday's Hoosier Hundred will have pit gates opening at 12:00, grandstands at 3:00, practice at 5:00, qualifying at 6:00, modified heats at 6:30, and racing action at 7:00. Grandstand admission is $25 if bought in advance or $30 the day of the event. Infield admission is $15. Child admission is $10 for kids 11 and under.
For further information on the Hoosier Hundred, visit www.trackenterprises.com or call 217-764-3200.