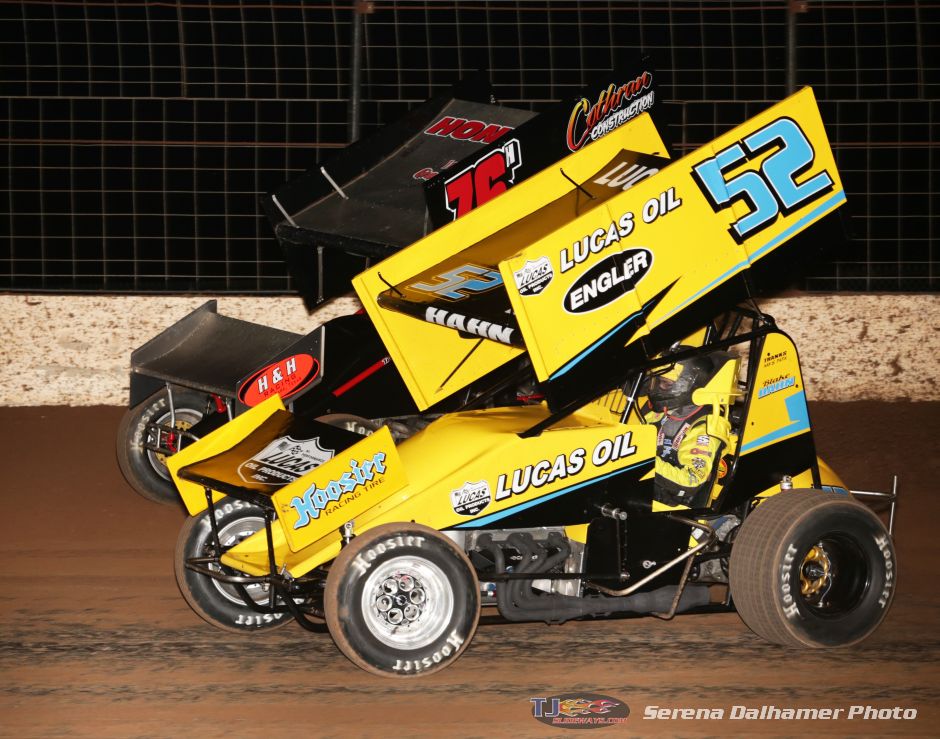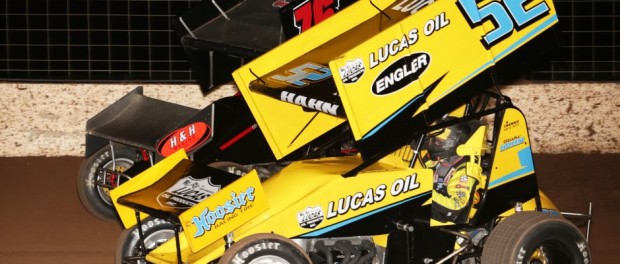 From Bryan Hulbert
Salina, OK — (June 6, 2015) — It was a very emotional night for Blake Hahn at the Salina Highbanks Speedway as the Sapulpa, Okla. native posted his first Lucas Oil American Sprint Car Series presented by MAVTV American Real victory.
The grandson of ASCS founder, Emmett Hahn, Blake is the first member of the Hahn family to win in ASCS National Tour competition. Hahn is the 127th different winner in National Tour competition, doing so in his 54th A-Feature start.
"I don't even know how to put this into words," said an exhausted Blake Hahn in Victory Lane. "I've got my whole family out here so it's pretty awesome. This is basically one of our hometown track….Man that was fun."
Taking over the lead on Lap 12, Hahn had to hold off Oklahoma City's Wayne Johnson for the win.
"Wayne got me on the bottom just before the caution for Aaron, but after we got that caution I knew I had to just take it back to the bottom because Wayne was so fast down there and I knew if I could just stay down there and hit my marks the rest of the race I'd be alright."
Taking the green from eighth, Hahn ran to third by the second round. Giving chase to Seth Bergman and Aaron Reutzel, the caution flew on Lap 4 as Bergman's night ended with engine failure.
Taking off with Reutzel leading, the BC Funds No. 87 ran away on the restart. Finding slower traffic on Lap 10, the following lap saw the caution displayed as Aaron Reutzel and Andy Shouse came together in turn-two. Aaron was able to restart in the 21st position.
Going back to the last fully completed lap, the lead went to Blake Hahn.
Able to put distance over the No. 77x of Wayne Johnson, slower traffic looked to be a factor on Lap 18 as Hahn found himself stuck in the center groove. Turning low to attack, both Johnson and Hahn had to check up as slower cars tangled directly in front of them.
Single file for the final time, Hahn led to way to a 0.738 second advantage of Wayne Johnson at the checkered flag in the Lucas Oil / CSR Garage No. 52.
"I just got to trying to hard when I got behind Blake there and the bottom was just so good, you couldn't go anywhere else," commented Johnson.
A three time winner at the Salina Highbanks Speedway in Lucas Oil ASCS competition, Johnson was on point to earn his fourth as the caution fell.
"That caution came out and saved those boys when Reutzel spun because I had just past Blake before that. With the way they do the fully completed lap, they didn't get the lap in so they backed it up and it's just what it is. We had a good car, he just had a better one."
Posting his best finish at the Salina Highbanks Speedway, Kevin Ramey crossed third in the Jambo BBQ Pits No. 1a.
"I struggled in the Heat Race. I had a huge vibration, and found out my right-rear wheel was beat up so we chucked a new wheel on it and to be honest, these tracks are not my forte," said Ramey. "I usually struggle a little bit at these track. I like running them, but I think the last time I was here in 2001 I lawn darted it off three and four and never wanted to come back, but I decided it was time."
Sean McClelland crossed fourth after starting 14th with Josh Baughman completing the top-five.
Bandon Hanks advanced five spots to post his best National Tour finish in sixth. Having to take a provisional after a violent crash in his Heat Race, Tony Bruce, Jr. tore through the field from 23rd to grab seventh. Johnny Herrera was eighth from 16th. Terry Gray from 17th was ninth with Aaron Reutzel coming back to complete the top-ten.
With 33 cars in the pits, four Heat Races went to Kyle Bellm, Matt Covington, Jordan Weaver, and Josh Baughman. The night's B-Feature went to Terry Gray.
Combined with the American Bank of Oklahoma ASCS Red River Region, Kevin Ramey was the highest finishing regional driver followed by Sean McClelland, Brandon Hanks, Alex Sewell, and Kade Morton.
The Lucas Oil American Sprint Car Series presented by MAVTV American Real heads for the Devil's Bowl Speedway for the start of the 23rd Sizzle Summer Speedweek on Saturday, June 13.
For continued updates on the American Sprint Car Series, log onto http://www.ascsracing.com.
Race Results:
Lucas Oil ASCS National Tour
Salina Highbanks Speedway – Salina, Okla.
Saturday, June 6, 2015
Car Count: 33
Heat Races: 8 Laps, taking the winner plus the next the next 12 highest in passing points to the A-Feature.
Heat 1 (8 Laps): 1. 14K-Kyle Bellm[2]; 2. 23-Seth Bergman[5]; 3. 52-Blake Hahn[7]; 4. 8-Alex Sewell[3]; 5. 11-Joe Wood Jr[8]; 6. 1-Sean McClelland[6]; 7. 7M-Chance Morton[4]; 8. 2-Mickey Walker[8]; 9. (DNF) 26M-Fred Mattox[1]
Heat 2 (8 Laps): 1. 95-Matt Covington[3]; 2. 77X-Wayne Johnson[4]; 3. 87-Aaron Reutzel[8]; 4. 94-Jeff Swindell[5]; 5. 45X-Johnny Herrera[7]; 6. 1J-Danny Jennings[1]; 7. 05M-Charles McManus[6]; 8. (DNF) 18-Tony Bruce Jr[2]
Heat 3 (8 Laps): 1. 92-Jordan Weaver[2]; 2. 4X-Shawn Petersen[6]; 3. 27-Andy Shouse[1]; 4. 33-Kris Miller[8]; 5. 10-Terry Gray[7]; 6. 76-Zane Lawrence[3]; 7. 85-Forrest Sutherland[5]; 8. (DNF) 17-John Carney II[4]
Heat 4 (8 Laps): 1. 17B-Josh Baughman[6]; 2. 84-Brandon Hanks[1]; 3. 8M-Kade Morton[2]; 4. 1A-Kevin Ramey[7]; 5. 84D-Alex DeCamp[5]; 6. 55-Brad Queen[3]; 7. 10M-Morgan Turpen[8]; 8. 50-Brandon James[4]
B-Feature(s): 12 laps, taking the top 6 to the tail of the A-Feature.
B Feature (12 Laps): 1. 10-Terry Gray[1]; 2. 1-Sean McClelland[5]; 3. 8-Alex Sewell[2]; 4. 84D-Alex DeCamp[3]; 5. 26M-Fred Mattox[17]; 6. 76-Zane Lawrence[7]; 7. 7M-Chance Morton[12]; 8. 2-Mickey Walker[13]; 9. 10M-Morgan Turpen[6]; 10. 85-Forrest Sutherland[11]; 11. 05M-Charles McManus[10]; 12. 55-Brad Queen[8]; 13. 50-Brandon James[15]; 14. (DNF) 11-Joe Wood Jr[4]; 15. (DNF) 1J-Danny Jennings[9]; 16. (DNF) 17-John Carney II[14]; DNS 18-Tony Bruce Jr
A-Feature: 30 Laps
A Feature (30 Laps): 1. 52-Blake Hahn[7]; 2. 77X-Wayne Johnson[8]; 3. 1A-Kevin Ramey[10]; 4. 1-Sean McClelland[18]; 5. 17B-Josh Baughman[5]; 6. 84-Brandon Hanks[11]; 7. 18-Tony Bruce Jr[23]; 8. 45X-Johnny Herrera[16]; 9. 10-Terry Gray[17]; 10. 87-Aaron Reutzel[4]; 11. 94-Jeff Swindell[14]; 12. 14K-Kyle Bellm[3]; 13. 95-Matt Covington[2]; 14. 8-Alex Sewell[19]; 15. 76-Zane Lawrence[22]; 16. 4X-Shawn Petersen[9]; 17. 84D-Alex DeCamp[20]; 18. 33-Kris Miller[12]; 19. 8M-Kade Morton[13]; 20. (DNF) 92-Jordan Weaver[6]; 21. (DNF) 26M-Fred Mattox[21]; 22. (DNF) 27-Andy Shouse[15]; 23. (DNF) 23-Seth Bergman[1]
Lap Leader(s): Seth Bergman 1-3; Aaron Reutzel 4-11; Blake Hahn 12-30
Hard Charger: Tony Bruce, Jr. +16
FSR High Points: Josh Baughman
Provisional(s): Tony Bruce, Jr. (P2)