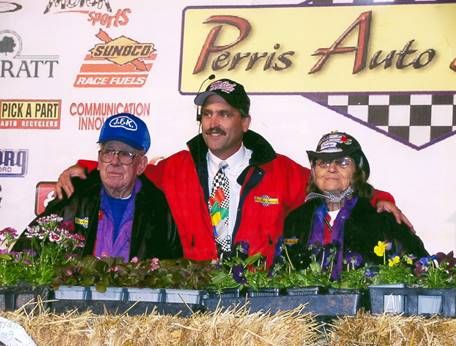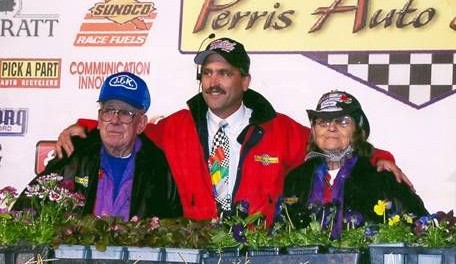 From Scott Daloisio
Perris, CA — (June 10, 2015) — There may not be a dry eye in the house when the Amsoil USAC/CRA Sprint Cars race at Perris Auto Speedway this Saturday night, June 13th. Before the races, the track will honor one of the most beloved couples in the sport, Bill and Evelyn Pratt, with memorial laps featuring two of their former drivers, Greg Bragg and Steve Ostling.
The El Monte based couple owned sprint cars for decades. In 1972, their #7 car won eight main events (6 with Tony Simon driving and 2 with National Sprint Car Hall of Famer driver Billy Wilkerson) and they won the California Racing Association car owner championship. The couple owned racecars until Bill passed away in 2006.
Even when they owned cars, Evelyn was a longtime racing official who was known from one end of the country to the other. She served as an official in the California Racing Association, Sprint Car Racing Association and most recently with USAC/CRA. She was still working as a pit steward at age 92 before moving to Texas to be nearer to her daughter three years ago. Sadly, she passed away last December at 95. The bullhorn Evelyn used while working in the original CRA Series and a photo of her now rest in the National Sprint Car Hall of Fame in Knoxville, Iowa.
"We all miss Bill and Evelyn around the racetrack," promoter Don Kazarian said on Tuesday. "They had been around for such a long time and they were so dedicated to the sport. They are a huge part of the history of sprint car racing in Southern California. It will be a special night as we honor them. A lot of their family members are coming out as well. It is going to be very emotional for everyone."
Perris Auto Speedway promoter Don Kazarian with Bill and Evelyn Pratt when
they were Grand Marshal's for the Oval Nationals in the early 2000's.
While Evelyn was still working at The PAS, officials recorded several sounds bites of her on the pit microphone. Much to the delight of those in the grandstands, they play them regularly over the track's massive sound system.
"Every time we play those sound bites, fans smile and some clap," Kazarian said. "With those clips, we get to remember them every night the sprint cars are in town."
Rumors have been swirling the past couple days that Kazarian will have a big announcement about the Pratt's this Saturday night. When asked, the promoter remained very coy.
"Everyone should listen in on Saturday night," he said with a grin. "That is all I am going to say about it at this time."
In addition to the stars from the USAC/CRA Series, The PAS Senior & Young Gun Sprint Car drivers will also be in action on Saturday. The Senior series is for drivers age 45 and older and the Young Guns is for drivers age 14-21.
Saturday's show will feature qualifying, heat races and main events for the USAC/CRA Sprint Cars and heats and main events for the Seniors and Young Guns. Spectator gates will open at 5:00 PM with the first exciting race at 7:00.