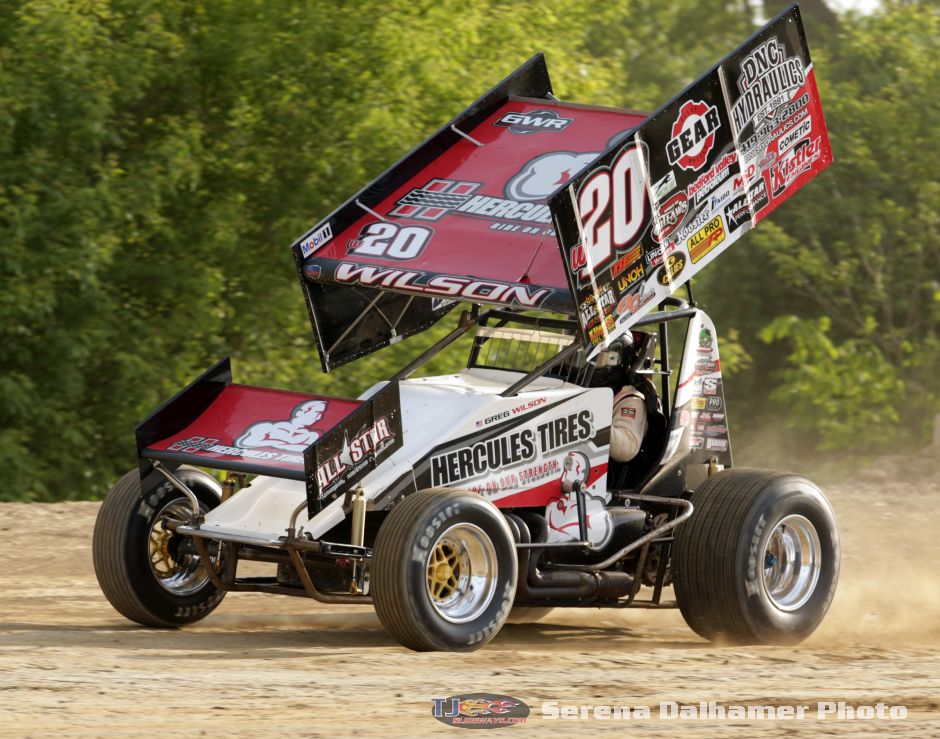 From MudclodBob
Greg Wilson led all 40 laps after starting on the pole, to capture the Fremont Speedway Thursday version of Ohio Speedweek. His second win of the first seven races has propelled him into the point lead of the nine race series.
Even though Wilson led all 40, it wasn't a cakewalk as he was under heavy pressure first by Dale Blaney, then Tim Shaffer. Throw in only one caution on lap 26 and very heavy traffic, Wilson was masterful maneuvering his way around the Northern Ohio oval.
At the half way mark, Wilson had only a slight advantage over Blaney but Wilson was able to put a lapped car between himself and Blaney. But now 6th spot starting Shaffer was on the prowl and made a nice move to get around Blaney around lap 30 and was right on Wilson. As laps wore down and the white flag flew, Shaffer and Wilson made light contact but all was well as Wilson motored on to a popular victory in front of a large crowd over Shaffer, Blaney, Cap Henry and Nate Dussel.
Ohio Speedweek now moves on to Limaland Motor Speedway Friday night.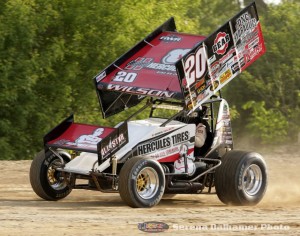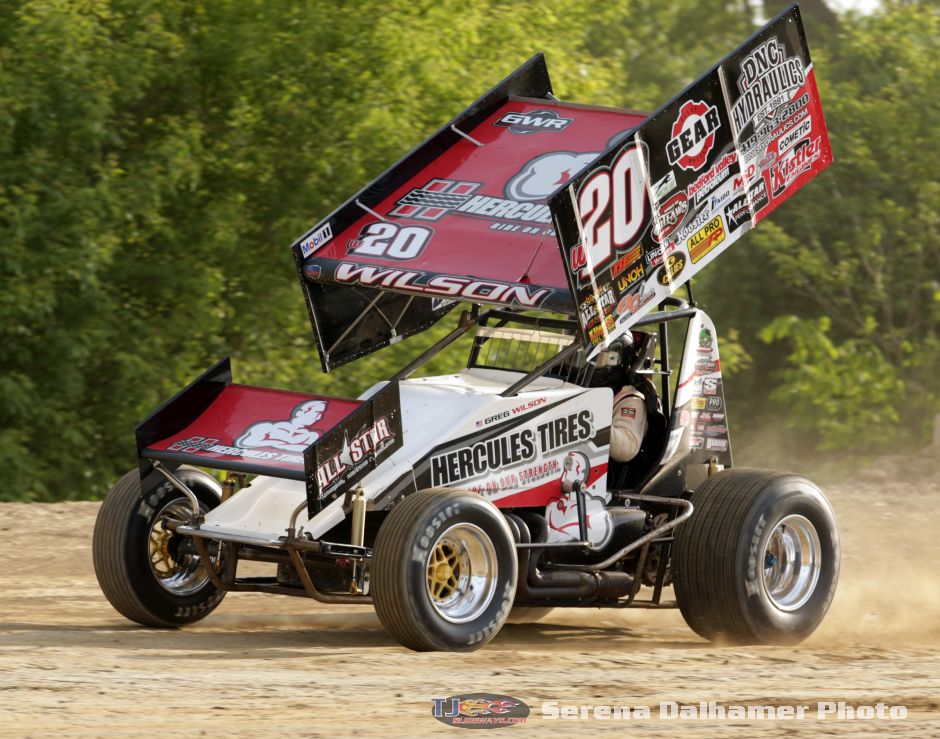 The crew at Fremont Speedway did a fine job running the program efficiently with rain on all sides of the track during the day.
6-25-2014 Fremont Speedway
All Star Circuit of Champions
A Feature (40 Laps): 1. W20-Greg Wilson[1]; 2. 45-Tim Shaffer[11]; 3. 1-Dale Blaney[8]; 4. 53-Cap Henry[16]; 5. 40DD-Nate Dussel[4]; 6. 45L-Brian Lay[6]; 7. 68G-Tyler Gunn[2]; 8. 81-Lee Jacobs[3]; 9. 5-Byron Reed[24]; 10. 93-Sheldon Haudenschild[17]; 11. 89-Cody Darrah[20]; 12. 5T-Travis Philo[13]; 13. 10H-Chad Kemenah[23]; 14. 21-D.J. Foos[10]; 15. 11N-Randy Hannagan[14]; 16. 8M-T.J. Michael[7]; 17. 99-Brady Bacon[9]; 18. 9Z-Duane Zablocki[18]; 19. 94-Ryan Smith[12]; 20. 9P-Parker Price-miller[26]; 21. 83M-Broc Martin[21]; 22. 40-Caleb Helms[15]; 23. 59-Danny Holtgraver[25]; 24. 19-Chris Andrews[22]; 25. 70-Roger Crockett[5]; 26. 1ST-Gary Taylor[19]
B Feature 1 (12 Laps): 1. 83M-Broc Martin[1]; 2. 5-Byron Reed[3]; 3. 10H-Chad Kemenah[4]; 4. 19-Chris Andrews[5]; 5. 16-Stuart Brubaker[6]; 6. 98H-Dave Blaney[7]; 7. 3G-James McFadden[9]; 8. 9P-Parker Price-miller[2]; 9. 35AU-Jamie Veal[8]; 10. 97-Dean Jacobs[13]; 11. 17-Josh Baughman[18]; 12. 59-Danny Holtgraver[14]; 13. 9-Jordan Ryan[16]; 14. 4-Danny Smith[15]; 15. 5AU-Danny Reidy[17]; 16. 57X-Andrew Palker[12]; 17. 91-Cale Thomas[11]; 18. 96AU-Bruce White[19]; 19. 2+-Brian Smith[10]; 20. 60-Jody Keegan[20]
Dash 1 (8 Laps): 1. W20-Greg Wilson[2]; 2. 40DD-Nate Dussel[3]; 3. 70-Roger Crockett[6]; 4. 68G-Tyler Gunn[1]; 5. 81-Lee Jacobs[4]; 6. 45L-Brian Lay[5]; 7. 8M-T.J. Michael[7]; 8. 1-Dale Blaney[10]; 9. 99-Brady Bacon[8]; 10. 94-Ryan Smith[9]
Heat 1 (10 Laps): 1. 99-Brady Bacon; 2. W20-Greg Wilson; 3. 45-Tim Shaffer; 4. 5T-Travis Philo; 5. 93-Sheldon Haudenschild; 6. 5-Byron Reed; 7. 83M-Broc Martin; 8. 10H-Chad Kemenah; 9. 2+-Brian Smith; 10. 98H-Dave Blaney
Heat 2 (10 Laps): 1. 68G-Tyler Gunn[2]; 2. 45L-Brian Lay[9]; 3. 94-Ryan Smith[4]; 4. 11N-Randy Hannagan[7]; 5. 89-Cody Darrah[1]; 6. 3G-James McFadden[6]; 7. 16-Stuart Brubaker[3]; 8. 35AU-Jamie Veal[5]; 9. 60-Jody Keegan[8]; 10. 9-Jordan Ryan[10]
Heat 3 (10 Laps): 1. 81-Lee Jacobs[1]; 2. 8M-T.J. Michael[2]; 3. 1-Dale Blaney[4]; 4. 40-Caleb Helms[5]; 5. 1ST-Gary Taylor[6]; 6. 5AU-Danny Reidy[8]; 7. 96AU-Bruce White[10]; 8. 17-Josh Baughman[9]; 9. 9P-Parker Price-miller[3]; 10. 4-Danny Smith[7]
Heat 4 (10 Laps): 1. 40DD-Nate Dussel[1]; 2. 70-Roger Crockett[4]; 3. 21-D.J. Foos[2]; 4. 53-Cap Henry[6]; 5. 9Z-Duane Zablocki[10]; 6. 59-Danny Holtgraver[9]; 7. 91-Cale Thomas[5]; 8. 57X-Andrew Palker[7]; 9. 97-Dean Jacobs[8]; 10. 19-Chris Andrews[3]
Qualifying (2 Laps): 1. 1-Dale Blaney, 12.921; 2. 94-Ryan Smith, 12.946; 3. 45-Tim Shaffer, 12.958; 4. 83M-Broc Martin, 12.962; 5. W20-Greg Wilson, 12.973; 6. 9P-Parker Price-miller, 13.018; 7. 99-Brady Bacon, 13.060; 8. 70-Roger Crockett, 13.061; 9. 5-Byron Reed, 13.087; 10. 10H-Chad Kemenah, 13.101; 11. 93-Sheldon Haudenschild, 13.118; 12. 5T-Travis Philo, 13.168; 13. 19-Chris Andrews, 13.172; 14. 8M-T.J. Michael, 13.197; 15. 16-Stuart Brubaker, 13.207; 16. 68G-Tyler Gunn, 13.215; 17. 21-D.J. Foos, 13.232; 18. 89-Cody Darrah, 13.233; 19. 81-Lee Jacobs, 13.265; 20. 98H-Dave Blaney, 13.273; 21. 40DD-Nate Dussel, 13.296; 22. 35AU-Jamie Veal, 13.300; 23. 3G-James McFadden, 13.319; 24. 40-Caleb Helms, 13.376; 25. 1ST-Gary Taylor, 13.380; 26. 2+-Brian Smith, 13.440; 27. 11N-Randy Hannagan, 13.461; 28. 91-Cale Thomas, 13.486; 29. 60-Jody Keegan, 13.523; 30. 53-Cap Henry, 13.525; 31. 57X-Andrew Palker, 13.587; 32. 45L-Brian Lay, 13.600; 33. 97-Dean Jacobs, 13.623; 34. 59-Danny Holtgraver, 13.672; 35. 4-Danny Smith, 13.710; 36. 9Z-Duane Zablocki, 13.721; 37. 9-Jordan Ryan, 13.723; 38. 5AU-Danny Reidy, 13.823; 39. 17-Josh Baughman, 13.853; 40. 96AU-Bruce White, 14.242