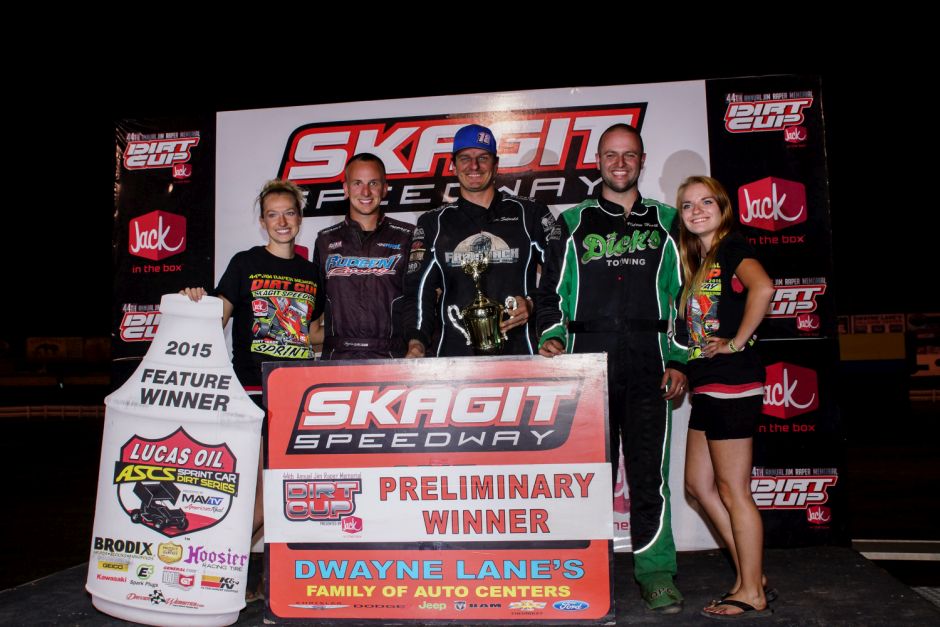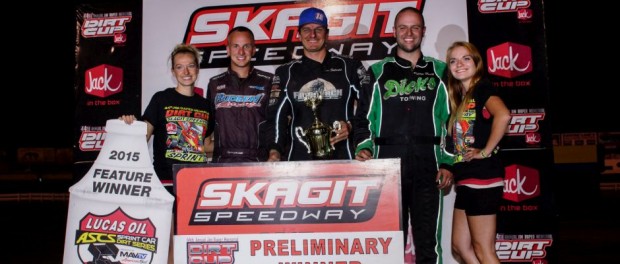 From Bryan Hulbert
Alger, WA — (June 25, 2015) — The 44th Jim Raper Memorial Dirt Cup presented by Jack in the Box kicked in fine style as Washington's Jason Solwold notched his sixth victory of 2015 and first against the Lucas Oil American Sprint Car Series presented by the MAVTV Motorsports Network.
Chasing Kyle Bellm for the first 11 rounds, contact with the slower car put the No. 14k pit side, giving the No. 18 the top spot. From there, the Burlington, Wash. native led a podium charge of Washington drivers to the checkered flag.
"I just tried to get to the front as quick as I could. Lapped traffic as pretty hairy, and it got a little dirty going through a bunch of cars like that. It happens, but I have to give a hats off to all our local guys here that didn't get beat," commented Solwold. "Our local guys are pretty strong so we'll definitely give them a run for their money and a couple guys that ended up back there a ways will pick it up tomorrow and maybe we'll have a local top-five."
Falling back one on the start, fifth starting Colton Heath spent much of the night's feature battling through the top-five with restarts on Lap 11 and 23 proving effective for the No. 33x.
"It's awesome running top-three with all the local guys here. We've been battling each other all year," said Heath. "I was able to get Taylor running the bottom to middle area, I just didn't need Jason to be there at the end for me to do anything because I wasn't really good on the top but we'll take it, we'll move on, and hopefully have us in good position after tomorrow."
Holding off several charges from Wayne Johnson throughout the closing laps, Taylor Malsam put the Rudeen Racing No. 26 on the final podium step, "It was fun. We had a great car tonight, just a little free on the bottom and just picked up what we could. It's hard to pass here and Colton got by me because of my error, but overall it's a good points night going into the weekend."
Taking advantage of a bobble on the part of Seth Bergman on Lap 21, Wayne Johnson brought the City Vending No. 77x home fourth. Seth recovered, but would see his night end on Lap 23 due to contact with the wall. Aaron Reutzel would come from 12th to complete the top-five.
Jared Peterson crossed sixth with California's Willie Croft in tow. Trever Kirland slipped from the pole to hold onto eighth with Travis Rilat ninth from 15th and defending Dirt Cup Champion, Brock Lemely coming from 19th to finish tenth.
Bringing 51 drivers to the Skagit Speedway, seven Heat Races went to Jared Peterson, Jason Solwold, Wayne Johnson, Colton Heath, Matt Covington, Seth Bergman, and Kyle Bellm. B-Features went to Robbie Price and Jordan Weaver.
Points to qualify into Saturday's Dirt Cup feature event have Solwold leading with 275 points. Colton Heath earned 267 with Tayler Malsam third at 257 markers. All drivers will compete again on Friday with both preliminary night totals added together to determine the Saturday lineups.
Friday, June 26 at the Skagit Speedway will see action getting underway at 7:00 P.M (PT). More information can be found at http://www.skagitspeedway.com. For continued updates on the Lucas Oil American Sprint Car Series presented by the MAVTV Motorsports Network, log onto http://www.ascsracing.com.
Race Results:
Lucas Oil ASCS National Tour
Jim Raper Memorial Dirt Cup – Night 1
Skagit Speedway – Alger, Wash.
Thursday, June 25, 2015
Car Count: 51
Heat Races: 8 Laps, taking the winner plus the next the next 9 highest in passing points to the A-Feature.
Heat 1 (8 Laps): 1. 51-Jared Peterson[2]; 2. 94-Robbie Price[1]; 3. 55-Trey Starks[4]; 4. 39C-Travis Rilat[8]; 5. 42-Derek Roberts[3]; 6. 56-Justin Youngquist[5]; 7. 38-Trevor Turnbull[6]; 8. 1NZ-Jamie Duff[7]
Heat 2 (8 Laps): 1. 18-Jason Solwold[2]; 2. 99-Skylar Gee[1]; 3. 22-Sean Macdonell[6]; 4. 33-Kris Miller[3]; 5. 16-David Miller[5]; 6. 96-Greg Hamilton[8]; 7. 62-Lawrance Kirkham[7]; 8. 15-Dan Dunlap[4]
Heat 3 (8 Laps): 1. 77X-Wayne Johnson[2]; 2. 37-Trever Kirkland[5]; 3. 91-Chase Goetz[7]; 4. 5R-Steve Reeves[8]; 5. 79K-Kelsey Carpenter[6]; 6. 22C-Trevor Cook[1]; 7. 81-Darren Smith[4]
Heat 4 (8 Laps): 1. 33X-Colton Heath; 2. 29-Willie Croft[4]; 3. 22B-Brock Lemley[3]; 4. 9R-Reece Goetz[1]; 5. 23N-J.J. Hickle[5]; 6. 52-Blake Hahn[6]; 7. 44-Daniel Anderson[7]
Heat 5 (8 Laps): 1. 95-Matt Covington[1]; 2. 26-Tayler Malsam[4]; 3. 87-Aaron Reutzel[6]; 4. 14-Kyle Vanulden[2]; 5. 57-Bud Ashe[3]; 6. 0J-Jay Cole[5]; 7. 2-Kelly Miller[7]
Heat 6 (8 Laps): 1. 23-Seth Bergman[1]; 2. 11-Marc Duperron[2]; 3. 17-Cameron (Cam) Smith[5]; 4. 5-Michael Bollinger[3]; 5. 45X-Johnny Herrera[7]; 6. 51X-Kyle Miller[4]; 7. N8-Nate Vaughn[6]
Heat 7 (8 Laps): 1. 14K-Kyle Bellm[2]; 2. 59-Eric Fisher[4]; 3. 9A-Luke Didiuk[1]; 4. 92-Jordan Weaver[6]; 5. 44H-Travis Jacobson[5]; 6. 72-Phil Dietz[3]; 7. 4B-Cale Brooke[7]
B-Feature(s): 15 laps, taking the top 3 to the tail of the A-Feature.
B Feature (15 Laps): 1. 94-Robbie Price[2]; 2. 22B-Brock Lemley[4]; 3. 55-Trey Starks[3]; 4. 5R-Steve Reeves[1]; 5. 45X-Johnny Herrera[5]; 6. 96-Greg Hamilton[7]; 7. 52-Blake Hahn[11]; 8. 23N-J.J. Hickle[9]; 9. 44-Daniel Anderson[14]; 10. 0J-Jay Cole[12]; 11. 72-Phil Dietz[13]; 12. 38-Trevor Turnbull[16]; 13. 16-David Miller[8]; 14. 15-Dan Dunlap[18]; 15. 4B-Cale Brooke[15]; 16. (DNF) 81-Darren Smith[17]; 17. (DNF) 42-Derek Roberts[10]; 18. (DNF) 5-Michael Bollinger[6]
B Feature 2 (15 Laps): 1. 92-Jordan Weaver[3]; 2. 99-Skylar Gee[2]; 3. 11-Marc Duperron[1]; 4. 9R-Reece Goetz[7]; 5. 44H-Travis Jacobson[9]; 6. 79K-Kelsey Carpenter[8]; 7. 33-Kris Miller[5]; 8. 51X-Kyle Miller[12]; 9. 56-Justin Youngquist[11]; 10. 9A-Luke Didiuk[4]; 11. 2-Kelly Miller[14]; 12. N8-Nate Vaughn[16]; 13. 14-Kyle Vanulden[6]; 14. 62-Lawrance Kirkham[13]; 15. 22C-Trevor Cook[15]; 16. (DNF) 57-Bud Ashe[10]; 17. (DNF) 1NZ-Jamie Duff[17]
A-Feature: 25 Laps
A Feature (25 Laps): 1. 18-Jason Solwold[4]; 2. 33X-Colton Heath[5]; 3. 26-Tayler Malsam[3]; 4. 77X-Wayne Johnson[8]; 5. 87-Aaron Reutzel[12]; 6. 51-Jared Peterson[6]; 7. 29-Willie Croft[7]; 8. 37-Trever Kirkland[1]; 9. 39C-Travis Rilat[15]; 10. 22B-Brock Lemley[19]; 11. 94-Robbie Price[17]; 12. 99-Skylar Gee[20]; 13. 55-Trey Starks[21]; 14. 92-Jordan Weaver[18]; 15. 11-Marc Duperron[22]; 16. 59-Eric Fisher[9]; 17. 95-Matt Covington[13]; 18. 17-Cameron (Cam) Smith[16]; 19. 22-Sean Macdonell[10]; 20. (DNF) 23-Seth Bergman[14]; 21. (DNF) 14K-Kyle Bellm[2]; 22. (DNF) 91-Chase Goetz[11]
Lap Leader(s): Kyle Bellm 1-11; Jason Solwold 12-25;
KSE Hard Charger: Brock Lemley +9
FSR High Point: Jared Peterson
Provisional(s): N/A