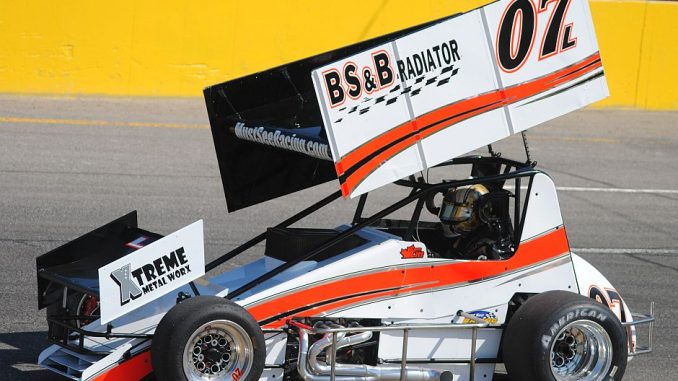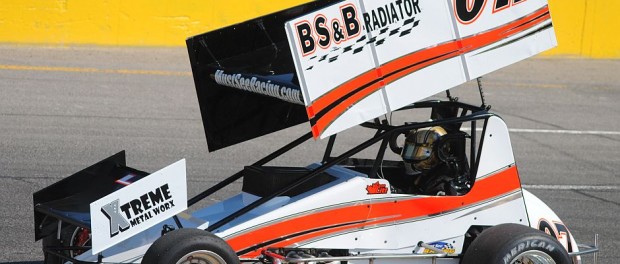 From Toledo Speedway
Toledo, OH — (June 26, 2015) — London, Ontario Canada driver Ryan Litt sailed to victory in the Hemelgarn Racing/Super Fitness King of the Wing event presented by Lakeshore Utility Trailer Sales Friday night at Toledo Speedway. With rain in the area most of the day and the front approaching, the decision was made to run features only after speaking to the race teams. Tim Burkett was the winner in the Top Speed Modified feature race, which was cut short by 5 laps due to the rain. Ron Hemelgarn presented the 5 foot trophies to the victors in the 7-Up Winner's Circle.
The day started off with the much-anticipated qualifying session. Aaron Pierce blistered the 1 lap mark, stopping the clocks at 12:220, eclipsing Charlie Schultz's record of 12:389. Aaron's speed was calculated at 147.3 miles per hour.
2 yellow flags slowed the action in the 40 lap King of the Wing feature in the early stages of the race. Idaho driver Sierra Jackson looped her machine and tagged the turn 2 wall on lap 1. Just 3 laps later, Kyle Edwards broke a wheel and slammed the wall in almost the same spot. Litt quickly jumped into the lead and powered away, as Kody Swanson, Jimmy McCune and Pierce tried to keep pace. Heavy lapped traffic came into play as the 2-3-4 runners were able to cut the gap on the flying Litt. Ryan showed patience in traffic and worked his way efficiently, keeping the lead. McCune dropped to pit road around lap 25 and on lap 29, Swanson wiggled and slowed, giving Pierce no place to go as the duo tangled. Both drivers were done for the night, while Litt now had to deal with Brian Gerster on the restart. Ryan kept about a 4 car length lead on the way to the win over Gerster, Derek Snyder, Bobby Santos, Robert Stout, Brad Wyatt, John Turnbull Jr., Mike Stutzman, Swanson and Pierce, which rounded out the top ten. Just 8 cars finished the race, which began with 19 starters. 21 cars were on the grounds. Kevin Feeney, Jason Blonde, McCune, Geoff Kaiser, David Byrne, Dave Baumgartner, Edwards, Tom Geren and Jackson completed the finishing order. Rain fell off and on for much of the final 10 laps.