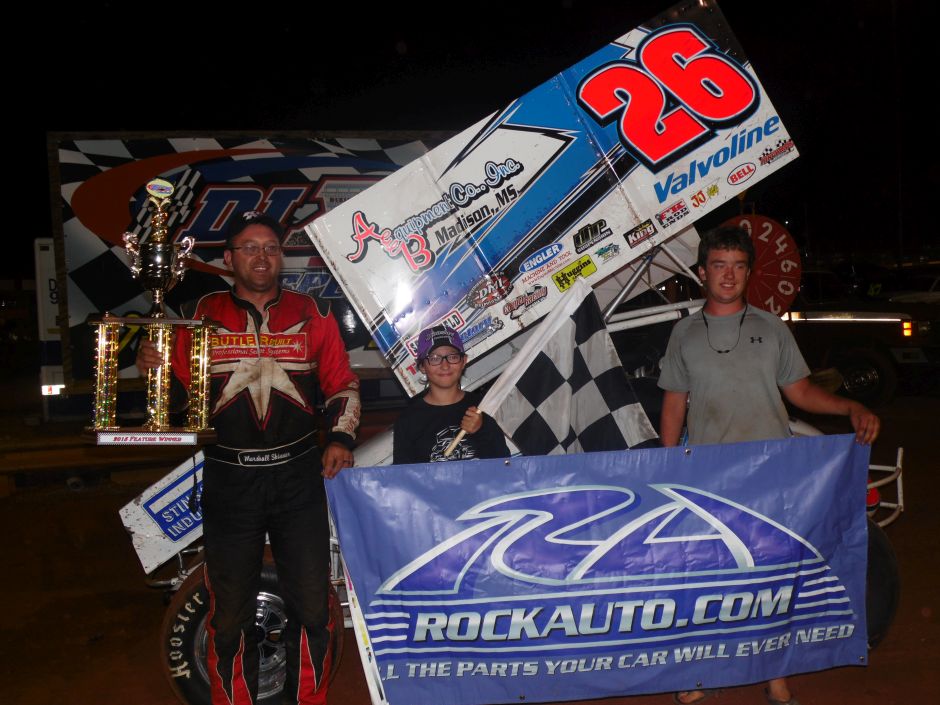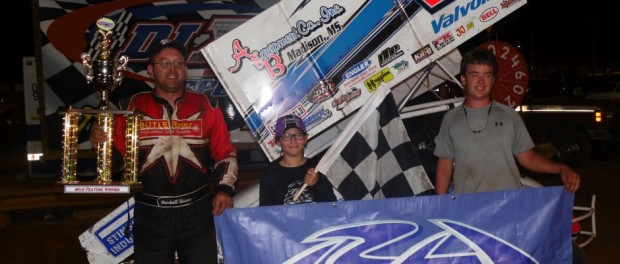 From Jacob Seelman
Woodstock, GA — (July 18, 2015) — Marshall Skinner got out the broom and swept the opening weekend of the United Sprint Car Series filter charged by K&N's Southern Speedweek after committing the equivalent of high-speed robbery at Dixie Speedway on Saturday night.
Skinner, the 1999 series champion from Marion, Ark., stole the lead from national points leader Morgan Turpen following a restart with six laps to go, holding his No. 26 Final Touch/Valvoline/DHR Suspensions sprinter wide open on the high side and never looking back after he got out front.
Skinner led the final half-dozen laps en route to his third win of the weekend and his 28th career USCS victory, which ties him with longtime rival and friend Eddie Gallagher for fifth on the all-time series win list – a fact that was not lost on the cagey veteran.
"It's unbelievable. Eddie and I have raced together for a long time and I never thought I'd be able to catch him with the numbers he put up in 1998 and 1999," Skinner said in www.rockauto.com USCS Victory Lane. "To do that tonight, after putting 16 years into supporting this series, means a whole lot and it's a really special moment for me and for my team."
The streak also marks the first time ever that Skinner has won three consecutive races in USCS competition.
"I've won two in a row a few times before, but I've never won three in a row before," Skinner added. "This is a cool deal. It's starting to feel like the old days coming back again."
The sprint to the finish was set up after a spin by Jim Perricone in turn four, and then a subsequent multi-car crash in turn one on the first attempt at a restart – when Eric Riggins Jr. and Nick Snyder came together battling for third and Snyder spun in front of the lead pack.
Turpen, out of Cordova, Tenn., hung on to finish second after leading the first 24 laps from the K&N Filters Pole Position, but was dejected after seeing a near-surefire victory slip away.
"I don't know what the difference was at the end," Turpen said. "We had the car to beat all night long. He said to me afterwards that he just flat-footed it on the restart and he made it work. I wasn't going to risk giving up a second-place finish and tearing my car up to fight him quite that hard for the win."
Charlotte, N.C. hotshoe Eric Riggins Jr. rounded out the podium finishers by finishing third, with Bartlett, Tennessee's Anthony Nicholson following in fourth. Johnny Bridges, from Cherryville, N.C. won a drag race to the line with Bartlett native and 11-time series champion Terry Gray for the fifth position.
Behind Gray, who crossed the checkered flag sixth, reigning series Rookie of the Year Brandon McLain, from Indian Trail, N.C. finished seventh and Ripley, Miss. veteran Jeff Willingham was eighth. Home state driver Jay Dunham, based in Grovetown, Ga., had a solid night in ninth and fellow Peach State driver Joe Larkin, from Suwanee, rounded out the top ten finishers.
Skinner kicked off the evening's racing action by winning the Hoosier Tire Speed Dash, with a passing rain shower delaying the action just before heat races. Once the track was rolled back in, Skinner followed his dash performance up with a win in the Engler Machine and Tools First Heat. Brandon McLain rolled to the victory in the Butlerbuilt Second Heat.
Gray was the provisional polesitter after scoring the most passing points in heat race action, but after a six was rolled on the K&N Inversion Die, Turpen garnered the K&N Filters Pole Award. Anthony Nicholson passed the most cars in the A-main (seven) to grab the Wilwood Disc Brakes Hard Charger Award.
The United Sprint Car Series filtercharged by K&N continues their 2015 schedule on Thursday night, July 23 with Thursday Night Thunder at the East Lincoln Motor Speedway in Stanley, N.C. The event will be the inaugural series visit for the USCS to the third-mile dirt oval.
For rules and updated schedule information about the United Sprint Car Series Outlaw Thunder Tour, please visit www.uscsracing.com or call the series office at 770-460-7223 or 770-865-6097.
RESULTS: USCS Sprint Car Series "Night of Thunder"; Dixie Speedway; July 18, 2015
Hoosier Tire Speed Dash: Marshall Skinner, Eric Riggins Jr., Terry Gray, Anthony Nicholson, Morgan Turpen, Danny Martin Jr.
Engler Machine and Tool First Heat: Marshall Skinner, Terry Gray, Nick Snyder, Jay Dunham, Jim Perricone, Brian Thomas, Danny Martin Jr., Joe Larkin, Don Goodwin.
Butlerbuilt Second Heat: Brandon McLain, Eric Riggins Jr., Jeff Willingham, Morgan Turpen, Johnny Bridges, Anthony Nicholson, Ray Bugg, Shawn Mott.
USCS Sprint Car Series filtercharged by K&N Night of Thunder A-main: 30-laps
1. #26 – Marshall Skinner, Marion, AR
2. #10M – Morgan Turpen, Cordova, TN
3. #47 – Eric Riggins Jr., Charlotte, NC
4. #16 – Anthony Nicholson, Bartlett, TN
5. #07 – Johnny Bridges, Cherryville, NC
6. #10 – Terry Gray, Bartlett, TN
7. #21B – Brandon McLain, Indian Trail, NC
8. #28 – Jeff Willingham, Ripley, MS
9. #51 – Jay Dunham, Grovetown, GA
10. #33 – Joe Larkin, Suwanee, GA
11. #5M – Shawn Mott, Rockwell, NC
12. #10P – Jim Perricone, San Antonio, TX
13. #87 – Don Goodwin, Nashville, TN
14. #116 – Nick Snyder, Marco Island, FL
15. #67 – Brian Thomas, Pendergrass, GA
16. #25 – Ray Bugg, Iuka, MS
17. #24 – Danny Martin Jr., Sarasota, FL