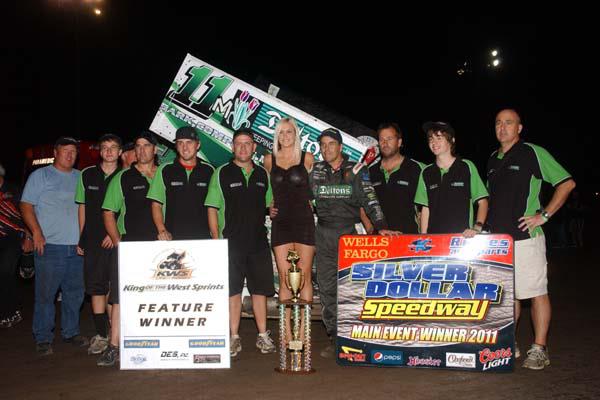 From Gary Thomas
Tulare, CA – (July 21, 2015) — On July 20, 2013 the King of the West 410 Sprint Car Series had one of its toughest nights in recent memory when popular driver Peter Murphy suffered injuries during a main event crash at the Antioch Speedway.
The result of the accident ultimately forced Murphy to retire from Sprint Car racing as a driver, having suffered a traumatic brain injury, ligament damage in his neck, shoulder and knees, along with a compressed T-3 vertebra.
Despite that however, he has said time & time again that he has no ill feelings towards the sport. In fact, you would be hard pressed to find someone that has a bigger passion for the sport of Sprint Car racing than Peter Murphy.
With that in mind last season Murphy worked extremely hard to put on the very first Peter Murphy Classic at Tulare's Thunderbowl Raceway. It turned out to be a huge success and this year's event has grown to be even bigger than the inaugural running.
Murphy's goal is to once again make the night a special one that people will remember, along with getting as many cars & fans to come out as possible.
"I really want this night to be a big one for all the fans & teams," Murphy said. "The King of the West Sprint Car Series is one of the best Sprint Car tours you'll find anywhere and Tulare is a great place to host an event like this. I still can't thank everyone enough for all that they did for me after my accident. It's been so humbling to have the support from people all over the world. This is a way for me to give back and show how much I appreciate this sport we all love."
The 2nd annual Peter Murphy Classic is turning out to be the richest & most lucrative event of the season for KWS. The A-main will pay $11,000-to-win & $1000-to-start. Murphy had wanted it to be 10 grand-to-win, but with his old number being 11 he said, "Why not just make it 11 grand?"
The Hard Charger Award is named after the late Stephen Allard and will pay $1000 to the driver that improves their starting spot the most in the feature. Fast time is being sponsored by Williams Motorsports, as well as World of Outlaws driver Brad Sweet and stands at $600. A longest haul award will also be given out, which will pay $500. A bonus for the three highest finishing 360 Sprint Cars will be up for grabs and will go $400, $300 & $200.
The Dash during the night will also have a special twist thrown in. Rather than doing the standard eight car dash where all drivers compete for six laps, the night will see an Australian & New Zealand style Pole Shuffle thrown into the mix. The winner of the shuffle will be awarded with $500 courtesy of Hunt Magnetos.
The eight dash cars will still be determined the same way as always, but drivers will race each other two-by-two for two laps, until the final pair go at it for a couple laps to determine the pole sitter. The drivers that draw 8 & 7 will race each other first, with the winner going against the driver that draws number 6. The process will go on until there are two drivers left standing for the final round.
The always exciting USAC West Coast Wingless 360 Sprints will also compete during the night, with an inflated purse being $4000-to-win & $400-to-start. Longest haul pays $400, fast time will pay $300, hard charger will pay $200. The dash for cash to open the night will feature four cars "old school style" with it paying $500-to-win, $400 for 2nd, $300 for 3rd and $200 for 4th. With Murphy racing both Winged & Wingless Sprints during his career it makes for a perfect tie-in at the Peter Murphy Classic.
Murphy will once again have a victory podium made up with champagne to help celebrate the winners in style. It will surely be a victory lane celebration that fans want to stay for! We'll also have numerous giveaways during the night, along with the Williams Roofing Royal Fan Draw.
Reserved grandstand seats for the Peter Murphy Classic on Saturday July 25 cost $20 with general admission bleacher tickets $18. To reserve your seat contact (559) 688-0909. The front gate will open at 4pm with racing expected to get underway around 7pm.
The Merle Stone Chevrolet Thunderbowl Raceway is located at the Tulare County Fairgrounds on the corner of Bardsley and K Streets in Tulare, California. From the junction of SR 99 and SR 137, go west on SR 137. At South K go south one-half mile to the Fairgrounds. More info can be found at http://www.thunderbowlraceway.com
Info on the King of the West 410 Sprint Car Series can be found at www.racepmg.com