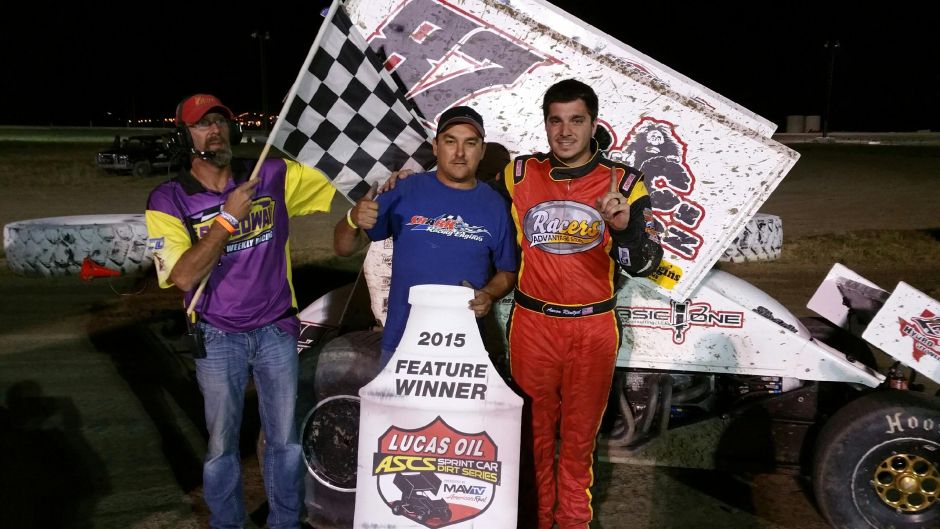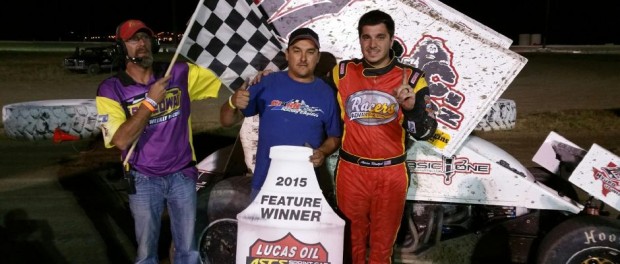 From Bryan Hulbert
Gilette, WY — (July 22, 2015) — One year ago in open competition, Aaron Reutzel nearly won at the Gillette Thunder Speedway. In the Lucas Oil American Sprint Car Series National Tour's debut Wednesday night, the Clute, Texas shoe left seven on the lead lap on his way to National Tour win five for the year.
Taking the lead after Jeremy McCune slipped off the top of turns three and four, Aaron was quick to find the back of the field, putting cars down by the fourth round.
"We had a good car. I knew a few of those passes were close, but with the track, you just had too, and I knew if I did, they wouldn't be able to keep up with me as aggressively as I was going through traffic," commented Aaron in after claiming his ninth career Lucas Oil ASCS win. "I was definitely a good run for this B.C. Funds, Shark Racing Engines No. 87."
Surviving several cautions, and a red flag on Lap 8 for Bob Shiplet who flipped down the back straight-a-way, Aaron crossed 4.966 seconds ahead of Wayne Johnson, who climbed from eighth to the runner-up spot.
"Starting eighth didn't help us any and then Aaron cleared a bunch of lapped cars before we got to second, so when we got there it was tough and those guys wanted to race us hard," said Wayne. "The track really just got kind of one lane, and it made it hard to clear lapped cars, but once I got by the lapped cars, I started catching him, but then I slipped off the back straight and that was it."
Coming to third after a long battle with Matt Covington was Johnny Herrera. Gridding the field seventh, lapped traffic gave the advantage to the No. 45x with five laps to run.
"We had a great car. I really need to give a shout out to Chris [Stivers] it's great having him on the road making this a lot easier. You know, we had a great time. The track was tough to pass on, but hey, we'll take it and see what we can do Friday at Rapid City.
Matt Covington crossed fourth with Seth Bergman coming back to fifth after a slide job gone wrong caused the No. 23 to spin in turn-two on Lap 13.
Kyle Bellm was sixth with Blake Hahn seventh as the final car on the lead lap. As high as third at one point, D.J. Brink crossed eighth with David Hoiness and Jordan Weaver completing the top-ten.
Bringing 24 drivers to the Gillette Thunder Speedway, three Heat Races saw Jeremy McCune, Johnny Herrera, and Aaron Reutzel taking wins. All drivers transferred to the A-Feature.
The Lucas Oil ASCS presented by the MAVTV Motorsports Network competes next at the Black Hills Speedway in Rapid City, S.D. on Friday, July 24.
For continued updates on the Lucas Oil ASCS, log onto http://www.ascsracing.com.
Race Results:
Lucas Oil ASCS National Tour
Gillette Thunder Speedway – Gillette, Wyoming
Wednesday, July 22, 2015
Car Count: 24
Heat Races: 8 Laps, all drivers transfer to the A-Feature.
Heat 1 (8 Laps): 1. 95-Matt Covington[3]; 2. 0J-Jeremy McCune[7]; 3. 10-Anthony Farnsworth[6]; 4. 27DD-David Hoiness[4]; 5. 77-Bob Shiplet[2]; 6. 15-James Sires[1]; 7. 4-Adam Speckman[5]; 8. 13-Ryan Parks[8]
Heat 2 (8 Laps): 1. 45X-Johnny Herrera[1]; 2. 52-Blake Hahn[5]; 3. 72-Phil Dietz[3]; 4. 23-Seth Bergman[7]; 5. 33-Kris Miller[6]; 6. 29-Eric Flatmoe[8]; 7. 14-Ben Holmberg[4]; 8. 56X-Mark Chisholm[2]
Heat 3 (8 Laps): 1. 87-Aaron Reutzel[3]; 2. 77X-Wayne Johnson[6]; 3. 75-D.J. Brink[7]; 4. 9A-Clint Anderson[1]; 5. 14K-Kyle Bellm[5]; 6. 92-Jordan Weaver[4]; 7. 2-Shad Peterson[2]; 8. 77M-Nate Maxwell[8]
A-Feature: 30 Laps
A Feature 1 (30 Laps): 1. 87-Aaron Reutzel[4]; 2. 77X-Wayne Johnson[8]; 3. 45X-Johnny Herrera[7]; 4. 95-Matt Covington[1]; 5. 23-Seth Bergman[9]; 6. 14K-Kyle Bellm[13]; 7. 52-Blake Hahn[3]; 8. 75-D.J. Brink[6]; 9. 27DD-David Hoiness[11]; 10. 92-Jordan Weaver[17]; 11. 72-Phil Dietz[10]; 12. 9A-Clint Anderson[12]; 13. 29-Eric Flatmoe[16]; 14. 0J-Jeremy McCune[2]; 15. 10-Anthony Farnsworth[5]; 16. 77M-Nate Maxwell[21]; 17. 2-Shad Peterson[23]; 18. 4-Adam Speckman[19]; 19. 14-Ben Holmberg[22]; 20. (DNF) 77-Bob Shiplet[15]; 21. (DNF) 15-James Sires[18]; 22. (DNF) 33-Kris Miller[14]; 23. (DNF) 13-Ryan Parks[20]; DNS 56X-Mark Chisholm
Lap Leader(s): Jeremy McCune 1; Aaron Reutzel 2-30
KSE Hard Charger: Kyle Bellm +7
FSR High Point: Jeremy McCune
Provisional(s): N/A