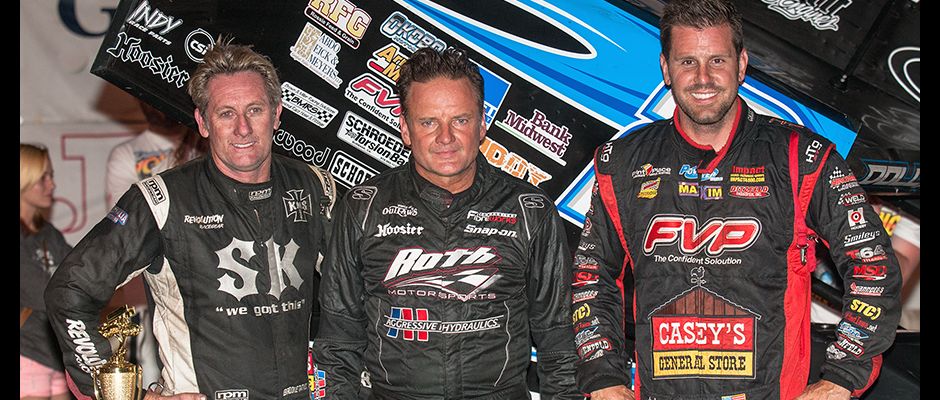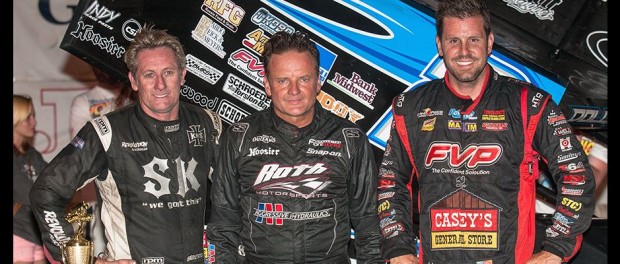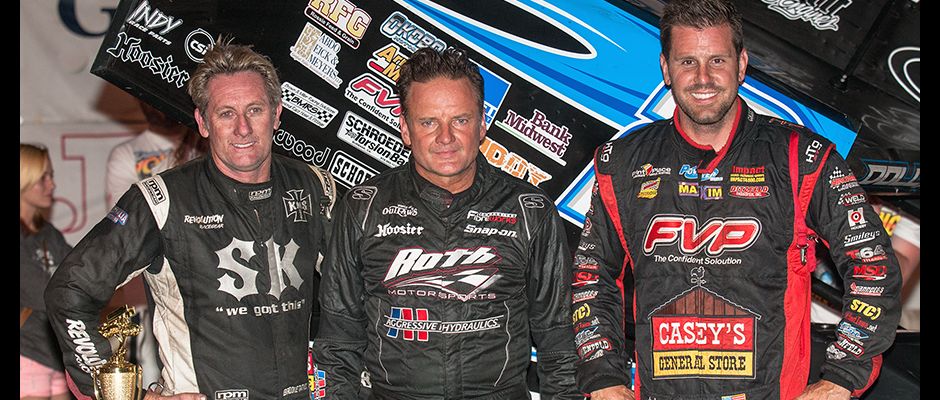 From Bill Wright
Des Moines, IA — (July 22, 2015) — Craig Dollansky won his first career feature with the FVP National Sprint League Wednesday night at the Iowa State Fair Speedway. The driver known as "The Crowd Pleaser" had a massive crowd to please. Ticket lines were backed up several blocks and required additional workers to accommodate the large throng of race fans. The win was worth a total of $4,000 for the Elk River, Minnesota driver. The night honored the late Danny Young, who lost his life twenty years ago. The Young family put up a $1,000 bonus for the night's winner.
Dollansky started on the pole of the 20-lap feature in the TKS Motorsports #2KS by virtue of his win in the Fuel Safe Dash. He would gain an early advantage, while Brian Brown moved into second from his fourth starting spot. Brooke Tatnell avoided disaster when the green flag fell and there was contact from another car. He would settle into third.
Four laps were run, when Ian Madsen spun in turn four. At the same time, Dakota Hendrickson came to a stop in turn two and retired from the event. Hendrickson had earlier turned over in his heat race. The slowdown did not affect Dollansky, as he pulled away. Late in the going, Brown closed the distance on the leader, but could do no better than second at the stripe. In an event supported strongly by Casey's General Stores, the lead pair would fly those colors. Tatnell, Danny Lasoski and Tim Kaeding completed the top five. Bryan Clauson, Bill Balog, Terry McCarl, Lynton Jeffrey and Matt Juhl rounded out the top ten.
Jeffrey set quick time on the event, while Brown, Terry McCarl and Lasoski won heat races. The event marked the first time in sixteen years that 410 sprint cars had visited the big half-mile in Des Moines. Jason Martin won the companion $1,500 305 sprint car feature.
"This is an awesome win for TKS Motorsports," said Dollansky in Victory Lane. "It's been a trying year for myself, my family, our fans and supporters. You just need to keep digging and battling. Tonight, we were fortunate enough to get track position, but at the same time, we capitalized on it. We've got a good team here, we've just got to keep working on it. Thank you to the NSL. Tod Quiring started a great series here."
"We haven't won one of these, so anytime you can see the front, you sit up in the seat a little higher," said Brown. "Congratulations to Craig. He's a world class sprint car driver. To start eighth in the Dash, and get to fourth…then to finish second was like a win for us. What a great crowd! Thanks for everyone for coming out."
"We knew how important the start was," said Tatnell. "We're a little disappointed with third to be honest. We struggled a bit since we had our problems at Knoxville. Hopefully, this can get us back to where we were about three weeks ago. Congratulations to Craig and TKS Motorsports."
FVP National Sprint League "Fair Speedweek" moves on to the Jackson Speedway in Minnesota on Thursday, July 23. The NSL will finish this weekend at Huset's Speedway near Brandon, South Dakota on Sunday, July 26. For more information on the FVP National Sprint League, visit www.NationalSprintLeague.com!
Results from Iowa State Fair Speedway
FVP A main (started), 20 Laps: 1. 2KS, Craig Dollansky, Elk River, MN [1]; 2. 21, Brian Brown, Grain Valley, MO [4]; 3. 55, Brooke Tatnell, Sans Souci, NSW, Aust. [2]; 4. 2, Danny Lasoski, Dover, MO [7]; 5. 3, Tim Kaeding, San Jose, CA [5]; 6. 17w, Bryan Clauson, Noblesville, IN [6]; 7. 17B, Bill Balog, Brookfield, WI [3]; 8. 24, Terry McCarl, Altoona, IA [11]; 9. 12, Lynton Jeffrey, Prairie City, IA [8]; 10. 09, Matt Juhl, Tea, SD [10]; 11. 17A, Austin McCarl, Altoona, IA [12]; 12. 13, Mark Dobmeier, Grand Forks, ND [14]; 13. 18, Ian Madsen, St. Mary's, NSW, Aust. [9]; 14. 81, Austin Johnson, Pleasant Hill, IA [13]; 15. 7TAZ, Tasker Phillips, Pleasantville, IA [16]; 16. 44, Chris Martin, Ankeny, IA [18]; 17. 69, Michael Moore, Des Moines, IA [17]; 18. 5H, Dakota Hendrickson, Omaha, NE [15]. Lap Leader: Dollansky 1-20. KSE Hard-charger: Lasoski.
Fuel Safe Dash (started), 6 Laps: 1. Craig Dollansky [2]; 2. Brooke Tatnell [1]; 3. Bill Balog [4]; 4. Brian Brown [8]; 5. Tim Kaeding [7]; 6. Bryan Clauson [3]; 7. Danny Lasoski [5]; 8. Lynton Jeffrey [6]
DMI Heat one (started), 8 Laps: 1. Brian Brown [2]; 2. Austin McCarl [1]; 3. Tim Kaeding [3]; 4. Brooke Tatnell [4]; 5. Dakota Hendrickson [5]; 6. Chris Martin [6]
Kaeding Performance Heat two (started), 8 Laps: 1. Terry McCarl [1]; 2. Ian Madsen [2]; 3. Bill Balog [3]; 4. Mark Dobmeier [5]; 5. Bryan Clauson [4]; 6. Michael Moore [6]
Maxim Racing Heat three (started), 8 Laps: 1. Danny Lasoski [2]; 2. Matt Juhl [1]; 3. Craig Dollansky [3]; 4. Lynton Jeffrey [4]; 5. Austin Johnson [5]; 6. Tasker Phillips [6]
The Minnesota Mafia Time Trials: 1. Lynton Jeffrey, 17.921 [6]; 2. Bryan Clauson, 17.973 [2]; 3. Brooke Tatnell, 18.093 [7]; 4. Craig Dollansky, 18.097 [9]; 5. Bill Balog, 18.103 [4]; 6. Tim Kaeding, 18.127 [10]; 7. Danny Lasoski, 18.155 [17]; 8. Ian Madsen, 18.213 [12]; 9. Brian Brown, 18.236 [14]; 10. Matt Juhl, 18.309 [13]; 11. Terry McCarl, 18.331 [3]; 12. Austin McCarl, 18.556 [16]; 13. Austin Johnson, 18.581 [18]; 14. Mark Dobmeier, 18.616 [1]; 15. Dakota Hendrickson, 18.650 [5]; 16. Tasker Phillips, 18.939 [11]; 17. Michael Moore, 18.971 [8]; 18. Chris Martin, 19.207 [15]
Contingencies
Minnesota Mafia Quick Time – Lynton Jeffrey
Fuel Safe Dash – Craig Dollansky
DMI Heat – Brian Brown
Kaeding Performance Heat – Terry McCarl
Maxim Racing Heat – Danny Lasoski
Speedway Graphics "From the Tail Award" – Chris Martin
KSE Hard-charger Award – Danny Lasoski
Bell Helmets "Hard Luck Award" – Dakota Hendrickson