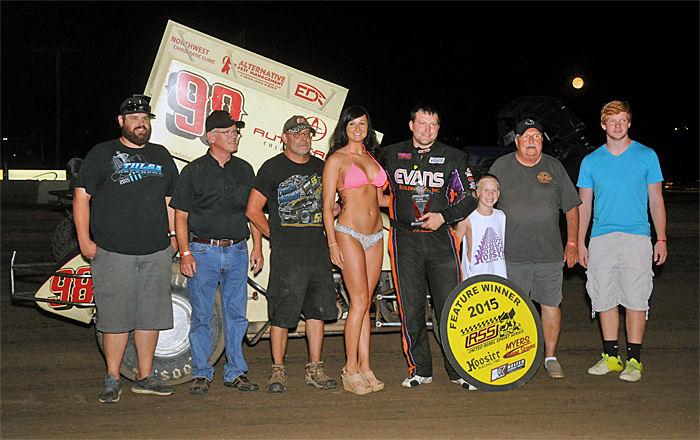 From URSS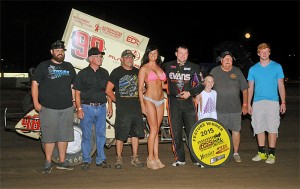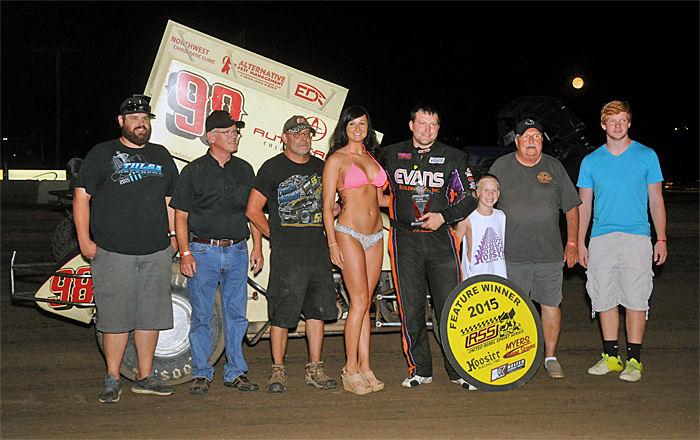 The United Rebel Sprint Series finished it's Month of Money with a trip to the Historic Belleville High Banks for the seventh installment of the 2015 Myers Engine URSS National Points Series. The night before the Rebels slugged it out on a tight ¼ mile bullring, now they would face the challenge of high speed side by side racing on a sweeping high banked ½ oval. Twenty teams made the trek to tame the famed oval and Wichita Kansas driver J.D. Johnson came away with the win before a packed house in Belleville.
Greeley Colorado's Austin Mclean led the field to the green with outside pole sitter Ty Williams grabbing the lead with Johnson, Zac Taylor, Luke Cranston and Mclean rounding out the top at the end of lap one. Zach Blurton and Jake Bubak made their way up to the fifth and sixth spots on lap three relegating Mclean to the seventh spot.
Williams ride would soon start to fall back as Johnson took the lead on lap five with Blurton picking up the fourth spot. The next two laps saw Blurton and Bubak swap the fourth spot back and forth until Blurton took it on lap eight. The red flag would come out the following lap as Taylor and Blurton would take a tumble in between turns three and four to end their nights.
On the restart Johnson took the lead with Cranston, Bubak, Steven Richardson and Jeff Radcliffe rounding out the top five. Cranston tried to use the bottom line to get around Johnson but it wouldn't hold and Bubak got around him to take over the runner up spot. Hot on the heels of the Hill City Hotshoe was USAC driver Dave Darland who had made his way from his tenth starting spot. The pair would battle for several laps before Darland took the spot on lap thirteen.
A trio of racers Jeremy Huish, Jason Martin and Jed Werner had been steadily making their way to the front and were holding down the seventh, eighth and ninth spots respectively. Martin who had experienced wing trouble in his heat race had the wing on his mount give up the ghost once again and pulled off the track on lap fifteen.
Back up front Johnson was holding the point as the leaders started encountering lapped traffic. Bubak, Cranston, Richardson and Darland all wove their way through the slower cars. Behind them Huish, Werner and Mclean were battling for position trying to make their way to challenge sixth place Radcliffe.
As the checkers fell it was Johnson picking up his second career URSS win with Bubak, Cranston, Richardson and Darland rounding out the top five.
Jeremy Huish won the Keizer Aluminum Wheels Hard Charger Award, moving up 9 spots to finish seventh from his 16th starting position.
Heat Race Winners – Ty Williams, Lucas Cranston, Jake Bubak
A-Feature
1- JD Johnson
2- Jake Bubak
3- Luke Cranston
4- Steven Richardson
5- Dave Darland
6- Jeff Radcliffe
7- Jeremy Huish
8- Jed Werner
9- Austin McLean
10- Joe Miller
11- Tracey Hill
12- Lance Davis
13- Connor Atkinson DNF
14- Jason Martin DNF
15- Zac Taylor DNF
16- Zach Blurton DNF
17- Brian Herbert DNF
18- Ken Lutters DNF
19- Ty Williams DNF
20- Howard Van Dyke DNF