Petersen Media
Prunedale, CA driver, Justin Sanders, out dueled Shane Golobic on Friday night at the Ocean Speedway to pick up his 14th win of the 2015 season before he picked up an eighth place finish with the Civil War Series on Saturday night at the Placerville Speedway.
"Placerville did not go quite how we would have liked, but we got a Top-10 out of it," Sanders said. "Friday was another great night for us, and I continue to be fortunate enough to drive two great racecars on a weekly basis."
In what was a fast and furious feature event at the Ocean Speedway, Sanders would lead the field to green by way of scoring the Dash win. With Brad Furr and Shane Golobic flanking him in the early goings, Sanders would be strong out front.
As the non-stop feature event continued to click off laps, Sanders would see his lead shrink up as lapped traffic became a factor on this night. Mired in traffic, Sanders would feel immense pressure from second place driver, Shane Golobic, as the race came to a close.
On the 20th lap, Golobic would get the better of Sanders and take the race lead, but Sanders would answer the call a lap later, and reassume the race lead and not surrender it again as he went on to pick up his 14th win of the 2015 season.
Saturday night would see the red hot Sanders climb back aboard the F&W Racing No. 18 machine as he headed to the Placerville Speedway to take on the Civil War Series in the 10th Annual Mark Forni Classic.
Timing in seventh fastest amongst the 29 cars entered into the event, Sanders would pick up a third place finish during his heat race, and transfer into the night's $10,000 –to-win feature event.
On a track that stayed really good all night long, Sanders' 10th place starting spot would be too much to overcome on a track that did not allow for much passing. Though he would try everything in his arsenal, Sanders would finish in the eighth spot.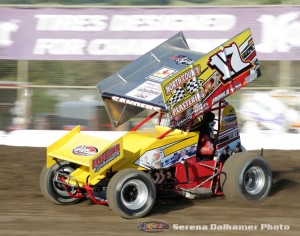 "The track didn't really wear out like we had hoped, and everyone stayed about the same speed on Saturday," Sanders added. "We had a good car, passing was just at a premium."
ON TAP: Sanders will be back in action on Saturday night at the Marysville Raceway.
2015 BY THE NUMBERS: Starts-37, Wins-14, Top-5's-27, Top-10's-34
STAY CONNECTED: Stay connected with Justin Sanders by visiting his website, www.teamsandersmotorsports.com.
PETERSEN MEDIA: Petersen Media specializes in motorsports media constructing news releases, both pre and post race, as well as constructing email lists to keep sponsors, and fans up to date. Petersen Media also utilizes today's Social Media networks to provide trackside updates to fans and sponsors, and can customize packages to fit your team's needs.
For more information contact sales@PetersenMediaInc.com, by phone at 916-342-3424,  visit www.petersenmediainc.com, www.facebook.com/petersenmedia or follow @Petersen_Media on twitter.