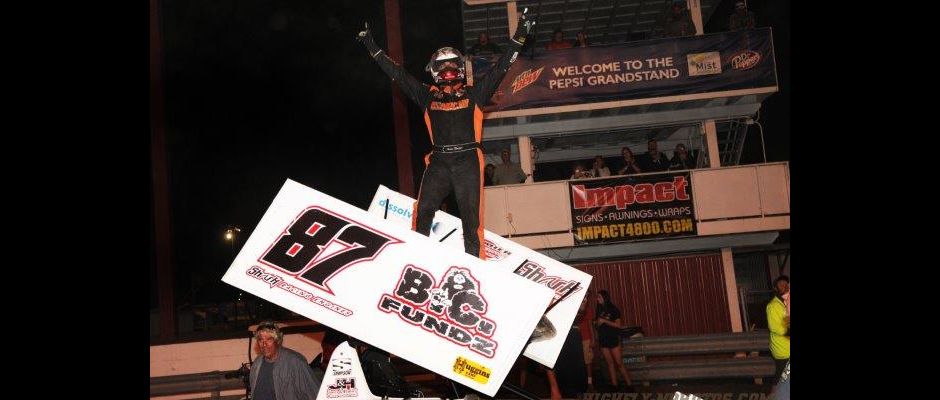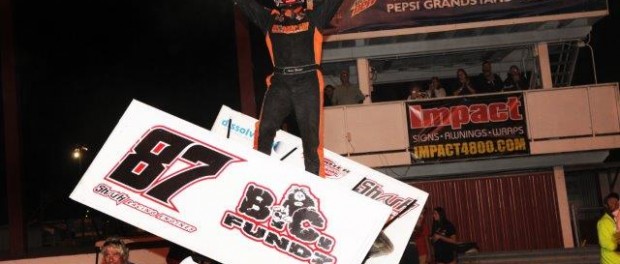 From Bryan Hulbert
Sedalia, MO — (August 23, 2015) — Lapped traffic was the deciding factor on Sunday night as Aaron Reutzel worked top shelf around Brian Brown it the closing laps of the $13,000 to win Casey's General Store High Roller Classic for his sixth victory of 2015 with the Lucas Oil ASCS presented by the MAVTV Motorsport in the series return to the Missouri State Fair Speedway.
"I knew we had a good racecar. I was saving my tires the first part of the race and when that caution came out, I realized that he [Brian Brown] was getting away from me pretty good. I just told myself I need to step it up and do what I got to do, and it all just played out," said a nearly breathless Aaron Reutzel in Victory Lane. "Saving my tires almost got me in trouble because I got passed at one point, but I was able to get back to second."
Gridding the B.C. Fundz No. 87 outside the front row, Reutzel gave chase as the Casey's General Store No. 21 of Brian Brown jumped to the early advantage. Losing ground to Brown in the opening laps, Reutzel got another shot as the caution flew on Lap 6 for Austin Alumbaugh.
Keeping pace with Brown on the restart, Reutzel worked the surface looking for room to run, while Brian committed to the low groove. Working to, and falling back several times, the pair hit traffic just past the race's midpoint point.
Continuing to pound the cushion, Aaron pulled nearly even on several occasions. A full head of steam from entry to the center of the turn, the advantage was Brown's off the exit; especially turn four that saw the No. 21 launch down the straightaway.
Clearing groups of slower cars, Brown found the inside line blocked on the 18th rotation, giving Aaron the chance he'd been looking for. Working Lap 19, the race went game on down the back stretch. Trying to hold the No. 21 to the bottom line, Reutzel pushed the gap off the exit of four. Using a slower car as a pick, Brian was forced to the center to maneuver, putting the race three wide as Aaron narrowly clear Brown and the wall for the lead.
In control, Reutzel would not be challenged again as Brown had to contend with Brad Loyet in the closing laps. Challenged briefly, Brian was able to fend off the No. 05.
"Sometimes it's better to be running second than leading. Congrats to Aaron. He did a good job and was able to move around. We just got beat. Really no excuses. I'm proud of this team to come here and run second in front of this basically hometown crowd. I could think of worse things we could be doing tonight," commented Brown. "My car was just so good around the bottom, and those guys would miss it just enough to where I could get my nose in there, and they'd kind of catch it there but it got pretty hairy when Aaron got by."
Brad Loyet settled for the show position in the Vacuworx Global No. 05.
"We had a good car. Those guys starting up front there kind of got the jump on us," said Loyet.
"It seemed like it took my car a little bit to come in but we just caught lapped traffic at the wrong time it seemed like. Rolling the bottom of three and four was going to make the race for us. It just seemed like we were better than they were down there, but we just kept catching them at the wrong end of the race track, but that's racing. Aaron's been fast all year long, and Brown's always good on the half-miles. We've had a really tough go lately. We haven't had a whole lot of confidence so to come out and run as good as we did it feel really well."
Johnny Herrera worked from 10th to fourth with Seth Bergman completing the top five.
Wayne Johnson was sixth after running in the top-five from most of the race. Sam Hafertepe, Jr. from 11th crossed seventh with Danny Wood marching forward 10 spots to grab eighth. After losing a tire while leading his Heat Race, Jonathan Cornell grabbed the final transfer through the B-Feature to advance 13 positions to ninth. Evan Martin completed the top ten.
With 35 drivers in attendance, four Heat Races went to Aaron Reutzel, Evan Martin, Brad Loyet, and Wayne Johnson. The top-eight in passing points took part in a $1,000 to win Dash in place of the night's redraw for their starting position, which was topped by Brian Brown. Tiger Towing and Impact4800.com put up the extra cash.
The B-Feature was topped by Justin Henderson. A provisional start was used by Blake Hahn.
During intermission, drivers went through the stands collecting money for Kevin Swindell and Patrick Stasa with fans donating $6,331.32. The total will be split with half going to each driver. We continue to pray for their recovery.
Co-Sanctioned with the Speedway Motors ASCS Warrior Region, Jonathan Cornell netted high points with his eighth place performance. Evan Martin, Randy Martin, Josh Fisher, and Tyler Thomas made up the top-five point earns for the region. The Speedway Motors ASCS Warrior Region competes next with a three day swing on Labor Day Weekend, starting with the return to Scotland County Raceway in Memphis, Mo. on Friday, September 4, followed by two nights at the Randolph County Raceway in Moberly, Mo.
The Lucas Oil ASCS presented by the MAVTV Motorsports Network heads for the Texas Motor Speedway Dirt Track on Saturday, September 12 for the Port-a-Cool U.S. Dirt Track Championship. More information can be found at http://www.texasmotorspeedway.com.
Continued updates on the American Sprint Car Series can be found at http://www.ascsracing.com.
Race Results:
Lucas Oil ASCS National Tour
Speedway Motors ASCS Warrior Region
Missouri State Fair Speedway – Sedalia, Mo.
Casey's General Store High Roller Classic
Sunday, August 23, 2015
Car Count: 35
Heat Races (8 Laps): Winners plus the next 12 highest in passing points to the A-Feature. Top 8 in points to a Dash.
Heat 1 (8 Laps): 1. 87-Aaron Reutzel[1]; 2. 23-Seth Bergman[4]; 3. 27-Danny Thoman[2]; 4. 81W-Danny Wood[3]; 5. 95-Matt Covington[7]; 6. 52-Blake Hahn[5]; 7. 86-Tyler Thomas[8]; 8. 14K-Kyle Bellm[9]; 9. 9M-Tyler Blank[6]
Heat 2 (8 Laps): 1. 4-Evan Martin[3]; 2. 92-Jordan Weaver[7]; 3. 34-Corey Nelson; 4. 38-Cody Baker[1]; 5. 48-Dean Hathman[8]; 6. 10-Will Register[2]; 7. (DNF) 28-Jonathan Cornell[4]; 8. (DNF) 93-Taylor Walton[5]; 9. (DNF) 5-Matt Close[9]\
Heat 3 (8 Laps): 1. 05-Brad Loyet[1]; 2. 45X-Johnny Herrera[2]; 3. 94-Jeff Swindell[3]; 4. 14-Randy Martin[6]; 5. 1-Justin Henderson[5]; 6. 72X-Josh Fisher[8]; 7. 01-Sammy Swindell[7]; 8. 14X-Jordon Mallett[9]; 9. 20K-Kevin Ulmer[4]
Heat 4 (8 Laps): 1. 77X-Wayne Johnson[1]; 2. 15H-Sam Hafertepe Jr[2]; 3. 21-Brian Brown[8]; 4. 33-Austin Alumbaugh[7]; 5. 72-Curtis Boyer[4]; 6. 24-Ricky Lee Stangl[6]; 7. 1X-Brad Ryun[5]; 8. 99-Andrew Turley[3]
Dash For Cash (6 Laps) Finish determines the top eight in the A-Feature lineup.
Dash 1 (6 Laps): 1. 21-Brian Brown[2]; 2. 87-Aaron Reutzel[6]; 3. 05-Brad Loyet[7]; 4. 23-Seth Bergman[4]; 5. 92-Jordan Weaver[1]; 6. 77X-Wayne Johnson[8]; 7. 4-Evan Martin[3]; 8. 34-Corey Nelson[5]
B-Feature (12 Laps): Top 6 advance to the tail of the A-Feature.
B Feature 1 (12 Laps): 1. 1-Justin Henderson[4]; 2. 81W-Danny Wood[1]; 3. 86-Tyler Thomas[8]; 4. 72X-Josh Fisher[2]; 5. 01-Sammy Swindell[10]; 6. 28-Jonathan Cornell[13]; 7. 14X-Jordon Mallett[14]; 8. 38-Cody Baker[3]; 9. 52-Blake Hahn[7]; 10. 9M-Tyler Blank[18]; 11. 20K-Kevin Ulmer[19]; 12. 10-Will Register[9]; 13. (DNF) 99-Andrew Turley[17]; 14. (DNF) 1X-Brad Ryun[12]; 15. (DNF) 72-Curtis Boyer[5]; 16. (DNF) 24-Ricky Lee Stangl[6]; 17. (DNF) 14K-Kyle Bellm[11]; DNS 93-Taylor Walton; DNS 5-Matt Close
A-Feature (25 Laps):
A Feature 1 (25 Laps): 1. 87-Aaron Reutzel[2]; 2. 21-Brian Brown[1]; 3. 05-Brad Loyet[3]; 4. 45X-Johnny Herrera[10]; 5. 23-Seth Bergman[4]; 6. 77X-Wayne Johnson[6]; 7. 15H-Sam Hafertepe Jr[11]; 8. 81W-Danny Wood[18]; 9. 28-Jonathan Cornell[22]; 10. 4-Evan Martin[7]; 11. 14-Randy Martin[12]; 12. 1-Justin Henderson[17]; 13. 01-Sammy Swindell[21]; 14. 72X-Josh Fisher[20]; 15. 86-Tyler Thomas[19]; 16. 95-Matt Covington[16]; 17. 94-Jeff Swindell[14]; 18. 52-Blake Hahn[23]; 19. 92-Jordan Weaver[5]; 20. 34-Corey Nelson[8]; 21. 48-Dean Hathman[13]; 22. (DNF) 27-Danny Thoman[15]; 23. (DNF) 33-Austin Alumbaugh[9]
Lap Leader(s): Brian Brown 1-18; Aaron Reutzel 19-25
KSE Hard Charger: Jonathan Cornell +13
FSR High Point: Jordan Weaver
Provisional(s): Blake Hahn (Prov. 3)