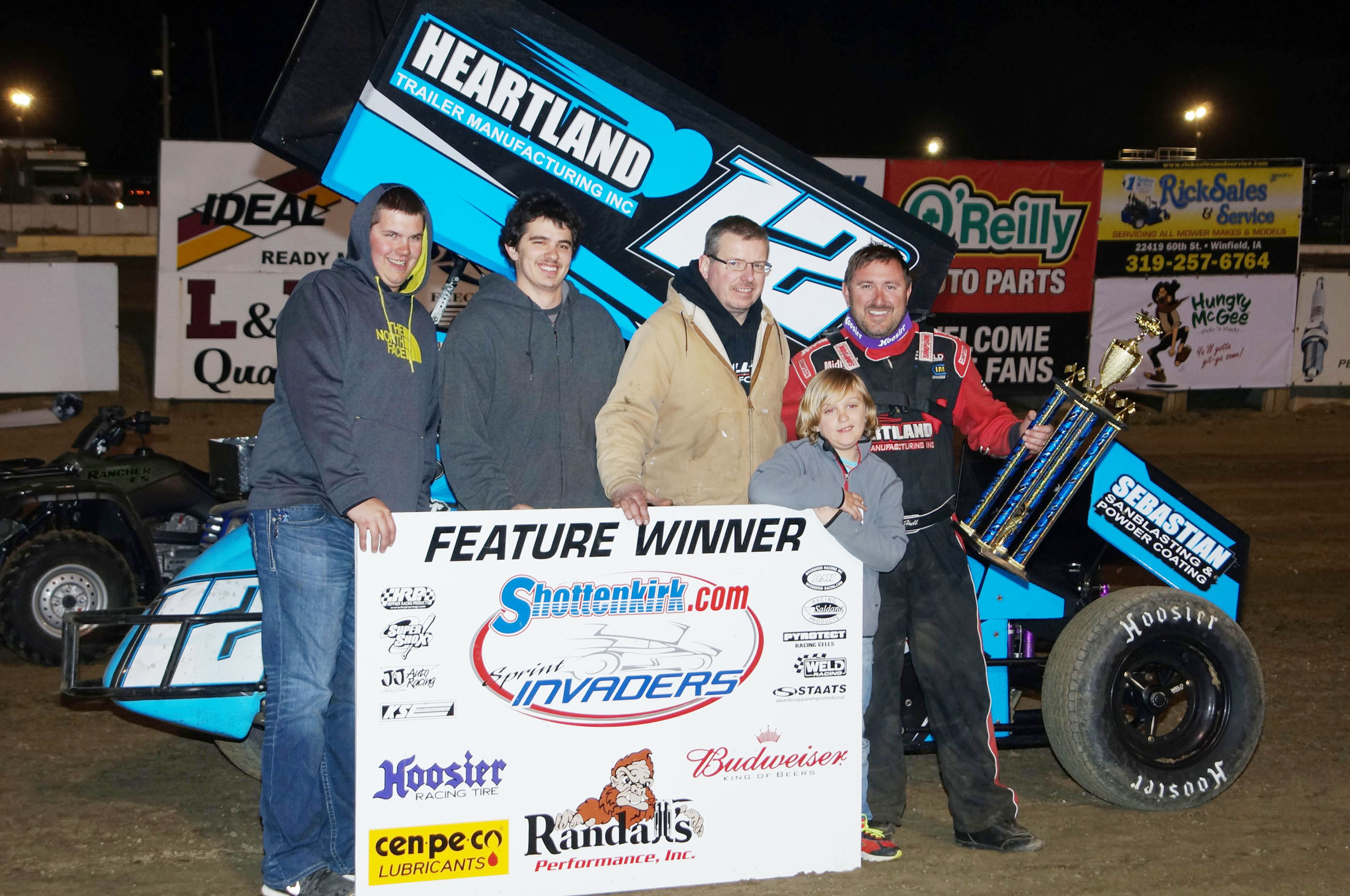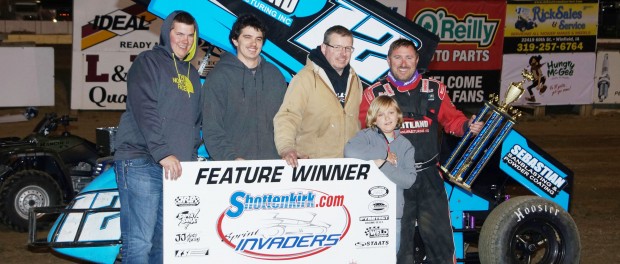 From Bill Wright
Quincy, IL — (August 23, 2015) — After starting out the three-race Shottenkirk.com Sprint Invaders Nationals weekend with a win at Donnellson on Friday night, Jerrod Hull of Sikeston, Missouri, closed out the weekend in the same manner by celebrating in victory lane at Quincy Raceways Sunday night.
By winning the Randall's Performance Shake-Up Dash Hull's new fan Jackson, from nearby Payson, drew the number one to put the driver of the Heartland Trailer Manufacturing car #12 on the pole position for the 21-car 25-lap main event at the quarter-mile oval known as "the Bullring on Broadway". It was third-starting Russ Hall though who stole the lead from Hull in the opening laps before a spin by Mark Tischer in turn two caused the first caution of the race on lap three. On the restart Hull made a charge at Hall and squeezed by him on the outside just as the two leaders scored lap number four.
Hull would stretch his advantage from there only to have it wiped out on lap ten when the third-place driver Bobby Mincer spun in turn two. This brought the field back to Hull for the restart will all eyes now on Joey Moughan who had moved from tenth to third. Moughan could not steal second from Hall though following the restart, but the caution would wave one last time on lap 14 when the Sears Racing #31 driven tonight by Casey Shuman slowed with mechanical issues.
On this restart Moughan was able take second from Hall and he then was able to keep pace with Hull. Using a lower line than the leader Moughan would show his nose to Hull in turn one with five laps remaining only to have the crafty veteran take away that line on the following lap. The lapped cars of Justin Bucholz and Dave Getchell were racing side-by-side ahead of Hull with three-laps remaining and when he was able to split them and drive away that left Moughan to contend with a final charge from a trip of drivers including early leader Russ Hall.
As Hull was taking the checkers for the $1,500 win, Hall was able to regain the second spot on the back stretch leaving Moughan to finish third just ahead of Saturday's winner John Schulz, while Jerrod Schneiderman completed the top five as those four cars crossed the line in tight formation.
In victory lane Hull was quick to thank his crew chief Scott Bonar and all of his sponsors for helping him to score two wins on the weekend with the Sprint Invaders, now giving him 18 career victories with the series. Just three shy of career wins leader Kaley Gharst.
The Shottenkirk.com Sprint Invaders will return to action on Saturday, September 5th at the Peoria Speedway before closing out the 2105 campaign on Saturday September 19th at 34 Raceway near Burlington.
Shottenkirk.com Sprint Invaders Results
A-Main (started) – 1, Jerrod Hull, Sikeston MO (1) 2. Russ Hall, Pleasnt Hill IA (3) 3. Joey Moughan, Springfield (10) 4. John Schulz, West Burlington IA (4) 5. Jerrod Schneiderman, West Burlington IA (5) 6. Ryan Jamison, Mediapolis IA (6) 7. Jamie Ball, Knoxville IA (9) 8. Jon Agan, Knoxville IA (8) 9. Tony Shilling, Knoxville IA (12) 10. J Kinder, Holts Summit MO (7) 11. Chris Martin, Ankeny IA (17) 12. Ben Waggoner, Emden (15) 13. Nate Van Haaften, Otley IA (21) 14. Harold Pohren, Lowell IA (18) 15. Josh Schneiderman, West Burlington IA (14) 16. Tim Moore, Rock Island (19) 17. Dave Getchell, Sperry IA (13) 18. Mark Tischer, Hannibal MO (20) 19. Justin Bucholz, Davenport IA (11) 20. Casey Shuman, Rattlesnake Bend AZ (16) 21. Bobby Mincer, Burlington IA (2)
Lap Leaders: Hall 1-3, Hull 4-25
Hard Charger: Van Haaften +8
Cen-Pe-Co Lubricants Heat One – 1. Hall 2. Jerrod Schneiderman 3. Kinder 4. Moughan 5. Getchell 6. Shuman 7. Moore
Budwesier King of Beers Heat Two – 1. Jamison 2. Mincer 3. Agan 4. Bucholz 5. Josh Schneiderman 6. Martin 7. Tischer
Heat Three – 1. Schulz 2. Hull 3. Ball 4. Shilling 5. Waggoner 6. Pohren 7. Van Haaften Randall's Performance Shake-Up Dash – 1. Hull 2. Mincer 3. Hall 4. Schulz 5. Jerrod Schneiderman 6. Jamison