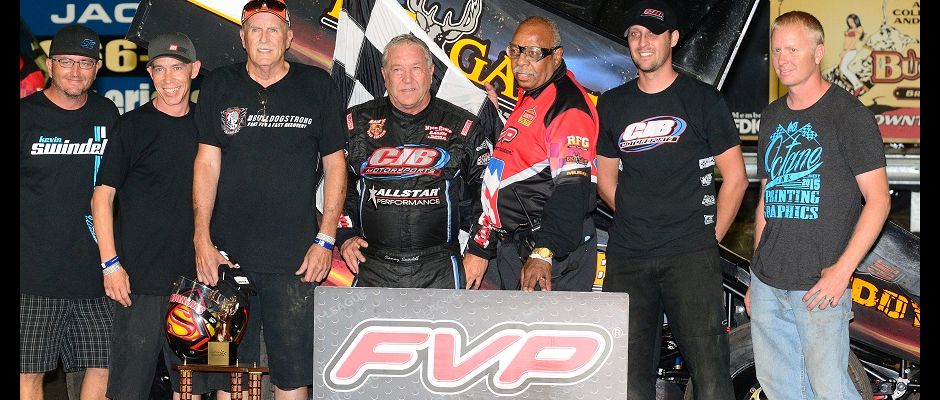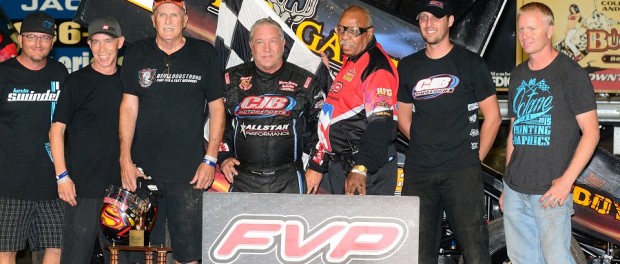 From Bill Wright
Knoxville, IA — (September 2, 2015) — Sammy Swindell swept night #1 of the 37th Annual Jackson Nationals at the Jackson Speedway in Minnesota Friday night. The win assured him of a spot in the $25,000 to win Jackson Nationals finale, Saturday night, September 5. The Germantown, Tennessee driver led every lap and survived a late scrap with Brian Brown to secure the win. He also set a new one-lap track record in qualifying at 15.491 seconds, breaking Sam Hafertepe Jr.'s four year old mark of 15.601.
Swindell shot from his starting spot outside row two to hit the high side and edge the pole-sitter, Brown, for the early lead. With three laps down, the first caution of the race came out for Tasker Phillips, who spun and collected Paige Polyak. The restart saw Swindell leading Bronw, Ian Madsen, Lynton Jeffrey and Bryan Clauson.
Brown stayed with the leader after the restart, hitting the high side of one and two, while Swindell used the low groove. While the pair battled up front, Craig Dollansky took fifth from Clauson. Danny Lasoski began a charge at that point, outing both Clauson and Dollansky for a top five spot.
Swindell moved through traffic with ease, and opened up a half straightaway lead before Mark Dobmeier hopped the turn one cushion and took a ground pounder after some serious airtime. He would walk away. Brown hit the middle of turns one and two on the restart and edged in front of Swindell coming off turn two. The two cars contacted, and Brown bobbled.
Madsen took a shot at both of the leaders in turn three, but Brown regained second and followed Swindell to the stripe. Behind Swindell, Brown and Madsen, were Lasoski and Jeffrey. Dollansky, Clauson, Terry McCarl, Travis Whitney and KSE hard-charger, Tim Kaeding rounded out the top ten.
"We got together at the end," said Swindell of his contact with Brown. "It wasn't all my fault, and it wasn't all his fault, but it happened. That's the way it goes. This is an awesome car to drive. We didn't have to do too much to it all night. Awesome things are going to happen with Big Game Treestands back on board."
"It was a good run for us," said Brown. "We've been struggling a little bit this year. To get up there and run with Sammy and contend for the win was good. 25 laps tomorrow…we're going to come and give it our best! We were pretty decent, we just weren't good enough. Like he said, it probably wasn't all his fault, or my fault. It was two guys going for the win."
"We're really happy to get a podium finish here," said Madsen. "Hopefully, tomorrow night, we can do a couple spots better."
The top twelve in points were locked into Saturday night's main event. Drivers earned points in qualifying, heats and the feature events. The top twelve will accumulate points again Saturday to determine where they will start in the first six rows.
Top Twelve in Points from Friday…
Sammy Swindell, 500
Ian Madsen, 482
Craig Dollansky, 482
Brian Brown, 478
Danny Lasoski, 476
Lynton Jeffrey, 474
Bryan Clauson, 470
Bill Balog, 462
Terry McCarl, 457
Scott Winters, 444
Matt Juhl, 443
Tasker Phillips, 443
The FVP National Sprint League shoots for the $25,000 top prize, Saturday night, September 5 as the 37th Annual Jackson Nationals comes to a close. For more information on the FVP National Sprint League, visit www.NationalSprintLeague.com!
Results from Jackson Speedway
FVP A main (started), 20 laps: 1. 1, Sammy Swindell, Germantown, TN [4]; 2. 21, Brian Brown, Grain Valley, MO [1]; 3. 18, Ian Madsen, St. Mary's, NSW, Aust. [6]; 4. 2, Danny Lasoski, Dover, MO [5]; 5. 12, Lynton Jeffrey, Prairie City, IA [2]; 6. 2KS, Craig Dollansky, Elk River, MN [3]; 7. 17w, Bryan Clauson, Noblesville, IN [8]; 8. 24, Terry McCarl, Altoona, IA [13]; 9. 16, Travis Whitney, Blaine, MN [14]; 10. 3, Tim Kaeding, San Jose, CA [20]; 11. 17B, Bill Balog, Brookfield, WI [7]; 12. 17A, Austin McCarl, Altoona, IA [11]; 13. 23w, Scott Winters, Butterfield, MN [16]; 14. 55, Brooke Tatnell, Sans Souci, NSW, Aust. [12]; 15. 96, Bronson Maeschen, Pleasantville, IA [19]; 16. 09, Matt Juhl, Tea, SD [18]; 17. 35, Skylar Prochaska, Lakefield, MN [22]; 18. 25, Dylan Peterson, Sioux Falls, SD [21]; 19. 7TAZ, Tasker Phillips, Pleasantville, IA [15]; 20. 17, Ryan Bickett, Ramona, SD [23]; 21. 7D, Dustin Selvage, Indianola, IA [17]; 22. 15, Joe Riedel, Ramona, SD [24]; 23. 13, Mark Dobmeier, Grand Forks, ND [10]; 24. 19P, Paige Polyak, Tiffin, OH [9]. Lap Leader: Swindell 1-20. KSE Hard-charger: Kaeding.
Hooker Harness B main (started), 12 laps: 1. Austin McCarl [1]; 2. Skylar Prochaska [4]; 3. Ryan Bickett [5]; 4. Joe Riedel [3] / 5. 4w, Matt Wasmund, Jackson, MN [6] / 6. 14AJ, Wayne Modjeski, Oak Creek, WI [9]; 7. 19, Donovan Peterson, Brookings, SD [8]; 8. 47, Brant O'Banion, Norfolk, NE [7]; 9. 49, Josh Schneiderman, West Burlington, IA [2] DNS – 81, Austin Johnson, Pleasant Hill, IA, Jody Rosenboom, Rock Rapids, IA, 5H, Dakota Hendrickson, Omaha, NE
Fuel Safe Heat one (started), 8 laps: 1. Tasker Phillips [3]; 2. Danny Lasoski [5]; 3. Ian Madsen [6]; 4. Dylan Peterson [1]; 5. Brooke Tatnell [4] / 6. Austin Johnson [2]; 7. Matt Wasmund [7]; 8. Wayne Modjeski [8]
DMI Heat two (started), 8 laps: 1. Matt Juhl [2]; 2. Craig Dollansky [6]; 3. Tim Kaeding [1]; 4. Paige Polyak [5]; 5. Travis Whitney [3] / 6. Austin McCarl [4]; 7. Dakota Hendrickson [8]; DNS – Jody Rosenboom[7]
Kaeding Performance Heat three (started), 8 laps: 1. Bryan Clauson [4]; 2. Terry McCarl [3]; 3. Bill Balog [5]; 4. Dustin Selvage [2]; 5. Lynton Jeffrey [6] / 6. Ryan Bickett [7]; 7. Joe Riedel [1]; 8. Donovan Peterson [8]
Maxim Racing Heat four (started), 8 laps: 1. Sammy Swindell [6]; 2. Scott Winters [2]; 3. Bronson Maeschen [1]; 4. Brian Brown [5]; 5. Mark Dobmeier [4] / 6. Josh Schneiderman [3]; 7. Skylar Prochaska [7]; 8. Brant O'Banion [8]
The Minnesota Mafia Time Trials (Qualifying Order), 2 laps: 1. Sammy Swindell, 15.491 [18]; 2. Lynton Jeffrey, 15.619 [27]; 3. Craig Dollansky, 15.717 [17]; 4. Ian Madsen, 15.749 [2]; 5. Brian Brown, 15.761 [26]; 6. Bill Balog, 15.779 [11]; 7. Paige Polyak, 15.818 [12]; 8. Danny Lasoski, 15.832 [24]; 9. Mark Dobmeier, 15.858 [9]; 10. Bryan Clauson, 15.871 [29]; 11. Austin McCarl, 15.880 [15]; 12. Brooke Tatnell, 15.902 [13]; 13. Josh Schneiderman, 15.919 [1]; 14. Terry McCarl, 15.958 [31]; 15. Travis Whitney, 15.991 [19]; 16. Tasker Phillips, 16.044 [28]; 17. Scott Winters, 16.055 [20]; 18. Dustin Selvage, 16.060 [8]; 19. Matt Juhl, 16.074 [6]; 20. Austin Johnson, 16.106 [3]; 21. Bronson Maeschen, 16.126 [7]; 22. Joe Riedel, 16.128 [22]; 23. Tim Kaeding, 16.201 [25]; 24. Dylan Peterson, 16.274 [10]; 25. Skylar Prochaska, 16.360 [30]; 26. Ryan Bickett, 16.367 [32]; 27. Jody Rosenboom, 16.528 [14]; 28. Matt Wasmund, 16.546 [23]; 29. Brant O'Banion, 16.671 [16]; 30. Donovan Peterson, 16.676 [5]; 31. Dakota Hendrickson, 16.757 [4]; 32. Wayne Modjeski, NT [21]
Contingencies
The Minnesota Mafia Quick Time – Sammy Swindell
Fuel Safe Heat – Tasker Phillips
DMI Heat – Matt Juhl
Kaeding Performance Heat – Bryan Clauson
Maxim Racing Heat – Scott Winters
Hooker Harness "Locked In Award" – Austin McCarl
Speedway Graphics "From the Tail Award" – Joe Riedel
KSE Hard-charger Award – Tim Kaeding
Bell Helmets "Hard Luck Award" – Josh Schneiderman
"Good as New with Ti22 Award" – Mark Dobmeier