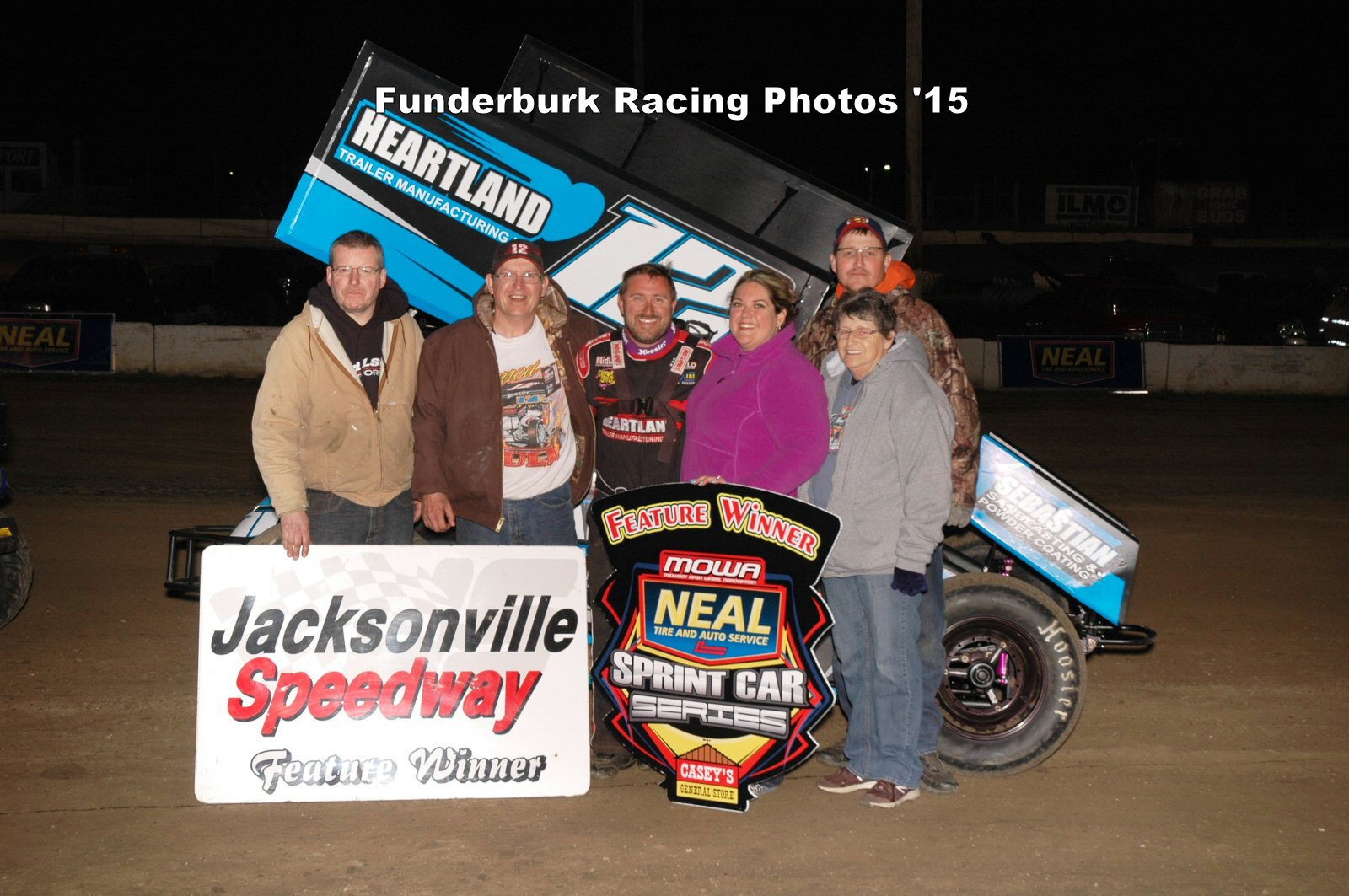 By Bill W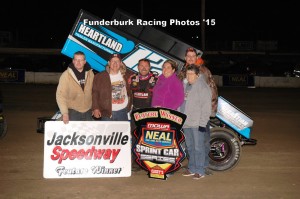 September 16, 2015 – Slow and steady is winning the race for Jerrod Hull and the Heartland Trailer Manufacturing #12 team. They won another Herb Barlow Memorial last Friday night at the Jacksonville Speedway in Illinois. A third place finish at the Tom Knowles Memorial at the Spoon River Speedway near Canton gave the team a twelve point lead in the MOWA point race. Jerrod will take this weekend off as son Jett will be racing, but he will return September 25 and 26 for the Queen's Royale at the St. Francois County Raceway near Farmington, Missouri.
The Herb Barlow Memorial always offers a lot to the competitors. "It's always a great event," says Jerrod. "The Herb Barlow family and their sponsors work really hard to get something for every driver. At the driver's meeting, everyone gets something, from tires to gift certificates, so we really appreciate that. There was extra money for winning the Dash, the heats and more. When you do well at that race, it makes it special."
Jerrod picked up an extra $100 for winning his heat and $500 for winning the Dash. "The car felt really good in the heat race," he says. "We drew the outside of row one for the Dash too, and won that. Everything was going great."
He would start on the pole of a feature that took a while to get started. "It took us three times to get the feature started," says Jerrod. "On the third try, Parker Price-Miller got the jump on me. We were both fast. He was out there about five or six car lengths and we were following. The track was really good. They had reworked it before the feature. There weren't any signs of rubber. You had to run the top of one and two, but three and four had a top, bottom and sometimes a middle."
Jerrod would stay in pursuit until the leader made a mistake. "We got to lapped traffic and I could see his brakes were glowing and sparks were flying," he says. "He was going hard. Finally, we were in heavy lapped traffic, and he ended up doing a slide job and he spun it out. He did a good job, and we were setting a good pace. We had a couple restarts and I think a red flag after that, and we were able to hold on."
Jerrod is also no stranger to Victory Lane at the Tom Knowles Memorial. He would win his heat from fifth. "The car was just great," he says. "We were able to drive off the bottom really nicely and pick them off. We were able to get the lead with a couple to go and win that. I was excited about how the car felt."
He would start in the second row of the Dash. "We ran third in the Dash, but I was excited," says Jerrod. "We were right there with first and second. We came back and bolted on some new tires and got ready for the feature."
He would end the night running third behind Paul Nienhiser and Brad Loyet. "From the first lap, I didn't feel like we had the drive we had in the Dash," says Jerrod. "The track was slick, and I was trying to get the wing back. I actually was able to drive around them on a couple of restarts, but they were able to get back by me. Late in the race, they pulled away and we kind of held on to a third place."
Jerrod felt good about the weekend. "All in all, it was a good weekend," he says. "We had a first and a third and ended up taking the points lead over. I think we have a twelve point lead now. It's not much, but that's what we were after. We'll take this weekend off, and get prepared for the Queen's Royale. That's a big weekend for us. We sure would like to win that again."
Jerrod and the #12 team would like to thank: Midland Performance, Super Shox, Sebastian Sand Blasting & Powder Coating, Inc., Chuck's Small Engines, Don Hamilton, HRP, Lighthouse Christian Center, Rockstar Graphics, King Racing Products, DMI, KSE Performance Products, Hoosier Tire, Simpson, Weld, Automotive Machine, Maxim and Heartland Trailer Manufacturing.