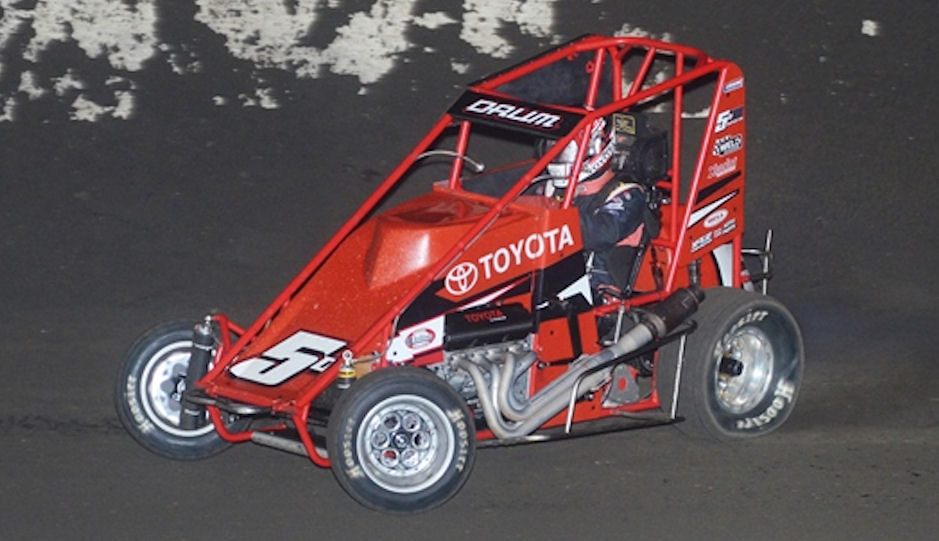 From Powri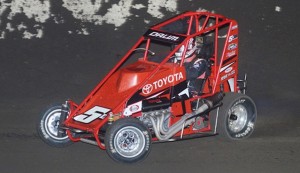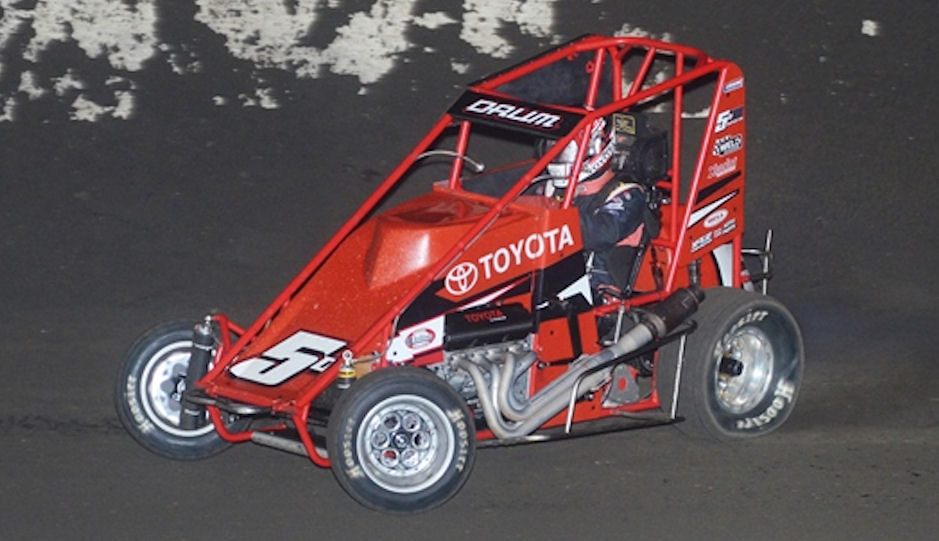 Macon, IL – Zach Daum of Pocahontas, Illinois earned his 12th career POWRi Lucas Oil National Midget Series victory at Macon Speedway, while Nathan Benson earned a hard-fought 17th career win, moving into the second slot for the POWRi Speedway Motors 600cc Outlaw Micro Series all-time feature win list, and sealing his third championship in a row.
Ryan Robinson driving a Keith Kunz/Curb-Agajanian Motorsports Toyota-powered Bullet led the field to green from the pole with newly crowned 2015 POWRi Lucas Oil National Midget Series champion Darren Hagen to his outside.  Ryan Robinson would narrowly lead lap one, only for Tyler Thomas to take over going down the backstretch on lap number two.  On the following lap Jake Neuman would get sideways off turn two and collect Justin Peck bringing out the first caution of the feature event.
Coming back to green, Daum would move the Daum Crop Insurance, Toyota-powered Eagle #5D into the third positon, setting his sights on Ryan Robinson for second.  On lap eight, Daum would make a move on Robinson, only for the caution to fly for Derrick Myers who spun after clipping an infield tire in turns three and four.  Returning to racing, Daum would take full advantage of the restart and pounce on Robinson for second, taking the position down the back stretch.  With a clear track for the leaders, Daum would power hard around the track trying to catch Thomas.
On lap 23 misfortune would strike as Thomas would get tangled in a caution involving both Darren Hagen and Justin Peck.  Both Thomas and Hagen would be done for the remainder of the event.  Inheriting the lead, Daum would take over the top position with two lap cars in between himself and the second place machine of Kevin Thomas, Jr. who was followed closely by teammate Tanner Thorson.  Coming back to green Ryan Robinson and Chase Briscoe would be end up tangled on the bottom of turns one and two bringing the caution back out.
With six laps to go, Daum would check out as Thomas, Jr. would work past the lap cars on the bottom, while Thorson moved past the same lap cars on the high side. One lap 27, Thorson would slide in front of Thomas, Jr. coming off two for the second position.  With no time left, Thorson wouldn't be able to challenge for the lead as Daum crossed the line for his 12th career POWRi Lucas Oil National Midget Series victory, coming from the 10th position.  Kevin Thomas, Jr. would take the third position, while Andrew Felker took fourth in the Mel-Mark Pipe and Supply, Stanton SR-11-powered BOSS Chassis.  Tim Siner rounded out the top five in the Siner Transport, Esslinger-powered Spike.
"This is alright," said Daum.  "I'd rather be lucky than good.  He was quicker than we were.  This place, here and little Belleville, they're so small race tracks that you get caught up in other people's mess.  I felt like we gave one away last night, we had a motor lay down.  But this is awesome.  I can't thank my guys enough."
"These guys gave me an awesome car tonight," said Thorson.  "I got taken out in the heat race and flipped.  We were able to come back to fourth which put us in the B and we were able to win that.  I got into my teammate there, but I apologize to him, but I'm happy to bring home second."
"It's not bad," said Thomas, Jr.  "That last restart; I suck at restarts, but it is what it is.  Zach Daum and Tanner, they did a great job.  But Keith Kunz and Toyota give us great cars and motors, it's just up to us to drive them."
Nathan Benson of Concordia, Missouri stole the show from the fourth position, earning his sixth career POWRi Speedway Motors 600cc Outlaw Micro Series and his third straight championship.  Piloting a FTZ-powered Pace Chassis, Benson held off multiple challenges, due to two red flags and three yellows, in route to this 17th career victory.  Ayrton Gennettan finished his season out with a second place finish, while Matt Howard rounded out the top three.  Chris Cochran took fourth, while Jeremy Camp finished fifth.
"What a year of ups and downs it's been for us," said Benson.  "Three in a row.  We've got some awesome racecars.  Points racing is just not fun, but we got six wins.  I think we had the speed, just a lot of ups and downs."
"It's been a great year," said Gennettan.  "I just wanted to get a win tonight because we're not going to Jacksonville.  Congratulations to Nathan on three in a row.  Maybe we can get one next year."  12th to 3rd is all from my uncle," said Howard.  "He's done all the work this weekend."
Midgets
Ford Heat Race Winners: Heat 1: 85 – Shane Hollingsworth, Heat 2: 11A – Andrew Felker, Heat 3: 39C  – Payton Pierce, Heat 4: 91T – Tyler Thomas, Heat 5: 3N – Jake Neuman
Toyota Semi-Feature Winners: 91 – Dereck King; 67 – Tanner Thorson
Great Clips Feature Winner: 1. 5D – Zach Daum
POWRi Lucas Oil National Midget Series Feature Results (30 laps): 1. 5D – Zach Daum  2. 67 – Tanner Thorson  3. 67K – Kevin Thomas Jr.  4. 11A – Andrew Felker  5. 15 – Tim Siner  6. 39C  – Payton Pierce  7. 27 – Tucker Klaasmeyer  8. 38 – Chase Briscoe  9. 7 – Austin Brown  10. 85 – Shane Hollingsworth  11. 91 – Dereck King  12. 3N – Jake Neuman  13. 9K – Kyle Schuett  14. 71 – Ryan Robinson  15. 41 – Austin Prock  16. 8 – Alex Sewell  17. 91T – Tyler Thomas  18. 17 – Darren Hagen  19. 57 – Justin Peck  20. 25M – Derrick Myers  21. 39 – Spencer Bayston  22. 88 – Terry Babb  23. 50 – Daniel Adler