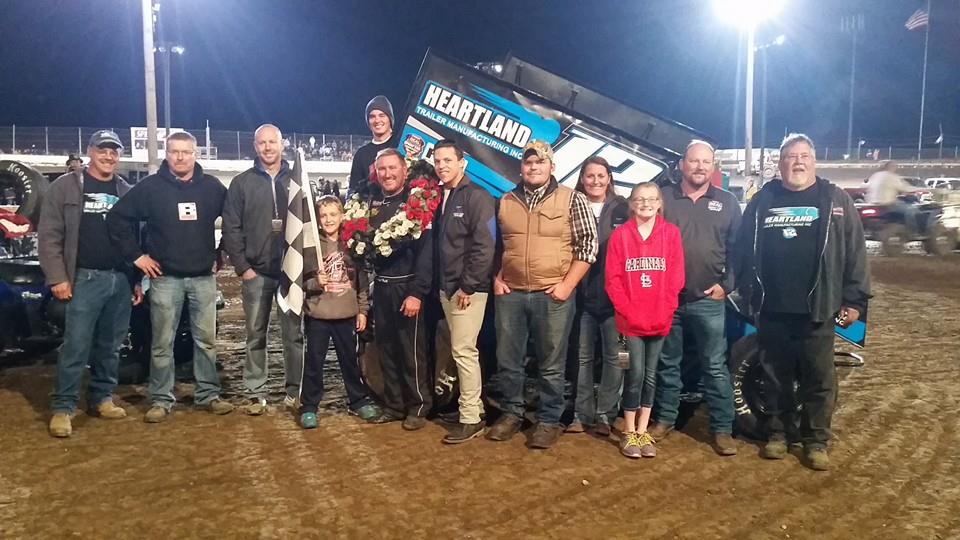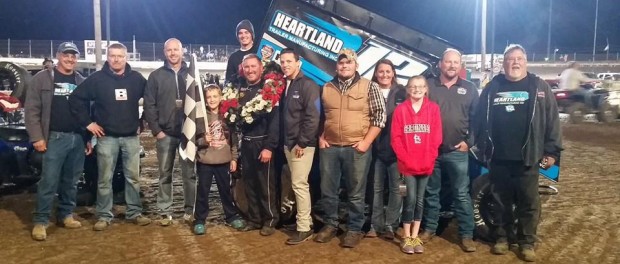 From Bill Wright
October 13, 2015 – Jerrod Hull and the Heartland Trailer Manufacturing #12 team weren't aiming for their fifth MOWA championship when the 2015 season got underway. They missed a show early, and the thought never crossed their mind. But consistent finishes had the Sikeston, Missouri driver in the hunt the final month of the season, and he capitalized on the opportunity in last weekend's two-day MOWA finale at Jacksonville Speedway in Illinois. The championship included $10,000 from Neal Tire. The team will take a couple weeks off before the Short Track Nationals in Little Rock.
Jerrod won the title in part due to the misfortunes of young Paul Nienhiser, who came into the week leading the point battle. "Paul had bad luck, and it took him right out," he says. "You never like to see that. We were point racing, and it showed all weekend. Our finishes were off. On the starts is where a lot of stuff can happen and I wasn't aggressive. I wanted to make sure we didn't get tore up. When you are that close, you are even more careful."
The two drivers started out in the same heat Friday night. "We drew a bad number there (outside row four), and right off the bat, I knew we were going to have to be careful," says Jerrod. "I was scared of what would happen. Paul started right in front of us, and got together with another car on the first lap. The car came flipping and caught our wing and got into the front end. At that point, I knew how bad Paul had crashed, but I didn't know how bad we were. We were able to get through it and finish fifth."
While Nienhiser had trouble again in the B, Jerrod would start the feature outside row six. "We were pretty good in the feature," he says. "The track got slick, and that's how we like it. We worked our way up to sixth. Third through fifth was right there. If I hadn't have been so cautious, I would have went for fifth or fourth. But those two cars were sliding each other. I was worried about them getting together. The finish helped us on the points. We came out of the first night happy."
The luck of the draw did not come in on Saturday either. "We drew at the back again," says Jerrod. "One of the cars in front of us fell out, and we ended up starting sixth. We were able to get to fifth. There were some cars sideways in front of us again, but we made it through."
Jerrod had taken the point lead and just needed a steady run in the main event. He would start tenth. "The track was really tricky Saturday with a big cushion that you had to run," he says. "It was more of a ledge than a cushion. It wasn't moving. Early on, we lost a position. I was kind of holding my own, and we did pass for a couple of spots. Paul had some trouble earlier in the night. We finished eighth, and that was good enough to win the point title."
The team cherished this point championship every bit as much as the others. "That was our goal heading into the weekend," says Jerrod. "We started the year not running for points, and we missed a show. To still come out with the point championship is big for our team. I think we only had one DNF all year and that was early. That shows how good Scott (Bonar) does with the cars. That's what it takes."
The last several weeks have been tough. "I was hearing and feeling things that I normally wouldn't with the car," says Jerrod. "I'll blame that on me. The last few weeks with this point deal, I've been really hard on Scott. It seemed I was upset every time I came off the track. When you start point racing, there is stress involved. With Neal Tire putting up $10,000, it made it mean a lot and you think about it a lot more. Scott got the brunt of it, and I apologize to him. Everyone was there for the weekend, and we were really excited. It will be great to work with Neal Tire next year, and it's going to work out for both of us."
Jerrod and the #12 team would like to thank: Midland Performance, Super Shox, Sebastian Sand Blasting & Powder Coating, Inc., Chuck's Small Engines, Don Hamilton, HRP, Lighthouse Christian Center, Rockstar Graphics, King Racing Products, DMI, KSE Performance Products, Hoosier Tire, Simpson, Weld, Automotive Machine, Maxim and Heartland Trailer Manufacturing.