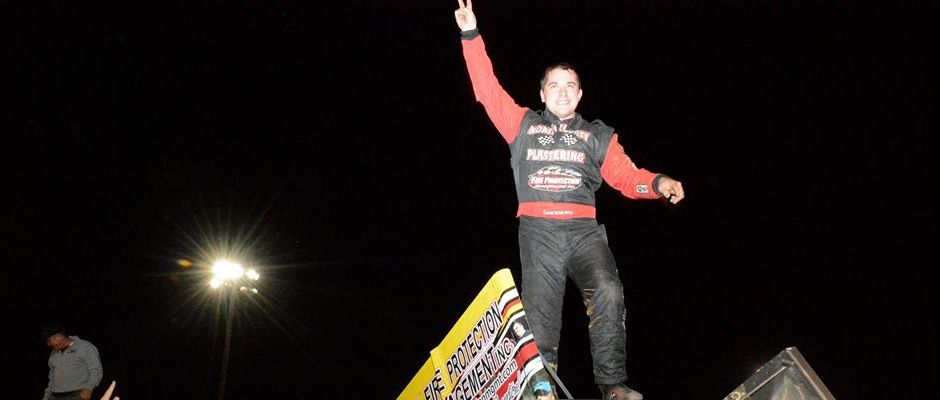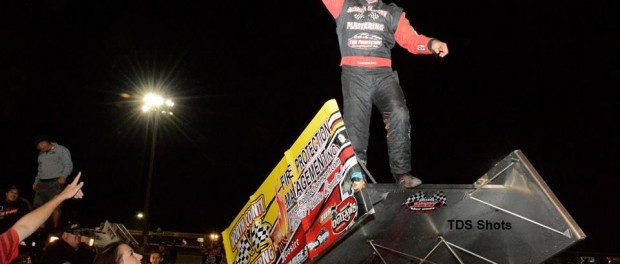 From Peterson Media
The resume of Justin Sanders continues to grow as the Watsonville, CA driver earned his 20th win of the year on Friday night at the Ocean Speedway, and by doing so he claimed the 2015 Ocean Speedway Track Championship, his second title of the season as he took top honors at the Marysville Raceway earlier this year.
"Our goal was to win three championships this year, and we are one step away," Justin Sanders said. "It feels great to get to 20 wins, and hopefully we can get a few more before the season ends."
Heading to the nearby Ocean Speedway for the track's final event of 2015, Sanders got his night started by timing the North County Plastering/Fire Protection Management/Lancaster Locksmith No. 17 machine in seventh fastest.
From the front row of his heat race, Sanders would be untouchable, as the heat race win would make him eligible for the Dash. As luck would have it, Sanders would pull the one pill, and line up on the front row for the six-lap race.
Scoring the win, Sanders sat in prime position to win his 20th of the year as he would lead the field to the green flag from the pole. Getting the jump on the field, Sanders was never seriously challenged as he set a torrid pace as he searched for his 9th win of the season at the track he calls home.
With the battle for second place heating up, it allowed Sanders to gap the field by an even larger margin, as he was able to cruise to his 20th win of the season and claim the track championship by 122 points.
"It is pretty awesome to close out our Ocean Speedway season like this," Sanders said. "It has been a phenomenal season, and we will look to have a good showing at the Trophy Cup this week."