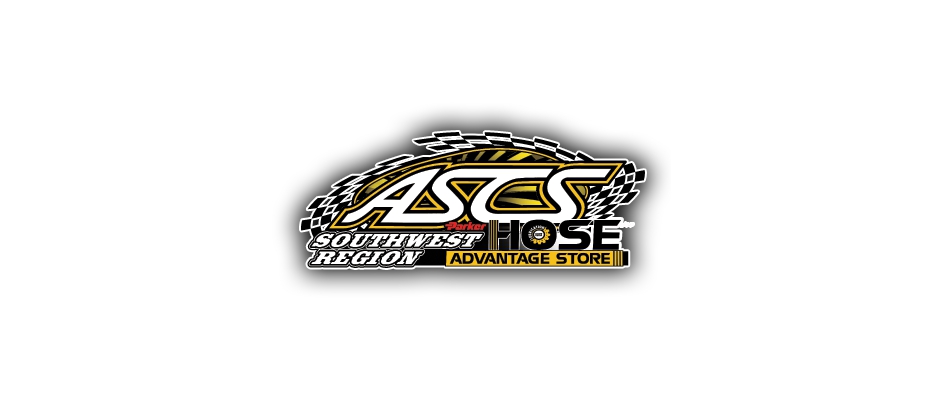 From Bryan Hulbert
Tulsa, OK — (November 3, 2015) — The Southwest Region of the American Sprint Car Series has one last outing to settle the 2015 season championship with the Arizona Speedway in Queen Creek, Ariz. hosting the series finale on Saturday, November 7 in the $2,000 to win Rip's NAPA Auto Parts Showdown.
Adding his 11th top-five finish of the season to his resume this past weekend at the Cocopah Speedway, New Mexico's Rick Ziehl carries a 45 point advantage into the weekend over Bob Ream, Jr. Still within a mathematical shot of winning the season title, the Arizona Speedway plays to the strengths of Ream who has a pair of wins at the Arizona oval this season. A third win at the Canyon Speedway Park, Ream and Ziehl each have a trio of wins on the season with Ziehl topping action at the Canyon Speedway Park once, and Central Arizona Speedway twice.
Lance Norick holds third going into the season's final round with Ryan Linder and Casey Buckman making up the top-five. Kaylene Verville, James Mosher, Darrell Sickles, Cody Sickles, and Joshua Williams make up the top-ten.
Going into the season's final event, the 2015 lineup has seen 10 winners in 16 nights of action with Lorne Wofford being the most recent with his sixth career win this past Saturday at the Cocopah Speedway. A total of 65 drivers have competed in at least one night of racing.
Saturday, November 7 will see gates opening at 5:00 P.M. (MT) with races getting underway at 6:30 P.M. The night will also include Pures, X-Mods, Dwarfs, and Bombers. Admission is $15 for adults with kids six and under admitted free into the grandstands. More information can be found at http://www.arizonaspeedway.net or by calling (480) 926-6688.
For continue updates on the ASCS Southwest Region, log onto http://www.ascsracing.com.
Season To Date:
Season So Far:
Winners: Rick Ziehl 3; Bob Ream, Jr. 3; Dusty Zomer 3; Jesse Baker, John Carney II, Joey Chester, Logan Forler, Casey Buckman, Johnny Herrera, Lorne Wofford;
2015 Schedule:
Date – Location – Winner
2/14/2015-Central Arizona Speedway – Casa Grande, AZ-Rick Ziehl
2/28/2015-Canyon Speedway Park – Peoria, AZ-Rain Out
3/14/2015-Canyon Speedway Park – Peoria, AZ-Dusty Zomer
3/20/2015-USA Raceway – Tucson, AZ-Logan Forler
3/21/2015-USA Raceway – Tucson, AZ-Dusty Zomer
4/4/2015-Canyon Speedway Park – Peoria, AZ-Rick Ziehl
4/25/2015-Arizona Speedway – Queen Creek, AZ-Feature Rained Out
5/9/2015-Arizona Speedway – Queen Creek, AZ-Bob Ream, Jr.
5/30/2015-Central Arizona Speedway – Casa Grande, AZ-Rick Ziehl
6/6/2015-Arizona Speedway – Queen Creek, AZ-Casey Buckman
6/26/2015-El Paso Speedway Park – El Paso, TX-John Carney II
6/27/2015-Southern New Mexico Speedway – Las Cruces, NM-Jesse Baker
7/25/2015-Central Arizona Speedway – Casa Grande, AZ-Joey Chester
8/15/2015-Canyon Speedway Park – Peoria, AZ-Bob Ream, Jr.
8/29/2015-Arizona Speedway – Queen Creek, AZ-Bob Ream, Jr.
10/3/2015-Aztec Speedway – Aztec, NM-Johnny Herrera
10/10/2015-Arizona Speedway – Queen Creek, AZ- Dusty Zomer
10/31/2015-Cocopah Speedway – Somerton, AZ- Lorne Wofford
11/7/2015-Arizona Speedway – Queen Creek, AZ-
Driver Standings (Top 10):
Pos-Driver-Points
1-Rick Ziehl-2125
2-Bob Ream Jr-2080
3-Lance Norick-2030
4-Ryan Linder-2018
5-Casey Buckman-1881
6-Kaylene Verville-1660
7-James Mosher-1433
8-Darrell Sickles-1430
9-Cody Sickles-1363
10-Joshua Williams-1088