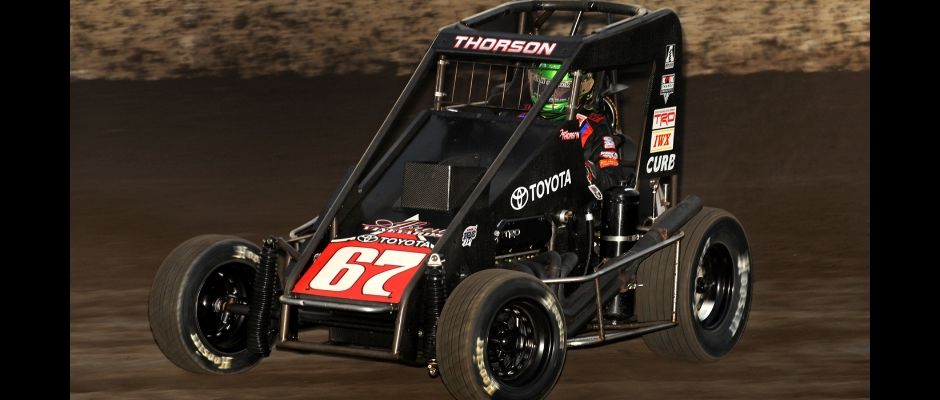 From POWRi West PR
Wichita Falls, TX — (March 6th 2016) — On a chili evening in Texas 38 drivers signed in for competition at the season opener for the Lucas Oil POWRi West Midget Series.
5 heat races would see drivers putting on an exciting show for those in attendance as the racing surface was in superb condition.Heat races would be won by Blake Edwards, Geo White, Carson Macedo, Austin Brown and Jason McDougal.
B-Features would be won by Steven Shebester and Justin Melton.
Broken Arrow, Oklahoma's Jason McDougal would be the nights Integrity Customs high point man and during intermission would roll a 1 on the large dice to determine there would be no inversion for the A-Feature.
Jason McDougal and Tanner Thorson would lead the field to green with McDougal getting the early jump. It wouldn't take long for things to heat up as Thorson would challenge for the lead with a slide job through turn one and 2 but McDougal wouldn't go down with out a fight and crossed under off turn 2. Thorson would take over the lead the next lap and 3 laps later the caution would fly for McDougal who had a mechanical failure.
Back under green flag racing Thorson would lead as a hard charging Harli White would battle past the 67 of Thorson. White would lead several laps before Thorson would slide for the lead through 1 & 2. While Thorson led his fellow KKM team mates Carson Macedo and Spencer Bayston would make moves through field and use the same move Thorson did to pass White.
The nights only red flag would fly at lap 20 as the 2015 Champion and Rookie of the Year Anton Hernandez would get upside down in turn 2. Back underway Thorson would lead Macedo, Robert Sellers and Tim Crawley. With only 5 to go Bayston would make his move quickly sliding up the the third position.
As the checkered flag flew Thorson would cross the line 1st with Macedo, Bayston, Sellers and Crawley rounding out the top 5. The nights hard charger would go to Robert Sellers of Mustang, Oklahoma after he started 18 to finish 4th.
Teams that may not have ran with us tonight are encouraged to make the trip as Mr.J said he enjoyed the show so much tonight that will be adding more bonus pay. The finale of the Season Opening Weekend will conclude tomorrow night as races are set to start at 6pm.
For more info on the Lucas Oil POWRi West midget series visit www.powri.com