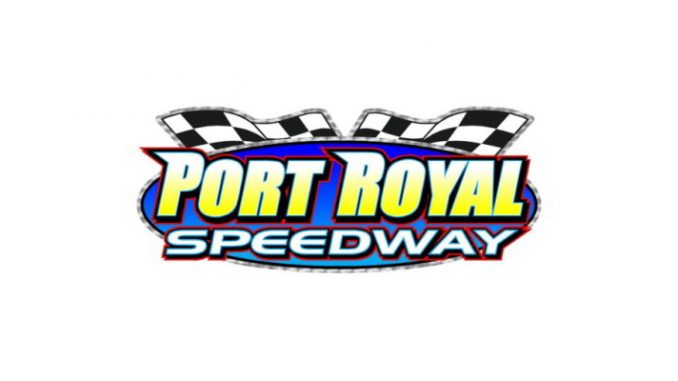 From Port Royal Speedway
Port Royal. PA — (March 8, 2016) — Port Royal Speedway will open the 2016 racing season this Saturday, March 12 at 6 pm with a twin bill of Weikert's Livestock 410 sprints paying $3,500 to win and super late models paying $2,000 to win.
General admission gates will open at 4 pm with pit gates opening at 3 pm.
Adult general admission for the first show of the season is $15 with students ages 12 – 18 priced at JUST $7.
The first 500 fans through the general admission gate will receive a FREE 2016 schedule magnet, sponsored by Juniata Beverage.
In last year's season lidlifer on April 4, East Berlin's Aaron Ott won his first ever 410 sprint main at the historic oval while Mike Lupfer began what would be his domination of the early season by claiming the first three features in a row.
Ott stayed in front of Nate Snyder and Lucas Wolfe for the victory last year.
He entered the rear of the field on the sixth lap with Snyder, Wolfe and Logan Wagner in pursuit.
As the race headed toward the halfway point of the 25 circuit main, the front three cars all drew within striking distance of one another when Wolfe pulled the trigger on Snyder for second deep in the first corner.
In a hair-raising move, Snyder squeezed between the outside turn two wall and the right side of Wolfe's car in order to slingshot back into second but the fracas between the two allowed Ott to open up a little distance to win by 1.654 seconds.
Mike Lupfer drew the pole for the start of the 22-lap super late model main and outraced Coleby Frye for the lead as the pair ran down the backstretch to complete the first circuit.
Frye raced Lupfer hard back to the line but Lupfer had the lead and it was a control he would not relinquish for the rest of the distance as he pretty much annihilated the field in the non-stop affair.
Lucas Wolfe and Lupfer are the defending division champions.
Rick Lafferty kicked off the decade at Port Royal in 2010 with an opening day sprint car victory followed by Blane Heimbach in 2011, Greg Hodnett in 2012, Dave Blaney in 2013 and Blane Heimbach again in 2014.
Port Royal Speedway returns to action on March 19 with another dual division card of 410 sprints and super late models at 6 pm before March 26 gives way to an early season late model lovers delight when the UFO Late Models hit town along with the 410 sprints on Kids Easter Night.
The UFO 358 late models are also on the agenda.
Stay up to date with all the latest Port Royal news and information by visiting the oval's official website at www.portroyalspeedway.com or by following the track on Facebook or Twitter.