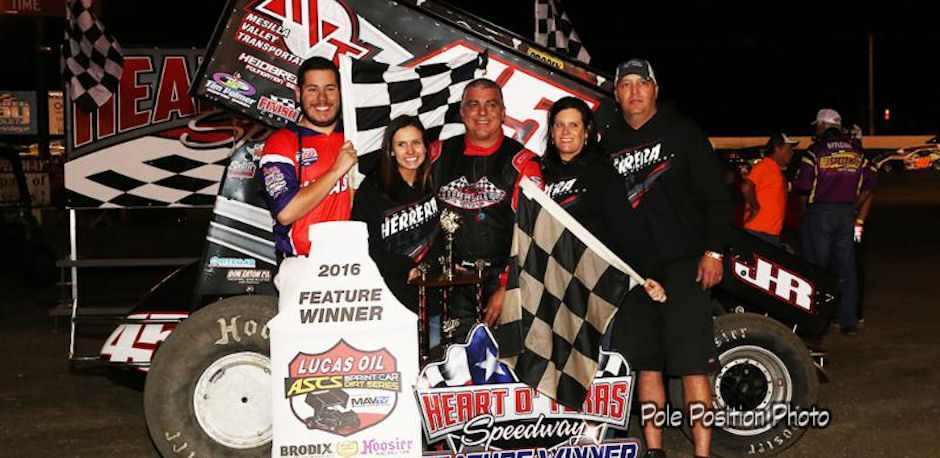 By Bryan Hulbert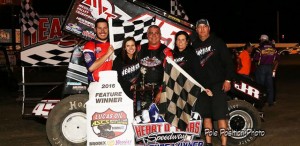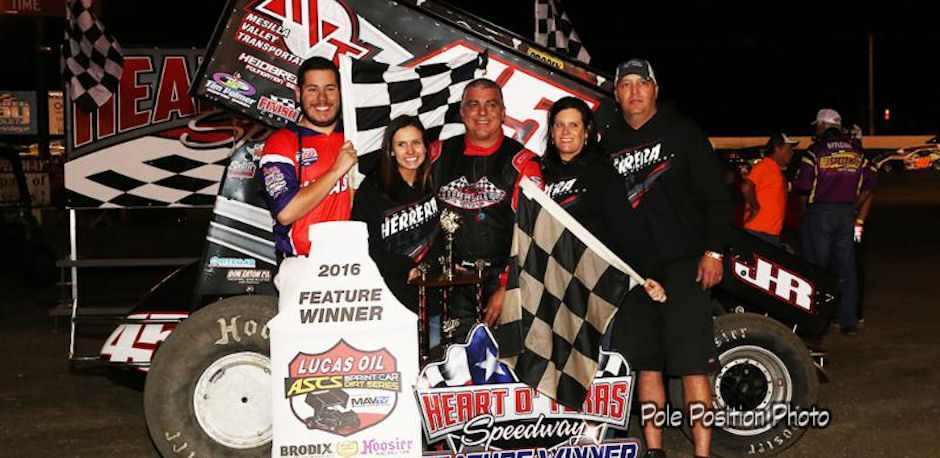 WACO, Texas (March 17, 2016) The Lucas Oil American Sprint Car Series presented by the MAVTV Motorsports Network opened the 2016 season with the series debut at the Heart O' Texas Speedway and New Mexico's Johnny Herrera rough riding the highline for 14th career National Tour triumph.
"This is incredible," said Herrera of this season opening victory. "All winter, we just looked forward to coming and racing. We did run a few races previous to this and kind of struggled, but to come back to my grassroots, ASCS racing, I tell you; it's just good to start off on the right foot. We got new Maxim Chassis this year. We switched to the "Big Max" design and so far, so good."
Chasing Tommy Bryant down the back stretch of the opening lap, the No. 28 saw his Sawblade.com entry nearly get out from under him off the fourth turn, opening the door for Herrera to take the lead. Going red working Lap 2, the No. 23 of Seth Bergman went upside down. He was okay, but unable to return.
Setting a torrid pace on the restart, Herrera was quick to find slower traffic while still opening up a nearly a straightaway advantage over Indiana's Parker Price-Miller. Slowed by caution on Lap 14, the cautions followed in droves afterwards with several drivers spinning in the closing laps.
Using slower cars as picks, Miller battled hard with Sam Hafertepe, Jr. giving up the position on Lap 23 to the No. 15h. Miller mounted a huge charge around the slower car of Steven Russell off the fourth turn, only to make contact with the Right Front of Russell's No. 91, flattening the Left Rear of the Indy Race Parts No. 2. Sam also received damage to the Left Front, and went to the work area. Hafertepe was able to return, but damage again on the front end on Lap 27 ended his night.
In the chaos of slower cars, Logan Forler, running well on the bottom groove, carefully brought his Steve Forler Trucking No. 2L into the runner-up spot. Working the hub of the Heart O' Texas Speedway, Logan gave it all he had on the race's final restart with three go to, but would not be able to hang with the No. 45x.
"On that restart I was going to give it all I had but he kind of got me coming off of four and I just had nothing for him. At that point, it was over, but Johnny and I are really good friends and I'm happy for him," said Forler of the last chance at the lead. "It's good to come out here and run good with these guys. It's a tough group, and I'm looking forward to the rest of the year."
Tommy Bryant posted his first career podium finish in National Tour competition, despite having mechanical issues the latter part of the event.
Asked about the opening lap pass, Bryant replied, "The track was a little rough but it had some slick spots, and I just didn't pedal the car very good coming off of four, but all in all, a good night but I did have a fuel line break with about 10 laps to go, so I'm just covered in fuel. My whole leg is cold and wet. Probably the dumbest thing I've done in my career, but we got a good finish tonight and we're proud of that."
Coming from ninth, Matt Covington wrestled his way to fourth in the A-Rock Material No. 95, with Blake Hahn recovering from an early spin to place the Lucas Oil No. 52 fifth despite the front end being knocked back on the right side.
Wayne Johnson claimed sixth with Aaron Reutzel seventh after starting 13th. Terry Gray eighth was followed by team mate Morgan Turpen, who was the evening's Hard Charger from 19th to ninth. Brad Loyet was the first driver a lap down in tenth.
Overall, 26 drivers took part in the Lucas Oil ASCS presented by the MAVTV Motorsports Network's opening night. Four Heat Races went to Logan Forler, Seth Bergman, Sam Hafertepe, Jr., and Wayne Johnson. The night's B-Feature was topped by Kyle Bellm. No provisionals were taken into the A-Feature.
The Lucas Oil ASCS presented by the MAVTV Motorsports Network joins up with the American Bank of Oklahoma ASCS Red River Region presented by Smiley's Racing Products at the Devil's Bowl Speedway for the 43rd Devil's Bowl Spring Nationals. Friday, March 18 and Saturday, March 19 at the Devil's Bowl Speedway get underway at 8:00 P.M. (CT) each night. Admission is $25 for adults. Military Id, Seniors (60+), and children ages 13-15 are admitted for only $10. Children 12 and under are free into the Grandstands. Pit Passes each day are $30. More information on the Devil's Bowl Speedway be found by calling (972) 222-2421 or online at http://www.devilsbowl.com.
For continued updates, and to see the full lineup of events for American Sprint Car Series, from the National Tour to the Regional Tours, log onto http://www.ascsracing.com.
Race Results:
Lucas Oil ASCS presented by the MAVTV Motorsports Network
Heart O' Texas Speedway – Waco, Texas
Thursday, March 17, 2016
Car Count: 26
ButlerBuilt Safety Seating Heat Races (8 Laps, Top 16 in Passing Points to the A-Feature.)
Heat 1 (8 Laps): 1. 2L-Logan Forler[2]; 2. 28-Tommy Bryant[3]; 3. 17W-Harli White[4]; 4. 10-Terry Gray[5]; 5. 05-Brad Loyet[7]; 6. 20G-Jake Greider[1]; 7. 12-James Mosher[6]
Heat 2 (8 Laps): 1. 23-Seth Bergman[2]; 2. 2-Parker Price-Miller[3]; 3. 91-Steven Russell[4]; 4. 52-Blake Hahn[6]; 5. 7M-Kevin Ramey[1]; 6. 74E-Claud Estes III[5]; 7. 98-Ryan Padgett[7]
Heat 3 (8 Laps): 1. 15H-Sam Hafertepe Jr[2]; 2. 95-Matt Covington[1]; 3. 84-Brandon Hanks[3]; 4. 76-Zane Lawrence[4]; 5. 17G-Dustin Gates[5]; 6. 77X-Alex Hill[6]
Heat 4 (8 Laps): 1. 2C-Wayne Johnson[2]; 2. 17-Josh Baughman[3]; 3. 45X-Johnny Herrera[5]; 4. 87-Aaron Reutzel[6]; 5. 14K-Kyle Bellm[1]; 6. 10M-Morgan Turpen[4]
BMRS B-Features (Top 6 advance to the A-Feature)
B Feature (12 Laps): 1. 14K-Kyle Bellm[4]; 2. 76-Zane Lawrence[1]; 3. 10M-Morgan Turpen[7]; 4. 20G-Jake Greider[8]; 5. 98-Ryan Padgett[10]; 6. 74E-Claud Estes III[6]; 7. (DNF) 17G-Dustin Gates[2]; 8. (DNF) 7M-Kevin Ramey[3]; 9. (DNF) 77X-Alex Hill[5]; DNS 12-James Mosher
Protect the Harvest A-Feature (30 Laps)
A Feature (30 Laps): 1. 45X-Johnny Herrera[4]; 2. 2L-Logan Forler[6]; 3. 28-Tommy Bryant[1]; 4. 95-Matt Covington[9]; 5. 52-Blake Hahn[12]; 6. 2C-Wayne Johnson[3]; 7. 87-Aaron Reutzel[13]; 8. 10-Terry Gray[15]; 9. 10M-Morgan Turpen[19]; 10. 05-Brad Loyet[16]; 11. 17-Josh Baughman[5]; 12. 74E-Claud Estes III[22]; 13. 91-Steven Russell[11]; 14. 76-Zane Lawrence[18]; 15. (DNF) 15H-Sam Hafertepe Jr[8]; 16. (DNF) 2-Parker Price-Miller[2]; 17. (DNF) 17W-Harli White[10]; 18. (DNF) 98-Ryan Padgett[21]; 19. (DNF) 20G-Jake Greider[20]; 20. (DNF) 84-Brandon Hanks[14]; 21. (DNF) 14K-Kyle Bellm[17]; 22. (DNF) 23-Seth Bergman[7]
Lap Leaders: Johnny Herrera 1-30
FSR Radiator High Point Driver: Logan Forler
Hard Charger: Morgan Turpen +10
Provisionals: N/A
2016 ASCS National Driver Standings (Top 10): 1. Johnny Herrera 150; 2. Logan Forler 142; 3. Tommy Bryant 135; 4. Matt Covington 130; 5. Blake Hahn 125; 6. Wayne Johnson 122; 7. Aaron Reutzel 119; 8. Terry Gray 116; 9. Morgan Turpen 113; 10. Brad Loyet 110;
*2016 ASCS National Winner(s): * Johnny Herrera 1;