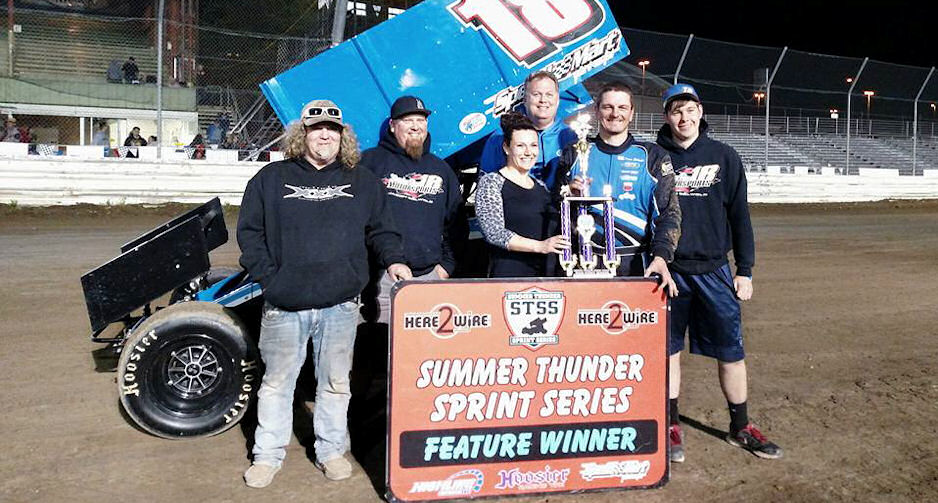 PETERSEN MEDIA
 Returning to action after battling with the World of Outlaws in early March, Jason Solwold continued his strong presence as he picked up the win on Friday night in Yakima, WA and followed it up with a second place run on Saturday night.
"It was a really good weekend for this race team," Jason Solwold said. "We were able to get a win on Friday night, and on Saturday we started eighth and worked our way up to second on a track that ended up taking rubber."
Checking in at the Yakima Raceway on Friday night, Solwold and the Shaylen Raye Motorsports team would time in fourth quickest in qualifying time trials.
Finishing third in his heat race, the Burlington, WA driver would line the Scottie's Plumbing/Pops Entertainment/Vic's 66 backed No. 18 machine up in the third row for the feature event.
From his third row starting position, Solwold had a potent machine as he quickly carved his way to the point as he battled with Jarred Peterson, and Cam Smith. Able to fend off a couple of advances, Solwold would drive his way to his first victory of the 2016 season.
Back at the speedway on Saturday night, Solwold continued to run well at the Yakima Raceway as he set the standard during time trials aboard his Doyle Guffie's Rayle Auto Sales/Speedmart/After Hours Plumbing machine.
Finishing second in his heat race, Solwold moved into the night's redraw where the eight pill would be greeted by cheers from the crowd as Solwold lined his machine up in the fourth row of the 'A' Main.
Just as he did on Friday, Solwold was strong in traffic on the slick and abrasive surface. Getting into the second spot, Solwold would try to get around the race leader on a pair of occasions but he would come up just short, as he closed his strong weekend out with a second place finish.
"I know we have a great race team, and it showed this weekend with us moving forward in the feature both nights," Solwold added. "I have to thank Mel and the guys for their hard work."
Solwold and the Shaylen Raye Motorsports team would like to thank Scottie's Plumbing, Pops Entertainment, Vic's 66, Doyle Guffie's Rayle Auto Sales, Speedmart, After Hours Painting, Triple X Race Co., Al Parker Race Engines, Wings Unlimited, Slade Shocks, Rob Graham Trucking, Wings Unlimited, Meyer Sings, Vahlco Wheels, Rob Graham Trucking, and Pro Signs for their continued support.
ON TAP: Solwold and the Shaylen Raye Motorsports team are hoping to be at the Calistoga Speedway with the World of Outlaws this Saturday and Sunday night, but if they are unable to make the trip they will be at the Cottage Grove Speedway.
2016 BY THE NUMBERS: Starts- 9, Wins- 1, Top 5's- 3, Top 10's- 4.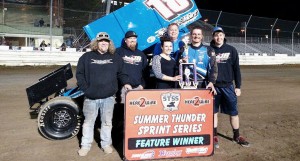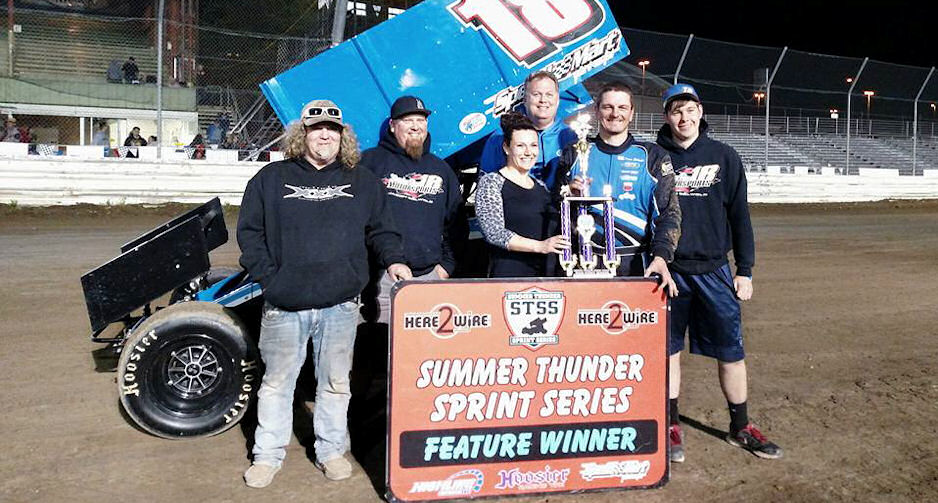 PETERSEN MEDIA: Petersen Media is a promotional agency that can handle your public relations, marketing, and any other media needs. Petersen Media utilizes multiple tactics to help you reach your intended audience, to boost awareness.
For more information contact sales@petersenmediainc.com, by phone at 916-342-3424, visit www.petersenmediainc.com,  www.facebook.com/PetersenMedia, or follow www.twitter.com/petersen_media.