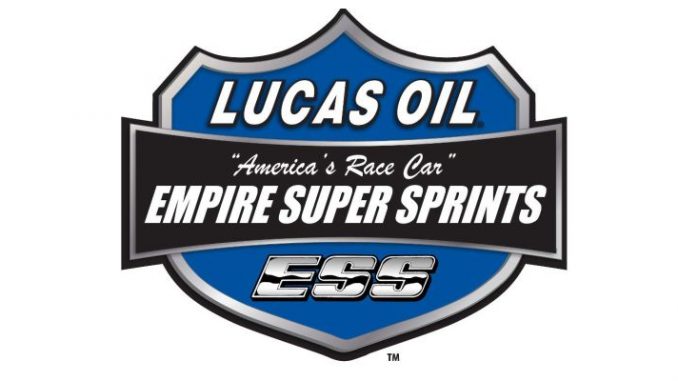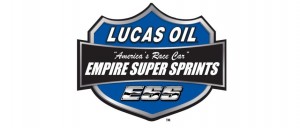 By Dean Reynolds
SYRACUSE, NY – As the 2016 season is ready to kick off for the Lucas Oil Empire Super Sprints (ESS), 360 sprint teams of two nations will be vying for more money offered than ever before.  In tradition with ESS, it's not all about the winners, it's about all teams that make up the car count on each night. For our 33rd Anniversary, we are very excitied!
"We feel the key to the success over the years is to spread out the wealth to all the teams that either follow the tour or come and visit once in a while." noted ESS President Chuck Miller. "The tour followers of course has the opportunity of getting the most financial reward but we also make sure ALL tour followers get rewarded."
ESS has it set up that if you follow 2/3rds of the full point shows you will receive from the overall Lucas Oil Point fund, Lucas Oil Product given away at the annual awards banquet and also you will be a part of the Lucky Giveaway Program which you receive product from many various sponsors.  Last season with some rain outs added, that total was only 14 shows.  A total of 16 teams collected from the various awards.
Also of note, teams that stay 2/3rds throughout the season will receive a free Hoosier Tire as well.
New last year was the introduction of the Loyalty Program.  If a team did make 90% of our point shows the got an extra $500 on top of all point fund monies earned.  It doesn't matter where you finished either. Last year Dave Axton and Parker Evans were 10th and 15th respectively, they still received the $500
The schedule is booked 27 full point shows with the weekends set up to have as minimal travel as you can.  We also visit some of the very best dirt tracks in the Northeast and Canada. It's a tour that can be done with smaller budget teams.
For the teams that can not follow the tour due to various reasons, we have programs for you as well.  While you need to be 2/3rds to collect from the largest point fund.  We do have Point Series within the overall tour.  There is the NAPA Auto Parts US Tour, The Canada Tour, The SUNY Canton Series, The Fondations 4 Saisons Quebec Sries, the Donath Motorworx Speedweek, Cobra Couches Dash Series, Insinger Performance Hard Charger, Danny Willmes Enterprises Lap Leader and new is the Northwood 2 Construction Quebec/Ontario Series.  These Series are rewarded for points only regardless of how many shows you attend.  These Series are as little as 3 races.
But key is race night…ESS will offer more cash nightly than any other 360 organization this side of the Mississippi.  For most events, the base A-Main purse is $10,500 cash and with our big log of nightly sponsors that can total as much as $11,500 cash.
"We are so fortunate to have such great support from the sponsors.  We can offer the best payouts from top to bottom and that's without asking any more from the promoters." Miller continued. "Most events are $2,000 to win, but we offer $400 for tenth and $250 just to start.  Then we will add as much as $1,000 more in bonuses that are spread out to many teams."
"We also have tremendous help from the promoters where we book races far away from our Central New York nucleus." Added Miller. "When we go to Quebec or Selinsgrove, most of our teams are seven, eight or even nine hours away.  In Quebec we pay $2,000 to win and $500 just to start.  If you're a DNQ, you still get a minimum of $225.  At Selinsgrove, with help from Mach 1 and the track we pay $2,000 to win and $400 to start."
As the battle for the 2016 Lucas Oil ESS Championship is ready to take place in a week at the newly refurbished Outlaw Speedway, sprint teams from all over are anxious to get started.  The 2016 season is shaping up to be the most exciting in the history of the organization and we hope you can be a part of the excitement.
2016 Lucas Oil Empire Super Sprints Particulars.
Base A-Main Payout – $2,000, 1,000, 800, 630, 530, 470, 430, 420, 410, 400, 360, 320, 300, 290, 285, 280, 275, 270, 265, 260, 255, 250.
Note – Some shows are $1,500 to win and are listed on the schedule.
Quebec Payouts – $2,000, 1,225, 1,025, 855, 755, 695, 655, 645, 635, 625, 585, 545, 525, 515, 510, 505, 500, 500, 500, 500, 500, 500.
DNQ Tow – $225
Other Full Point Events with increased pay off.
May 21 – Selinsgrove – $2,00 to win, $400 to start.
May 28 – Thunder Mountain – $3,000 to win, $300 to start.
June 5 – Cornwall – $2,000 to win, $325 to start.
Aug. 23 – I-88 – $2,500 to win, $250 to start.
Nightly Bonuses Cash
Cobra Coaches Four Lap Dash – $100, 75, 50, 25, 25, 25 (If 4 cars – $125, $75, $50, $50)
Insinger Performance Fuels Hard Charger – $50
Engler Machine and Tool Halfway – $50
E&V Energy – Start 12th – $50, Last Car Lead Lap – $50
Ohsweken Speedway 21st Anniversary – 21st place finish – $50
Lacaillade Masonry B-Main Winner – $50
Fondations 55 Pick 5 – 5th finisher – $35
Car Mate Trailers Heats – Every Heat Winner – $25
Beard Sewer and Drain Best Time – Fast Time in Each Group – $25
Vahlco Wheels – Free Front Wheel
Friday, April 22 – Outlaw Speedway – $2,000 to win and it all begins!!!