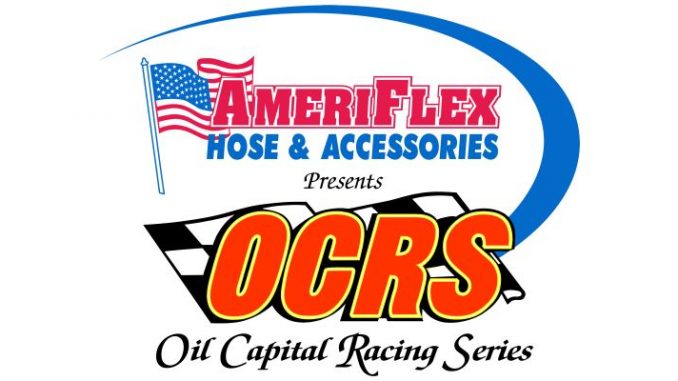 John Lemon
Tulsa OK (April 14, 2016) – The second event of the 2016 Ameri-Flex / OCRS racing season is in the books and we now bring you update #2 on the Ameri-Flex Challenge race that will take place on September 3rd at the Caney Valley Speedway in Caney Kansas. There have been some changes since last weeks initial standings. For review, the car owners receive the points for the Ameri-Flex Challenge event and here is how they are now faring:
Whit Gastineau continues to hold the top position while David Chappell, with son Zach at the wheel, moves into the second spot. Sean McClelland drops form second to third after having some mechanical issues at last weekends race at the Lawton Speedway.

In an oddity move, David Moss with driver Robert Sellers jumped two spots (6th to 4th) after Sellers was a DNF at Lawton. This came about as Johnny 'Hotrod' Kent (driving for father Johnny W. Kent), had issues as well plus Mike Goodman who drives for Travis Jenkins was a victim of a disqualification last weekend. Add the fact that those who were under Moss' car in points either weren't in attendance or couldn't take advantage to move upward by the defending Ameri-Flex / OCRS champions.
When Jason McDougal, in a Jenkins team car to Goodman, was also a DQ (would have been the winner), this caused the Jenkins owned car of Goodman's to slip from 5th to 8th in this weeks report. The car owner that shot up the charts in a huge way is Jennings Racing (Brandon Jennings driver). Jennings Racing went from way down the list (top 12 owners lock in) to 5th place in this weeks standings.

Other owners moving into the lock in positions at this point in time are:
Richard (Rick) Barksdale (10th) who's son Sheldon wound up the winner last week.
Kevin Barksdale with his son Koby in the saddle (11th)
Then there is a tie for the 12th and final lock-in between Joe C. Lee and driver Joe Bob Lee and Owner/Driver Brandon Haddad.
Car owners falling out of the top 12 this week include:
Andy Sewell (Alex Sewell), Casey Wills, Brent Bates and Garnett Storage (Brett Wilson).
However, the season is young and there is a long way to go. These owners and several more will have all the opportunity in the world to make what will be one of the most exciting races the region has seen in awhile. $5000 to the winner for 15 laps of work will certainly bring down the house.
The cards are bound to continue to shuffle as the season progresses. All of this could not happen if not for the blessing of all our sponsors of the Ameri-Flex Challenge. Here is a current list of sponsors and do support them whenever you can as they are supporting our industry to keep open wheel racing alive and relevant.
Ameri-Flex Hose & Accessories / ameriflexhose.com
Amsoil (Grady Oil)  / amsoil.com
Brodix Cylinder Heads / brodix.com
DSO Racing Engines / (918) 808-8874
Maxim Racing Products / racemaxims.com
Rod End Supply / rodendsupply.com
Schoenfeld Headers / schoenfeld headers.com
Smiley's Racing Products / smileysracing.com
In addition to these sponsors, Kerry Gorby of the Caney Valley Speedway has kicked in a fair amount of solid cash and we are very thankful for the support he has pledged to us. 

Check on us again next week when we bring you AFC update report #3 following the Ameri-Flex / OCRS race at Outlaw Motor Speedway this Friday night.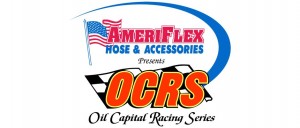 About the Ameri-Flex / OCRS Series –
Established in 2002, the Tulsa OK based Ameri-Flex / OCRS series sanctions dirt track sprint car racing in the southern region of the central plains. Fan appeal, quality race teams combined with our solid core of supporting sponsors are the nucleus of the series. Thrilling competition providing the ultimate quality family entertainment is the essence of what the Ameri-Flex / OCRS series is all about.
Website: www.ocrsracing.com
Facebook: www.facebook.com/oil.series
About Ameri-Flex Hose & Accessories-
Located in Tulsa OK, Ameri-Flex Hose & Accessories is a family owned and operated company. From food grade hose to hoses for the petroleum industry, Ameri-Flex will strive to fill your needs. Ameri-Flex can build a hose to your specifications or we will assist you in creating what you have designed while you wait. Ameri-Flex has several hard to find items that some vendors can't get or find. Product can be shipped quickly and efficiently. If we do not have what you are looking for, we will direct you on where to find it. Give us a try, after all…………..
Ameri-Flex Has The Stuff That Keeps You Going!
Website: www.ameriflexhose.com