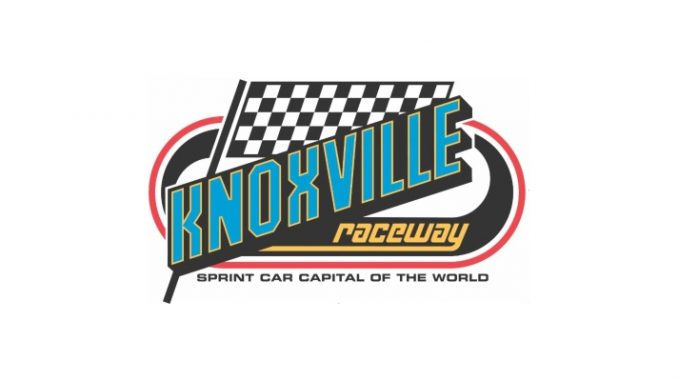 By T.J. Buffenbarger
Knoxville, IA – (April 16, 2016) – Danny Lasoski opened the 2016 season at Knoxville Raceway in victory lane for the 107th time after winning the 410 sprint car feature. Lasoski passed 360 sprint car feature winner Bryan Clauson during a restart on lap five and pulled away from the field in front of healthy opening night crowd at the Marion County Fairgrounds.
For Lasoski the victory at Knoxville was sweet, but just one step in what he hopes to be a larger goal.
"This is home for us. We just love coming here. It's a second home. Every race is practice until that Saturday in August," Lasoski said in victory lane. "I have to thank Tod Quiring from Muddy and Big Game. All of these guys work hard, I have a fantastic crew. Guy Forbrook does a phenomenal job. After the heat race I told him 'little buddy, this is about as bad as it gets' and he fixed it. I'm just the lucky guy that gets to drive it."
Clauson capped off a spectacular weekend following up his USAC Amsoil National Sprint Car Series victory at Bloomington Speedway on Friday with a 360 sprint car division victory at Knoxville Raceway. Clauson charged from 10th starting position to take the lead from perennial 360 sprint car star Clint Garner with seven laps to go. The victory was during Clauson's 40th start of the 2016 season in his quest to compete in 200 races this calendar year.
In victory lane Clauson explained how he charged through the field using a wide variety of lines around the Knoxville racing surface.
"I felt like if we could get into clean air I was really good on the top. I wasn't really sure what to do once I got out front, so I mixed it up a little bit. That way if (Garner) was right there with me I could get him guessing," said Clauson on battling Garner for the victory. "I can't thank everyone on the Cancer Treatment Centers of America, Elk Grove Ford, 17w car. We spent all last year busting our butts to try and get good in these (winged sprint cars) and (my crew) works their butts off and makes me look like I know what I'm doing out here. I can't thank them enough and its pretty special to get a win here at Knoxville. We struggled a little last year and found our rhythm around Nationals time, then the season was over. So we were looking forward to getting back."
Chris Walraven joined an exclusive club of drivers that have won in all three sprint car classes at Knoxville Raceway following his victory in the 305 sprint car class on Saturday. Walraven had to hold off a late race challenge from Devin Kline and a last lap restart for the victory. Walraven explained after the event that the caution on the final lap may have worked to his advantage with Kline right on his back bumper.
"This makes a long winter in Iowa worth it when you can win the season opener," proclaimed Walraven in victory lane. "I was in some seriously lapped traffic for five or six laps at the end, and I kind of wanted to see the yellow because I think I saw Devin (Kline) poke his nose in there with two laps to go and I had to make sure to clear those lapped cars and the yellow came out. I felt pretty good at that point."
410 Sprint Cars
Wayne Johnson and Clauson started on the front row of the 25-lap feature event for the 410 sprint cars. The caution flag appeared after Knoxville Raceway officials called back the start. During that attempted start Mike Reinke spun in turn two with a flat right front tire. Dustin Selvage and Dakota Hendrickson also went to the work area. Selvage and Reinke were able to make the restart while Hendrickson's car suffered front end damage that forced him to retire pit side.
The second attempt to start the feature Clauson led the field through turns one and two with Danny Lasoski blasting into second. Behind them Davey Heskin and Wayne Johnson raced for third with Kerry Madsen also in the mix. Further back in the field Craig Dollansky, who started 11th, exchanged intense slide jobs with Brian Brown for the position.
The second caution of the event appeared when Austin McCarl had an oil leak that caught on fire while coming off turn four and rolled to a stop at the exit of turn two while working lap five. McCarl's crew was able to make repairs for him to join the back of the field for the restart.
Lasoski dove to the inside of Clauson in turn one with Clauson going to the bottom to block. Clauson slid up the track in turn two though as Lasoski drove by for the lead. Behind them Kerry Madsen moved around Heskin for fourth on seven and set sail for the lead duo. Brian Brown followed Madsen around Heskin for fifth. Madsen continued his charge moving past Johnson for third.
Lasoski continued to pull away with Clauson trying to keep pace. Clauson at one point jumped over the cushion in turns one and two and bounced off the fence, but was able to keep going. This allowed Madsen to close the gap just as the caution flag came out for Bronson Maeschen in turn four with heavy front end damage. Mark Dobmeier was also involved spinning to avoid Maeschen. Maeschen's car had too much damage to continue while Dobmeier rejoined the back of the field.
With seven laps to go after the restart Lasoski pulled away while Madsen and Clauson diced for the second spot. On lap 20 Madsen found Heskin and Brown racing for third back and forth over the closing laps. Up front though it was all Lasoski as he picked up another victory at Knoxville Raceway. Clauson held on for the running up spot with Brown edging Heskin for third at the line.
360 Sprint Cars
Josh Baughman and Matt Moro started on the front row for the 360 sprint car feature. Moro dove into the lead in turn one, but Clint Garner drove through turns three and four by Baughman and Moro to lead the first lap. Moro countered down the backstretch and took the lead back to lead the second lap.
Later on Moro left the bottom open and Garner took advantage to retake the lead. Further back in the field Clauson was blasting up from 10th starting spot up into third by the third lap.
One lap later Baughman slid by Moro for the second spot between turns one and two. Clauson duplicated the move one lap later and slid by Moro for third on lap six. Clauson only needed one more lap to drive by Baughman just as Kade HIgday slammed the wall and turned over in turn two. Higday emerged from his car under his own power. During the red flag Josh Riggins had a moment with his right rear tire on fire. Knoxville Raceway officials quickly extinguished the small fire
Garner and Clauson pulled away at the restart with Clauson diving under Garner, but could not make the pass. Clauson continued to work the bottom with Garner on the cushion in three and four. Clauson changed his line the next lap in an attempt to catch Garner. Clauson continued to search the track and keep pace with Garner and was able to pull off the slide job in turns one and two to take the lead. Garner continued to keep pace until hitting the inside berm coming off turn four and pulling a wheel stand. This allowed Clauson to get away, but that advantage was quickly erased when the caution appeared when Brandon Hanks slows off turn two.
During the restart with six laps to go Clauson brought the field down slowly and was able to pull away when the green flag appeared. Clauson continued to pull away following the restart for the victory. Garner held on for second while Baughman, Moro, and Jamie Ball rounded out the top five.
305 Sprint Cars
Walraven and McKenna Haase started on the front row for the 12-lap 305 sprint car feature. Walravern took the lead with Haase racing with Brad Comegys for second until the caution flag appeared for the first time when Mitchell Alexander spun up against the fence between turns three and four. Alexander was able to restart at the tail of the field.
Walraver and Hasse pulled away after the restart while Comegys, Devin Kline and Chase Wanner deiced back and forth for third on back. Kline moved up to third two laps later and attempted to run down the lead duo.
In the final laps Walraver opened up some distance between himself and Haase as he approached slower traffic. On lap eight Kline was able to catch Hasse going into turn one. While keeping pace with Haase between turns three and four Kline got all four wheels over the cushion. Kline was able to gather up the car, but lost ground to the leaders.
After his recovery Kline caught Haase again attempting to use the cushion in turns one and two to make the pass, but could not do so. Kline used his momentum off turn two though to dive to the inside of Haase with two laps to go.
Coming to the white flag Kline pulled up Walraven's back bumper to challenge for the lead, but as the lead battle heated up the caution appeared for Mike Mayberry slowing off turn two.
Walraven timed the restart perfectly while Haase moved past Kline for second coming to the white flag. Walraven though motored around the bottom perfectly during the green/white/checkered finish to claim the victory. Haase held onto the runner up spot with Kline taking the final spot on the podium.
Knoxville Raceway
Knoxville, IA
Saturday April, 16, 2016