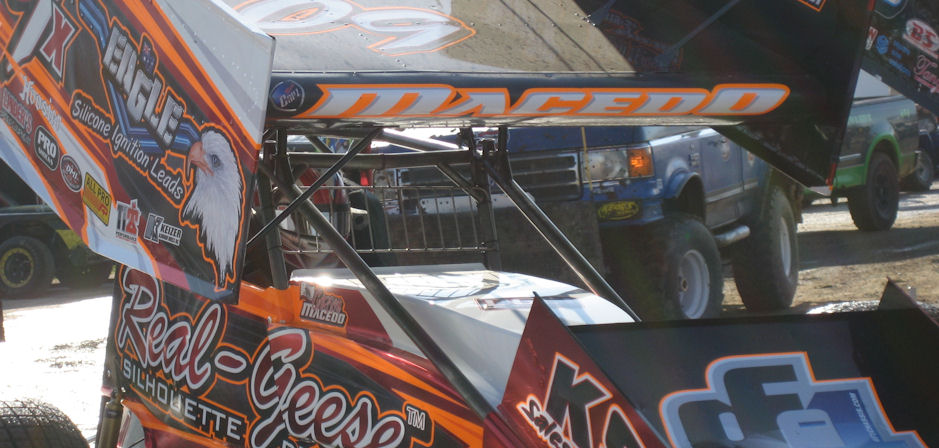 By Bob Buffenbarger
Carson Macedo warmed up a chilled Fremont Speedway crowd with a thrilling win after a great battle in the closing stages of the Fremont season opener Saturday night.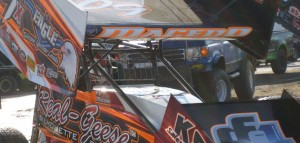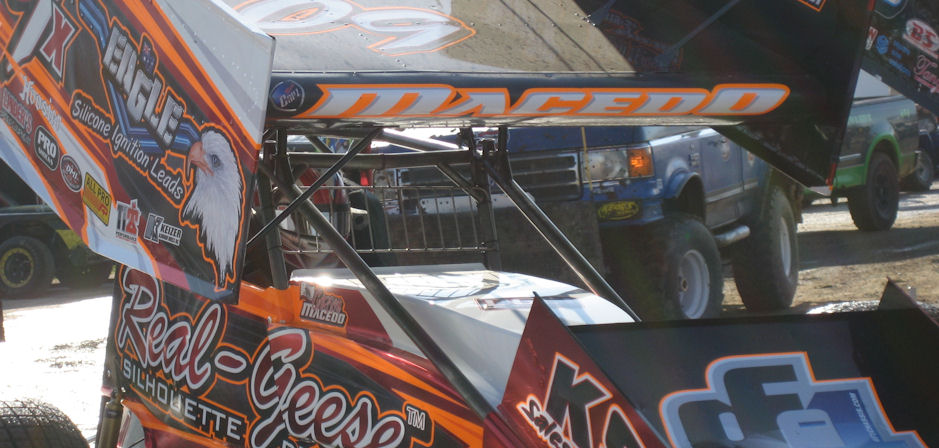 After an evening of preliminaries, the 30 lap feature was pushed off in front of a big crowd with Duane Zabloci and Byron Reed on the front row. Reed blasted off to a big lead over Zabloci as the green dropped with team cars of Craig Mintz and Carson Macedo in tow.
By lap 5 Mintz had moved into 2nd with Macedo to 3rd with Zabloci and Brubaker trailing. Reed was threading his way through heavy traffic as Macedo passed Mintz for 2nd on lap 12 but Reed was strecthing his lead. A lap 13 caution appeared with rookie Trey Jacobs moving to 4th after starting 12th.
At the half way mark, it was still Reed, Macedo, Mintz, Broc Martin and Jacobs. As Reed still held a lead, Macedo was keeping him in the sights and now they were approaching lapped traffic again. At the completion of 21 Macedo had the lead but Reed took it back only to swap the position twice in the next two laps.
Reed squeezed out a small advantage and still held the lead as the white flew but Macedo made the pass on the backstretch and held on for a thrilling victory that had the crowd on their feet. At the checkers it was Macedo, Reed, Broc Martin, Mintz and Jody Keegan (from 14th).
Heats tonight were captured by Brian Smith, Jody Keegan and Jordan Ryan. Adam Kekich took the B main.
Gressman Powersports/Level Performance Night
Saturday, April 16, 2016
Starting position [*]
410 Sprints – Fort Ball Pizza Palace
Fricker's Qualifying
1.19-Paige Polyak, 12.642; 2.73-Chris Andrews, 12.693; 3.09X-Carson Macedo, 12.758; 4.83-Broc Martin, 12.767; 5.16-Stuart Brubaker, 12.781; 6.5K-Adam Kekich, 12.823; 7.09-Craig Mintz, 12.864; 8.5-Byron Reed, 12.969; 9.9Z-Duane Zablocki, 12.999; 10.3J-Trey Jacobs, 13.017; 11.68G-Tyler Gunn, 13.023; 12.6-Bill Rose, 13.060; 13.45L-Brian Lay, 13.073; 14.60-Jody Keegan, 13.115; 15.9-Jordan Ryan, 13.124; 16.2+-Brian Smith, 13.132; 17.33M-Caleb Griffith, 13.216; 18.23-DJ Foos, 13.239; 19.7V-Shawn Valenti, 13.246; 20.33K-Kyle Patrick, 13.310; 21.8J-Jess Stiger, 13.580; 22.19G-George Prosser, 14.327; 23.7-Joe Swanson, 15.450; 24.51-Roger Campbell, 26.988; 25.38-Matt Westfall, 99.990;
Kistler Engines Heat 1 – (8 Laps, top 5 to A)
1. 2+-Brian Smith[1] ; 2. 09-Craig Mintz[4] ; 3. 45L-Brian Lay[2] ; 4. 83-Broc Martin[5] ; 5. 19-Paige Polyak[6] ; 6. 3J-Trey Jacobs[3] ; 7. 7V-Shawn Valenti[7] ; 8. 19G-George Prosser[8]
Pub 400 Heat 2 – (8 Laps, top 5 to A)
1. 60-Jody Keegan[2] ; 2. 5-Byron Reed[4] ; 3. 73-Chris Andrews[6] ; 4. 33M-Caleb Griffith[1] ; 5. 16-Stuart Brubaker[5] ; 6. 68G-Tyler Gunn[3] ; 7. 33K-Kyle Patrick[7] ; 8. 7-Joe Swanson[8]
Hoosier Tires Heat 3 – (8 Laps, top 5 to A)
1. 9-Jordan Ryan[2] ; 2. 23-DJ Foos[1] ; 3. 09X-Carson Macedo[6] ; 4. 9Z-Duane Zablocki[4] ; 5. 6-Bill Rose[3] ; 6. 38-Matt Westfall[9] ; 7. 5K-Adam Kekich[5] ; 8. 51-Roger Campbell[8] ; 9. 8J-Jess Stiger[7]
B-Main 1 – (10 Laps, top 5 to A)
1. 5K-Adam Kekich[1] ; 2. 68G-Tyler Gunn[3] ; 3. 7V-Shawn Valenti[4] ; 4. 8J-Jess Stiger[6] ; 5. 3J-Trey Jacobs[2] ; 6. 38-Matt Westfall[10] ; 7. 33K-Kyle Patrick[5] ; 8. 51-Roger Campbell[9] ; 9. 19G-George Prosser[7] ; 10. 7-Joe Swanson[8]
A-Main 1 – (30 Laps)
1. 09X-Carson Macedo[6] ; 2. 5-Byron Reed[2] ; 3. 83-Broc Martin[5] ; 4. 09-Craig Mintz[3] ; 5. 60-Jody Keegan[14] ; 6. 3J-Trey Jacobs[12] ; 7. 33M-Caleb Griffith[17] ; 8. 2+-Brian Smith[16] ; 9. 16-Stuart Brubaker[4] ; 10. 45L-Brian Lay[10] ; 11. 19-Paige Polyak[8] ; 12. 9Z-Duane Zablocki[1] ; 13. 6-Bill Rose[9] ; 14. 5K-Adam Kekich[11] ; 15. 23-DJ Foos[18] ; 16. 68G-Tyler Gunn[13] ; 17. 8J-Jess Stiger[20] ; 18. 7V-Shawn Valenti[19] ; 19. 9-Jordan Ryan[15] ; 20. 73-Chris Andrews[7]
Hard Charger: Caleb Griffith +10
305 Sprints – Burmeister Trophy
Kistler Engines Heat 1 – (8 Laps, top 4 to A)
1. 66-Jamie Miller[3] ; 2. 99-Alvin Roepke[1] ; 3. 1X-Dustin Dinan[7] ; 4. 10-Josh Harrison[2] ; 5. 97-Kyle Peters[6] ; 6. 45-Trevor baker[8] ; 7. 27-Cody Gallogly[5] ; 8. 48M-Mike Moore[9]
Pub 400 Heat 2 – (8 Laps, top 4 to A)
1. 2-Ricky Peterson[2] ; 2. 20I-Kelsey Ivy[3] ; 3. 11X-George Englert[4] ; 4. 1-Nate Dussel[9] ; 5. 77I-John Ivy[8] ; 6. 25-Jason Keckler[7] ; 7. 9R-Dustin Rall[5] ; 8. 2F-Matt Foos[6] ; 9. 9W-Don Whitney[1]
Hoosier Tires Heat 3 – (8 Laps, top 4 to A)
1. 8-Bobby Clark[1] ; 2. 12-Kyle Capodice[4] ; 3. 1W-Paul Weaver[8] ; 4. 41-Thomas Schinderle[3] ; 5. 75-Jerrry Dahms[2] ; 6. 77X-Alex Hill[7] ; 7. 22M-Dan McCarron[6] ; 8. 15-Gary Benjamin[5]
Computer Man Heat 4 – (8 Laps, top 4 to A)
1. 11G-Luke Griffith[2] ; 2. 36-Seth Schneider[4] ; 3. 19R-Steve Rando[6] ; 4. 7M-Brandon Moore[3] ; 5. 10X-Dustin Stroup[7] ; 6. 18-Frank Neill[1] ; 7. 87-Brian Gibbs[5] ; 8. 5JR-Jimmy Mcgrath[8]
B-Main 1 – (10 Laps, top 2 to A)
1. 77I-John Ivy[2] ; 2. 97-Kyle Peters[1] ; 3. 25-Jason Keckler[4] ; 4. 2F-Matt Foos[8] ; 5. 27-Cody Gallogly[5] ; 6. 48M-Mike Moore[7] ; 7. 9R-Dustin Rall[6] ; 8. 45-Trevor baker[3] ; 9. 9W-Don Whitney[9] ; 10. 7P-Evan Patynko[10]
B-Main 2 – (10 Laps, top 2 to A)
1. 10X-Dustin Stroup[2] ; 2. 22M-Dan McCarron[5] ; 3. 77X-Alex Hill[3] ; 4. 5JR-Jimmy Mcgrath[8] ; 5. 75-Jerrry Dahms[1] ; 6. 87-Brian Gibbs[6] ; 7. 15-Gary Benjamin[7] ; 8. 18-Frank Neill[4]
A-Main 1 – (25 Laps)
1. 66-Jamie Miller[3] ; 2. 1W-Paul Weaver[1] ; 3. 19R-Steve Rando[8] ; 4. 1-Nate Dussel[14] ; 5. 8-Bobby Clark[9] ; 6. 12-Kyle Capodice[5] ; 7. 1X-Dustin Dinan[10] ; 8. 77I-John Ivy[17] ; 9. 99-Alvin Roepke[7] ; 10. 36-Seth Schneider[2] ; 11. 7M-Brandon Moore[16] ; 12. 10X-Dustin Stroup[18] ; 13. 11G-Luke Griffith[12] ; 14. 20I-Kelsey Ivy[6] ; 15. 2-Ricky Peterson[4] ; 16. 10-Josh Harrison[13] ; 17. 22M-Dan McCarron[20] ; 18. 97-Kyle Peters[19] ; 19. 41-Thomas Schinderle[15] ; 20. 11X-George Englert[11]
Hard Charger: Nate Dussel +10
Dirt Trucks – Burmeister Trophy
Kistler Engines Heat 1 – (8 Laps, top 7 to A)
1. 7f-Dana Frey[2] ; 2. 5s-Brad Stuckey[4] ; 3. 99-Gene Potridge[1] ; 4. 4x-Brian Sorg[5] ; 5. 26-Kyle Lagrou[6] ; 6. 22-Brandon Leighton[3] ; 7. 16-Jim Holcomb[7]
Pub 400 Heat 2 – (8 Laps, top 6 to A)
1. 7B-Shawn Valenti[2] ; 2. 36M-Cory Mccaughey[3] ; 3. 4s-Keith Sorg[1] ; 4. 17x-Dustin Keegan[6] ; 5. 33-Jeff Ward[4] ; 6. 22J-Josh Kiser[5]
A-Main 1 – (20 Laps)
1. 7B-Shawn Valenti[1] ; 2. 33-Jeff Ward[10] ; 3. 17x-Dustin Keegan[5] ; 4. 5s-Brad Stuckey[6] ; 5. 16-Jim Holcomb[13] ; 6. 22-Brandon Leighton[11] ; 7. 4x-Brian Sorg[7] ; 8. 26-Kyle Lagrou[9] ; 9. 36M-Cory Mccaughey[8] ; 10. 4s-Keith Sorg[3] ; 11. 22J-Josh Kiser[12]
Hard Charger: Jeff Ward +8
602 Late Models – McCullough Industries
Kistler Engines Heat 1 – (8 Laps, top 6 to A)
1. 44-Matt Shipley[1] ; 2. 23-Dustin Sautter[3] ; 3. 00-John Brooks[5] ; 4. 98-Tim Sabo[2] ; 5. 04-Jeff Hites[6] ; 6. 16-Steve Sabo[4]
Pub 400 Heat 2 – (8 Laps, top 6 to A)
1. 4M-Jamie Miller[1] ; 2. 101-Chester Fitch[5] ; 3. 17x-Dustin Keegan[2] ; 4. 01-Brandon Perkins[4] ; 5. 12-Kyle Dukeshire[3]
A-Main 1 – (15 Laps)
1. 00-John Brooks[5] ; 2. 4M-Jamie Miller[1] ; 3. 98-Tim Sabo[7] ; 4. 17x-Dustin Keegan[2] ; 5. 16-Steve Sabo[11] ; 6. 01-Brandon Perkins[8] ; 7. 04-Jeff Hites[9] ; 8. 44-Matt Shipley[3] ; 9. 23-Dustin Sautter[6] ; 10. 12-Kyle Dukeshire[10] ; 11. 101-Chester Fitch[4]
Hard Charger: Steve Sabo +6