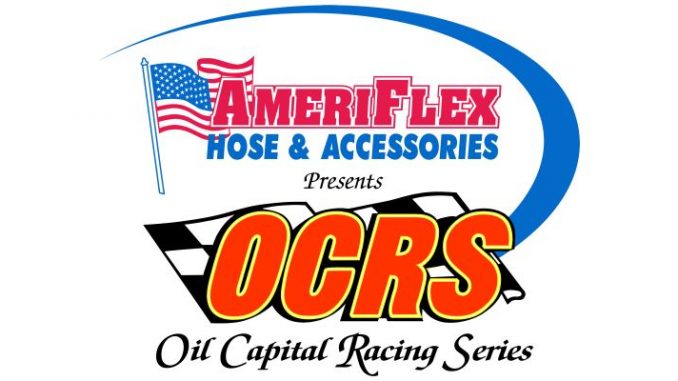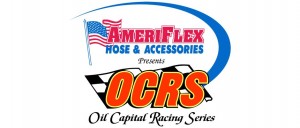 By John Lemon
Tulsa Okla. (April 19, 2016) – The Ameri-Flex / OCRS sprint cars are heading east this weekend as the Tri-State Speedway in eastern Oklahoma will host the fourth tour stop on the 2016 circuit for the open wheel winged crusaders on Saturday night.
There have been three different winners in the first three outings with Whit Gastineau, Sheldon Barksdale and Alex Sewell collecting early season glory. Barksdale and Sewell are first time feature winners. The series has become so balanced that there are only 6 drivers who have finished in the top 10 more than once in the previous three races.
Tri-State Speedway's 3/8-mile oval generally produces some of the best racing seen almost anywhere. In two trips to the track last year, victories were earned by former series champion Sean McClelland (June) and Zach Chappell ended the 2015 season with his first career win with the series in September.
Gastineau leads the early chase for the Harold Leep Championship Trophy with 296 points. Chappell sits in second spot with 268. McClelland is third with 255 markers. Defending series champion Robert Sellers is next with 250 and Michael Bookout rounds out the top five point collectors with 186.
Nutz n' Boltz:
Shaken Not Stirred –
We are glad to report that 4-time series champion Jamie Passmore is OK after his crash at Outlaw Motor Speedway Friday night. Rumors were getting tossed around like a leaf in the wind that Passmore had broken a bone or two. Other than some soreness, Passmore is fine.
Kicking The Door In –
Alex Sewell finally kicked the door in when he won his first career Ameri-Flex / OCRS feature at Outlaw Friday night. Sewell has been away from the series for a couple of years. His last flirtation with victory in the series was a Memorial Day weekend event in 2013 at the Caney Valley Speedway where Sewell was a runner-up to a then 14 year old Chance Morton.
Fine Line –
Rookie Jason McDougal had another impressive run in the Travis Jenkins mount until a mistake was made. Running in the top five in the feature, he crossed over the edge of the cushion and found the wall. McDougal flipped the car pretty hard but managed to walk away A-OK. As reported last week, kid is the real thing and his future is bright.
Micro Drivers = Sprint Drivers –
Drivers coming into the sprint car world from the micro world are finding some success at the higher level. In his only 2 stints in a 'big car', McDougal has shown there isn't a problem with the higher horse powered machines. Sewell has been in sprints a couple of seasons but is recognized a lot for his prowess in the micro and midget classes. Add Harli White's 2013 Ameri-Flex / OCRS title after jumping out of the smaller cars along with the success of drivers like Alex DeCamp and Kade and Chance Morton and it all goes to show, these younger drivers can get it done.
Anybody Need A Solid Driver? –
Matt Sherrell returned to compete in the series after an opening day appearance back in 2013. Sherrell slid in the Paul Johnson # 5X car at Outlaw as regular driver Brent Swift was unavailable. The "Mongoose" gave the team a solid 6th place finish and felt he would have done even better if for a simple set up adjustment. Sherrell is looking for a ride in the series where he can get back to sprint car racing at his leisure. Car owners ought not to wait to long before letting the Owasso OK pilot get away. Ring – Ring.
Sponsors In da House –
Corvan and Logan Robison from Ameri-Flex Hose & Accessories were at Outlaw Friday night taking in the show. The Robison's were assisting with the re-draw that took place in the grandstands for the fans to witness. Drivers & car owners: Do you have your decals on your cars and patches on your uniforms? Notes are being taken and there will be two at large selections for the $5000 to win Ameri-Flex Challenge in September. Just sayin'.
In addition to D&E Supply / DSO Racing Engines owner David Stephenson (who was competing), Rob Forehand from Action Auto Collision (who was turning wrenches as usual), Paul Edwards of A-1 Machine Shop (who had midget for son Blake to drive), Mike & Judy Stewart of Car & Fleet Parts were seen strolling through the pits as well. Suspect there were a couple more that this scribe didn't see. Always great to have sponsors in the house!
After all this early week of steady rain, the racetrack should be in prime condition this Saturday night. Outdoor activities will resume and what better place than the racetrack to enjoy getting out of the house?
What You Need To Know:
What: AmeriFlex / OCRS Sprint Cars
Where: Tri-State Speedway / Pocola Oklahoma
When: Saturday April 23, 2016
Time: Main Gates open at 4pm / Hot laps at 5:30pm / Racing at 6:00pm
(OCRS drivers meeting is after hot laps)
Tickets: Grandstand $15 (13 yrs & up) / Seniors (65+) $13 / Kids (6-12 yrs) FREE
All military personnel (past & present) are $10 off with proof of service.
Track Phone: (918) 436-5009
Promoter Phone: Dan King (479) 304-8547
Website: www.tri-statespeedway.com
About the Ameri-Flex / OCRS Series –
Established in 2002, the Tulsa OK based Ameri-Flex / OCRS series sanctions dirt track sprint car racing in the southern region of the central plains. Fan appeal and quality race teams, combined with our solid core of supporting sponsors are the nucleus of the series. Thrilling competition providing the ultimate quality family entertainment is the essence of what the Ameri-Flex / OCRS series is all about.
Website: www.ocrsracing.com
Facebook: www.facebook.com/oil.series
About Ameri-Flex Hose & Accessories –
Located in Tulsa OK, Ameri-Flex Hose & Accessories is a family owned and operated company. From food grade hose to hoses for the petroleum industry, Ameri-Flex will strive to fill your needs. Ameri-Flex can build a hose to your specifications or we will assist you in creating what you have designed while you wait. Ameri-Flex has several hard to find items that some vendors can't get or find. Product can be shipped quickly and efficiently. If we do not have what you are looking for, we will direct you on where to find it. Give us a try, after all…………..
Ameri-Flex Has The Stuff That Keeps You Going!
Website: www.ameriflexhose.com