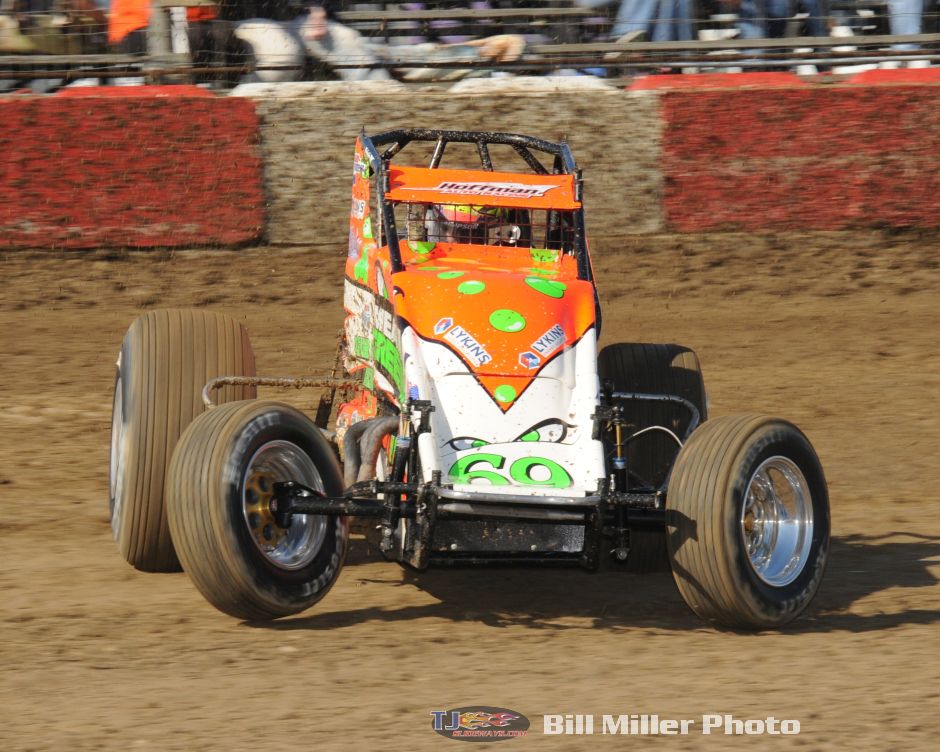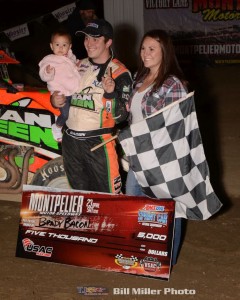 From USAC
Montpelier, IN — (April 24, 2016) — Brady Bacon methodically maneuvered his way from his sixth starting spot and, in a three-lap stretch a third of the way into the 30-lap feature, drove from fourth to first, passing Dave Darland on lap 12 and held off a late charge from Kyle Cummins to take the victory in front of a standing-room only crowd in the USAC AMSOIL Sprint Car National Championship's debut at Montpelier (Ind.) Motor Speedway Saturday night.
Bacon, of Broken Arrow, Oklahoma earned ProSource Fast Qualifying honors in the early going, putting him outside of row three for the feature event. But, it was Darland, from his pole starting position, who quickly established the point at the start with Shane Cottle and Cummins in tow.
By lap five, the freight train of Darland, Cummins and Cottle ran nose-to-tail as they each took to the high side to pull away from the pack. Meanwhile, Bacon went to the bottom, hugging the infield tires as he rapidly reeled in third-running Cottle.
By the tenth lap, Bacon had disposed of Cottle for third, then ran down Cummins for the second spot one lap later before nearly getting by Darland, trailing by about a foot in a dead heat at the start/finish line before claiming the lead just moment later going into turn one on lap 12.
As Bacon blew by the top-three for the lead on the bottom, the trio of Darland, Cummins and Cottle followed suit by heading to the inside line on lap 13 when Cummins got by Darland for second. Cummins moved his car from the bottom to the top and back to the bottom in search of the fast way around as the race crossed the midway point.
An A.J. Hopkins backwards spin on the front-straightaway with 10 to go closed the gap between Bacon in first and second-running Cummins. On the restart, Bacon and Cummins both went to the inside with Cummins hounding Bacon, shadowing his every move, readying himself to pounce on any single slip-up that Bacon might encounter in the closing laps.
With seven laps to go, Cummins was able to get his right front wheel inside of Bacon's left rear in turn two, nearly making contact, but was unable to make it stick, falling back roughly four car-lengths as the two headed into turn three, but a Bret Mellenberndt turn two spin brought out a yellow, providing Cummins with another shot.
After a restart with six to go, Cummins was looking to gain an inch, a yard, anything that would give him an opportunity to gain valuable ground on Bacon at the end, but he was never close enough to mount a serious challenge in the final laps as Bacon never blinked, distancing himself from the fading Cummins and taking the win in his Dynamics, Inc./Mean Green – Lykins Oil/Triple X/Williams Mopar.
Brady Bacon #69 at Montpelier (Ind.) Motor Speedway Saturday night.
(Ryan Sellers Photo)
With the victory, Bacon became the sixth different driver to win in the series' first seven races of the 2016 season and, with his 14th career win in the number 69 car, became the all-time winningest driver in USAC AMSOIL Sprint Car National Championship "points-paying" races for the venerable Hoffman family team.
"I knew the bottom was a little greasy, so I was trying to drive around it in (turns) one and two; (turns) three and four were good from the start," Bacon, the 2014 series champ, said. "Once it came in in (turns) one and two, I was able to drive by those guys and, from then on, just had to hold on. The car got a little evil right before and after that red (flag), but luckily, I didn't make a mistake big enough for him to get around me. I made some mistakes, but we were able to keep it down on the low line and keep him behind us. We're working hard because we haven't had the start to the season we wanted, so we made some changes to the car and the first race out we won. Hopefully we can keep this momentum going into the summer."
Princeton, Indiana's Kyle Cummins once again put himself in a position to win, but came up just a little short of scoring his initial USAC victory in the Hank Byram/Vincennes University – Tim Mason ReMax/Mach-1/Cummins. In seven series races thus far in the 2016 season, it was his third 2nd place finish and his fifth top-three result, exemplifying how close he is to finally breaking through for that elusive triumph.
"Everything has been consistent with the car," Cummins beamed. "I just have to thank these guys for working on the car. Everybody is working together and it makes my job easy because I can just focus on the racecar. It's been a good start to the year; I'm hopeful we can just keep knocking them off."
Dave Darland, of Lincoln, Indiana, led the first 12 laps of the feature in his Jeff Walker-Curb-Agajanian Racing/Jam-It-In Storage – Hoosier Tire/Maxim/Claxton before relenting the spot to Bacon, ultimately ending up third, which moved him into the top-five of the series point standings.
"It was tough to go from the lead to third after the top was so good," Darland said. "Then, we were a little too tight to run the bottom. We had a good car, but I got into a rut down in turn one a couple times and it shoved the front end. Things didn't go all that well at some points, but to get out of here with a third, we're pretty happy."
Contingency award winners included Brady Bacon (ProSource Fast Qualifier), A.J. Hopkins (Simpson Race Products First Heat), Robert Ballou (Competition Suspension (CSI) Second Heat), C.J. Leary (Benic Enterprises Third Heat & KSE Racing Products "Hard Charger"), Jerry Coons, Jr. (Indy Race Parts Semi), Chad Boespflug (Wilwood Brakes 13th place finisher).
—————————————————————————-
USAC AMSOIL SPRINT CAR NATIONAL CHAMPIONSHIP RACE RESULTS: April 23, 2016 – Montpelier, Indiana – Montpelier Motor Speedway
PROSOURCE QUALIFYING: 1. Brady Bacon, 69, Dynamics-14.199; 2. Thomas Meseraull, 66, Amati-14.209; 3. Chase Stockon, 32, 32 TBI-14.255; 4. Jon Stanbrough, 81, Stanbrough-14.284; 5. Shane Cottle, 57, Hazen-14.297; 6. Kyle Cummins, 3R, Byram-14.330; 7. Dave Darland, 11, Walker/Curb-Agajanian-14.367; 8. Jerry Coons Jr., 10E, Edison-14.374; 9. Chad Boespflug, 98E, NineEight/EZR-14.378; 10. Carson Short, 21, Short-14.385; 11. Justin Grant, 5, Baldwin-14.449; 12. Colten Cottle, 1RL, Lambertson-14.465; 13. A.J. Hopkins, 42G, Jackson-14.513; 14. Robert Ballou, 1, Ballou-14.521; 15. C.J. Leary, 17GP, Dutcher-14.585; 16. Aaron Farney, 15, Farney-14.588; 17. Isaac Chapple, 52, LNR-14.642; 18. Bret Mellenberndt, 97, Mellenberndt-14.645; 19. Matt Goodnight, 39, Goodnight-14.712; 20. Landon Simon, 24, LSR-14.715; 21. Max McGhee, 17, McGhee-14.772; 22. Cole Ketcham, 41K, Ketcham-14.777; 23. Scotty Weir, 18w, Keen-14.874; 24. Josh Spencer, 66J, Spencer-14.901; 25. Stuart Hanft, 69H, Hanft-15.569.
SIMPSON RACE PRODUCTS FIRST HEAT: (10 laps) 1. Hopkins, 2. Farney, 3. Darland, 4. Bacon, 5. C.Short, 6. Stanbrough, 7. Goodnight, 8. Ketcham, 9. Hanft. 2:29.30
COMPETITION SUSPENSION (CSI) SECOND HEAT: (10 laps) 1. Ballou, 2. Grant, 3. Meseraull, 4. Chapple, 5. S.Cottle, 6. Weir, 7. Simon, 8. Coons. NT
BENIC ENTERPRISES THIRD HEAT: (10 laps) 1. Leary, 2. Stockon, 3. Boespflug, 4. Cummins, 5. McGhee, 6. C.Cottle, 7. Mellenberndt, 8. Spencer. NT
INDY RACE PARTS SEMI: (12 laps) 1. Coons, 2. Stanbrough, 3. C.Cottle, 4. Goodnight, 5. Ketcham, 6. Simon, 7. Mellenberndt, 8. Spencer, 9. Hanft. NT
FEATURE: (30 laps) 1. Brady Bacon, 2. Kyle Cummins, 3. Dave Darland, 4. Shane Cottle, 5. Chase Stockon, 6. C.J. Leary, 7. Jerry Coons, Jr., 8. Carson Short, 9. Jon Stanbrough, 10. Justin Grant, 11. Thomas Meseraull, 12. Robert Ballou, 13. Chad Boespflug, 14. Aaron Farney, 15. Max McGhee, 16. Colten Cottle, 17. Cole Ketcham, 18. A.J. Hopkins, 19. Matt Goodnight, 20. Bret Mellenberndt, 21. Landon Simon, 22. Isaac Chapple. NT
—————————-
FEATURE LAP LEADERS: Laps 1-11 Darland, Laps 12-30 Bacon.
KSE RACING PRODUCTS HARD CHARGER: C.J. Leary (15th to 6th)
NEW USAC AMSOIL SPRINT CAR NATIONAL CHAMPIONSHIP POINTS: 1-Stockon-476, 2-Cummins-451, 3-Bacon-449, 4-Meseraull-445, 5-Darland-409, 6-Ballou-398, 7-Leary-370, 8-Grant-367, 9-McGhee-343, 10-Boespflug-340.
NEXT USAC AMSOIL SPRINT CAR NATIONAL CHAMPIONSHIP RACE: May 6 – Rossburg, OH – Eldora Speedway – "#LetsRaceTwo" – "Don Branson/Jud Larson Classic"