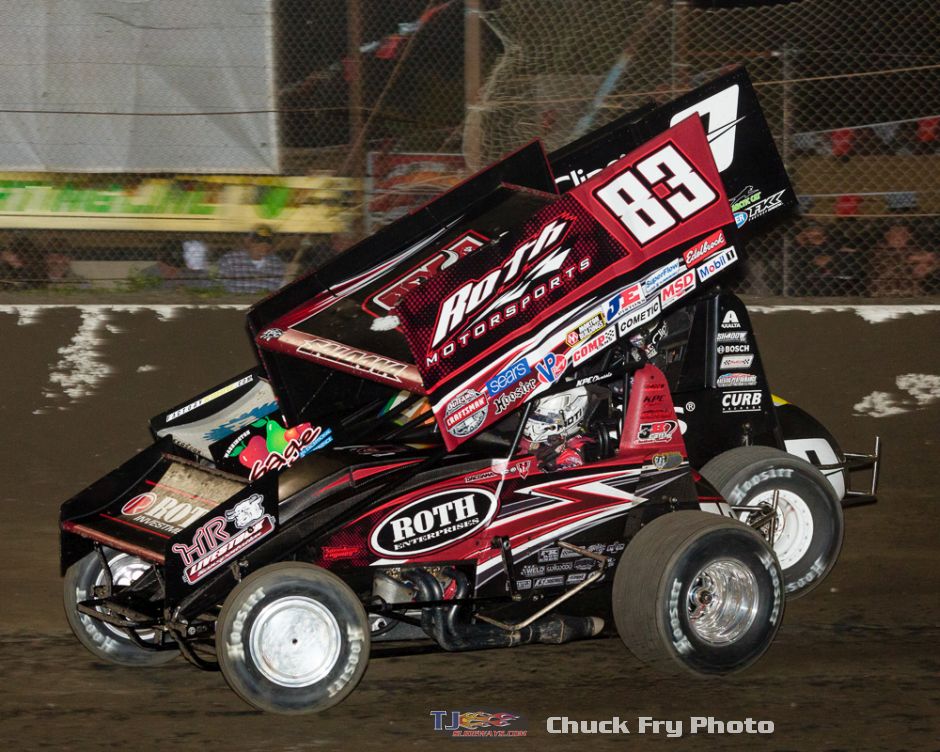 PETERSEN MEDIA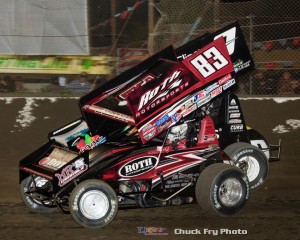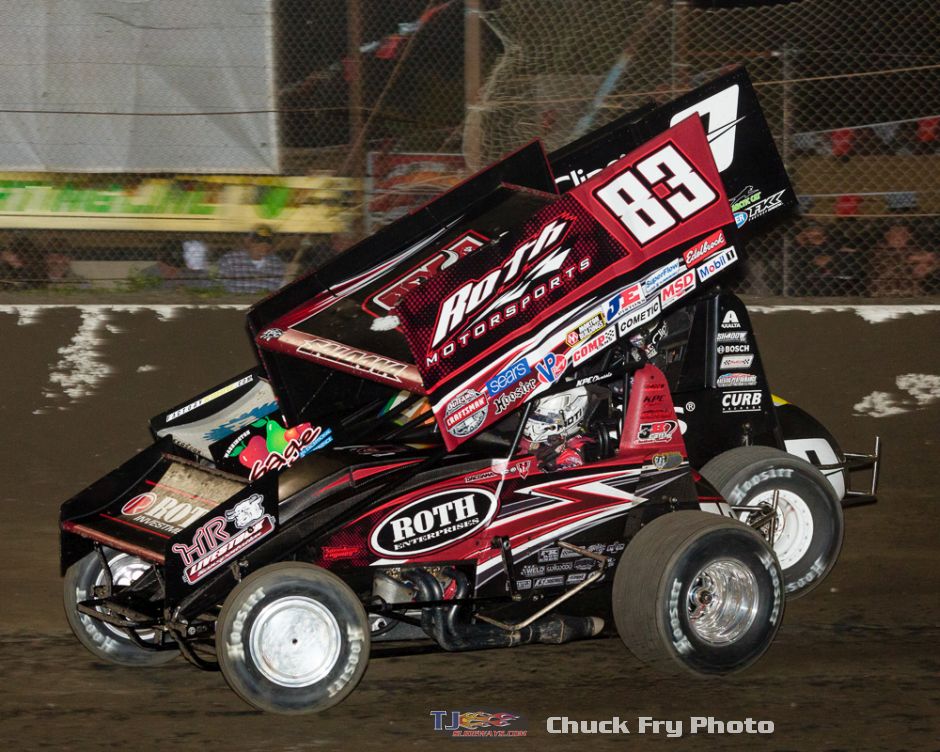 Finishing his West Coast swing off with three consecutive podiums, Joey Saldana continued to run up front with 'The Greatest Show On Dirt' over the weekend as he picked up his second win of the season during the opening night event at the Devil's Bowl Speedway, and backed it up with a second place finish during the Texas Outlaw Nationals finale.
"We have a great team, and everyone believes in each other which is huge in this sport," Joey Saldana said. "Dennis and Teresa Roth give us great equipment and it feels good to get them another win and two more podium finishes."
Checking in at the Devil's Bowl Speedway in Mesquite, TX on Friday night, Saldana laid down yet another good lap during qualifying time trials that saw him third fastest on the speed chart aboard his Roth Enterprises/HR Livestock Transportation/Roth Investments backed entry.
From the pole of his heat race, the Brownsburg, IN driver would finish in the second spot, which would send him into the all-important dash where a fifth place finish would line him up in the third row for the 25-lap Texas Outlaw Nationals opening night feature event.
On the slicked off Devil's Bowl Speedway, Saldana would take advantage of a pair of early restarts and race his way into the third spot as he chased after Daryn Pittman and Kerry Madsen.
By the 11th lap, Saldana was able to race his way under Madsen to take over the second spot as he then set his sights on the race leader. Seemingly reeling in Pittman lap after lap, Saldana would make his move with two laps to go as he was able to get a run under Pittman and go on to secure his second win of the 2016 season.
Returning to the speedway for the final night of action on Saturday, Saldana would get his night kicked off by timing in seventh fastest.
Lining up in the second row of his heat race aboard his 3H Cattle/FK Rod Ends/KPC No. 83, Saldana would work into the second position, where he would finish, and again make himself eligible for the Dash.
Lining up in the second row of the 30-lap feature event by way of his fourth place finish in the Dash, 'The Brownsburg Bullet' would work into the third spot as he chased after Jason Johnson and Daryn Pittman.
Working on second running Johnson, Saldana would mirror is move from Friday night as he would work the bottom of the speedway to get the position on the 12th lap and again chase after Pittman who was in the lead.
A restart on lap 23 would see Saldana fall back to third spot as now chased after Shane Stewart who overtook the spot. Taking advantage of late caution, Saldana would get into the second spot as he chased after Stewart for the final few laps.
With the checkered in the air, Saldana would bring his Roth Motorsports entry home with a second place finish to close out another strong weekend with the World of Outlaws Craftsman Sprint Car Series.
"We knew Roth Motorsports had a great package when we put this deal together, and it is great that it is coming together with this team we assembled," Saldana added. "Again, I just really want to thank Dennis and Teresa Roth for what they do for everyone, and hopefully we can continue to run well and produce results."
The Roth Motorsports team would like to thank Roth Enterprises, HR Livestock Transportation, Roth Investments, 3H Cattle,  Mobil1, FK Rod Ends, Weld Wheels, Brown and Miller Racing Solutions, Kent Performance, Kaeding Performance, and Astro Titanium for their support in 2016.
ON TAP: Joey and the Roth Motorsports team will be at the I 30 Speedway in Little Rock, AR on Tuesday night, the Salina Highbanks in Salina, OK on Friday night and the I 55 Speedway in Pevely, MO on Saturday night.
2016 BY THE NUMBERS: Starts-26, Wins-2, Top 5's-12, Top 10's-20.
STAY CONNECTED: Stay connected with Roth Motorsports by checking out their website, www.rothmotorsports83.com, and stay connected with Joey by following him on Twitter @JoeySaldana.
PETERSEN MEDIA: Petersen Media is a media company that can handle your public relations, marketing, and any other promotional needs. Petersen Media utilizes multiple tactics to help you reach your intended audience, to boost awareness.
For more information contact sales@petersenmediainc.com, by phone at 916-342-3424, visit www.petersenmediainc.com,  www.facebook.com/PetersenMedia, or follow www.twitter.com/petersen_media.