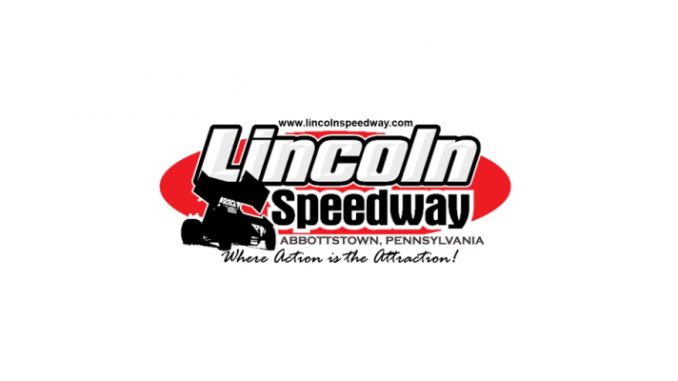 From Bill Meyer
Abbottstown, PA — (May 7, 2016) — Things finally fell into place for Lewisberry's Kyle Moody Saturday night, resulting his second career win in the "410" sprint feature at Lincoln Speedway.
"This season we have a new (Maxim) race car and had some motor issues early on," said Moody upon exiting his Dynatech Controls/ISSC #99M in victory lane, "It's funny, earlier in the night I told a couple people that in prior weeks, we've been building a notebook. But when the night hits and this thing's fast, it will all come together in one night."
Handicapping placed Moody fourth for the start. He was second behind polesitter Frankie Herr (subbing for Nicole Bower) by end of the first lap, and then slid under Herr to grab the race lead exiting turn two of lap five. From there, he drove out to a two and-a-half second lead by the time the first caution flag waved for Mike Bittinger, who came to a stop in turn three of lap 15.
Fifth-starting Robbie Kendall and eighth-starting Austin Hogue were second and third for the restart.
"I did see Kendall and Hogue behind me, and I know those guys are just as quick on any given night, so I tried to mix up my restarts," commented Moody in the two cautions and one red flag over the remainder of the race, "Luckily, the restarts held up and we're here."
The red flag started as a caution, but racing was stopped to make sure Tim Glatfelter was okay after being shaken up after striking the inside guardrail on the front stretch of lap 20.
On the final restart, 17th-starting Brian Montieth passed Hogue for third place, and stayed there until the checkered flew, with Moody's margin of victory over Kendall at 2.16 seconds.
"This was my type of race track tonight," said Moody, "I love a heavy race track like this. It was just fun out there."
Completing the top five were Hogue and Shane Hoff, with Billy Dietrich, 15th-starting Alan Krimes, Glenndon Forsythe, Scott Fisher, and Adam Wilt rounding out the top ten.
Heats for the 28 410 sprinters on hand were won by Kendall, Hoff, and Danny Dietrich, with Gerard McIntyre, Jr. winning the consolation.
Jeff Rohrbaugh became the first sprint car repeat winner of the year at Lincoln and claimed his division-leading 15th career win in the 20-lap "358" sprint car feature.
Rohrbaugh started tenth and inherited the lead when polesitter Kody Hartlaub slowed to a stop on the backstretch on lap six. From there, he held off the challenges of 12th-starting Matt Campbell and ninth-starting Jeff Halligan for the win.
Defending Lincoln champ Doug Hammaker came from 17th-starting spot to cross fourth, with Chandler Leiby fifth. Completing the top ten were Dalton Dietrich (best Lincoln career finish), Chris Arnold, Adrian Shaffer, Brent Shearer (who came back through the field after a fourth-lap spin), and Cody Fletcher.
Heats for the 25 358 sprinters on hand were won by Shearer, Shaffer, and Ryan Higgins.
Ryan Smith fulfilled a life-long dream by scoring the win in the 20-lap street stock feature.
Smith started fourth and took the lead from Jimmy Combs down the back stretch of lap eight. He led the rest of the way, with Chad Stine coming from 13th-starting spot to finish second.
Jim Palm, Jr., Josh Bloom, and Eddie Richards completed the top five.
Heats for the 26 street stock were won by Richards (who drew an inversion pill of 12 for the feature), Wayne Dutterer, and Chris Derr.
Next weekend, Saturday, May 14th, it will be BAPS NIGHT featuring the 410 Sprinters going after $5,000-to-win courtesy of BAPS plus 2-lap Challenge races to determine the top 12 starting positions for the feature. 358 Sprints and All-American Outlaws round out the auto racing portion of the show. It will also be the first race of the year for the York Flooring KIDS BIG WHEEL RACES. Racing gets underway at 7:30 PM, with gates opening at 5:30 PM.
RACE RESULTS
Saturday, May 7, 2016
LINCOLN SPEEDWAY
Abbottstown, PA
APPLE AUTOMOTIVE NIGHT
Lawrence Chevrolet 410 Sprints:
410 Sprint Feature (25 Laps) – 1. 99M-Kyle Moody ($3,200); 2. 55K-Robbie Kendall; 3. 21-Brian Montnieth; 4. 52-Austin Hogue; 5. 69-Shane Hoff; 6. 8-Billy Dietrich; 7. 87-Alan Krimes; 8. 2W-Glenndon Forsythe; 9. 21T-Scott Fisher; 10. 15-Adam Wilt; 11. 48-Danny Dietrich; 12. 2D-Chase Dietz; 13. 11C-Cory Haas; 14. 16-Gerard McIntyre, Jr.; 15. 10K-Joe Kata, III; 16. 75-Frankie Herr (DNF); 17. 39-Tim Glatfelter (DNF); 18. 51-Freddie Rahmer (DNF); 19. 59-Jim Siegel (DNF); 20. 12-Mike Bittinger (DNF); 21. 12B-Brad Franks (DNF); 22. 5-Tyler Ross (DNF); 23. 1X-Chad Trout (DNF); 24. 88-Brandon Rahmer (DNF). No Time
Lap Leaders – Frankie Herr (1-4), Kyle Moody (5-25)
410 Sprint Heat One Finish (10 laps/6 to qualify) – 1. 55K-Robbie Kendall; 2. 15-Adam Wilt; 3. 2W-Glenndon Forsythe; 4. 11C-Cory Haas; 5. 39-Tim Glatfelter; 6. 12-Mike Bittinger; 7. 16-Gerard McIntyre, Jr.; 8. 59-Jim Siegel; 9. 10-Zach Eucalano; DNS – 10K-Joe Kata, III. Time – 2:16.906
410 Sprint Heat Two Finish (10 laps/6 to qualify) – 1. 69-Shane Hoff; 2. 75-Frankie Herr; 3. 52-Austin Hogue; 4. 51-Freddie Rahmer; 5. 2D-Chase Dietz; 6. 21-Brian Montieth; 7. 1X-Chad Trout; 8. 5-Tyler Ross; 9. 91-Dave Quackenbush (DNF). No Time
410 Sprint Heat Three Finish (10 laps/6 to qualify) – 1. 48-Danny Dietrich; 2. 99M-Kyle Moody; 3. 21T-Scott Fisher; 4. 8-Billy Dietrich; 5. 87-Alan Krimes; 6. 12B-Brad Franks; 7. 15M-Bobby Mazingo; 8. 88-Brandon Rahmer (DNF); DNS – 37-JJ Grasso. No Time
410 Sprint Consolation Finish (10 laps/6 to qualify) – 1. 16-Gerard McIntyre, Jr.; 2. 1X-Chad Trout; 3. 59-Jim Siegel; 4. 5-Tyler Ross; 5. 88-Brandon Rahmer; 6. 10K-Joe Kata, III; 7. 10-Zach Eucalano; 8. 15M-Bobby Mazingo; DNS – 91-Dave Quackenbush. No Time
Keizer Aluminum Wheels 358 Sprints:
358 Sprint Feature (20 Laps) – 1. 45-Jeff Rohrbaugh ($1,000); 2. 16-Matt Campbell; 3. 41-Jeff Halligan; 4. 66-Doug Hammaker; 5. 119-Chandler Leiby; 6. 9-Dalton Dietrich; 7. 23-Chris Arnold; 8. 27S-Adrian Shaffer; 9. 12-Brent Shearer; 10. 66A-Cody Fletcher; 11. 13-Ryan Higgins; 12. 19S-Steve Drevicki; 13. 5-Phil Walter; 14. 19D-Wyatt Hinkle; 15. 89-Ashley Cappetta; 16. 28-Matt Findley; 17. 7-Trey Hivner; 18. 97-Brie Hershey (DNF); 19. 21-CJ Tracy (DNF); 20. 5A-Brian Allman (DNF); 21. 15S-Shai Morris (DNF); 22. 11D-Kody Hartlaub (DNF); 23. 17-George Streaker, Jr. (DNF); 24. 19L-Adam Lyman (DNF). No Time
Lap Leaders – Kody Hartlaub (1-5), Jeff Rohrbaugh (6-20)
358 Sprint Heat One Finish (10 laps/6 to qualify) – 1. 12-Brent Shearer; 2. 45-Jeff Rohrbaugh; 3. 9-Dalton Dietrich; 4. 5A-Brian Allman; 5. 19L-Adam Lyman; 6. 89-Ashley Cappetta; 7. 7-Trey Hivner; 8. 15S-Shai Morris; 9. 35-Tyler Esh (DNF). Time – 2:23.22
358 Sprint Heat Two Finish (10 laps/6 to qualify) – 1. 27S-Adrian Shaffer; 2. 97-Brie Hershey; 3. 16-Matt Campbell; 4. 66A-Cody Fletcher; 5. 21T-CJ Tracy; 6. 66-Doug Hammaker; 7. 5-Phil Walter; 8. 28-Matt Findley. Time – 2:20.66
358 Sprint Heat Three Finish (10 laps/6 to qualify) – 1. 13-Ryan Higgins; 2. 11D-Kody Hartlaub; 3. 119-Chandler Leiby; 4. 41-Jeff Halligan; 5. 23-Chris Arnold; 6. 19S-Steve Drevicki; 7. 17-George Streaker, III; 8. 19D-Wyatt Hinkle (DNF). No Time
Street Stocks:
Street Stock Feature (20 Laps) – 1. 59-Ryan Smith; 2. 19-Chad Stine; 3. 7P-Jim Palm, Jr.; 4. 00-Josh Bloom; 5. FOUR-Eddie Richards; 6. 84-LeRoy Long; 7. 18-Chris Derr; 8. 71-Sean Todd; 9. 2-Randy Zechman; 10. 818-Tyler Stump; 11. 39-Wayne Dutterer; 12. 4J-Jim Jacobs; 13. 86-Scott Strickler; 14. 83-Mikey Guise; 15. 64-Bradon Wanner; 16. 94M-Zach Myers; 17. 54J-Jimmy Combs (DNF); 18. 25H-Joe Hower (DNF); 19. 21H-Travis Horan (DNF); 20.60-Danny Beard (DNF); 21. 81-Matt Chronister (DNF); 22. 72-Jason Townsend (DNF); 23. 16-Walt Lemon (DNF); DNS: 55-Troy Eckenrode. No Time
Lap Leaders – Randy Zechman (1-2), Joe Hower (3), Jimmy Combs (4-7), Ryan Smith (8-20)
Street Stock Heat One Finish (8 laps/6 to qualify) – 1. 4-Eddie Richards; 2. 2-Randy Zechman; 3. 7P-Jim Palm Jr.; 4. 54J-Jimmy Combs; 5. 19-Chad Stine; 6. 83-Mike Guise; 7. 4-Jim Jacobs; 8. 16-Walt Lemmon; 9. 5-Josh Schrum; 10. 64-Brandon Wanner. Time – 2:33.25
Street Stock Heat Two Finish (8 laps/6 to qualify) – 1. 39-Wayne Dutterer; 2. 86-Scott Strickler; 3. 21H-Travis Horan; 4. 25-Joe Hower; 5. 55-Troy Eckenrode; 6. 72-Jason Townsend (DNF); 7. 84-LeRoy Long (DNF); 8. X99-Chris Heller (DNF); 9. 81G-Jason Geesaman (DNF); 10. 94-Dalton Myers (DNF). No Time
Street Stock Heat Three Finish (8 laps/6 to qualify) – 1. 18-Chris Derr; 2. 00-Josh Bloom; 3. 59-Ryan Smith; 4. 81-Matt Chronister; 5. 94-Zach Myers; 6. 60-Danny Beard; 7. 71-Sean Todd; 8. 818-Tyler Stump; 9. 88-Wastlay Miller. No Time