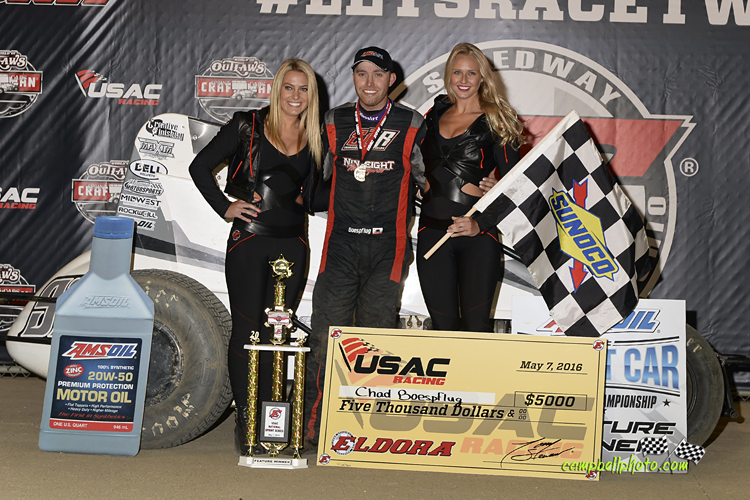 Plainfield, IN Monday May 9th, 2016

 –  

A track commonly referred to as "The Track Earl Built" after the late Earl Baltes holds such prestige in the dirt racing community even after the track reigns were handed over to veteran racer, Tony Stewart. Earl Baltes was one of few promoters that held extravagant races with large purses that hosted huge crowds before many in his era. The legacy of Eldora Speedway lives on even after the passing of Earl Baltes and still continues to host those big race events. This past weekend marked the second annual Mother of All Sprint Car Weekends at Eldora Speedway hosting the World of Outlaw Sprint Cars and the Amsoil USAC National Sprint Cars. An event fielding some of the highest levels of wing and non wing competition across the country. 





Night one Chad Boespflug was fast right out of the gate setting the pace for the field with a quick qualifying lap that stayed at the top of the board until Bryan Clauson edged him to take over the top spot. The momentum 

continued

 into the heat race where Boespflug started 6th and finished 2nd. The feature inversion placed Boespflug in the 5th starting position. After falling back a few spots early Boespflug was able to regain some ground to finish 7th.

Night two an early draw for qualifying was not in Boespflug's favor as the track got better as the night went on. His time was good enough to remain in the top 10 qualifying 9th. Boespflug has not qualified outside of the top 10 in the last 5 races. Another second place finish in heat race competition after starting 4th landed him a spot in the feature inversion. Boespflug would line up on the pole for the 30 lap #LetsRaceTwo feature event. Boespflug grabbed the early lead and never looked back leading all 30 laps holding off 2014 USAC Champion Brady Bacon for the win.

"To get another USAC win especially here is special. I told everyone I didn't want to be a one hit wonder winning only one USAC race. Hard work and the right people in place behind me has given me the opportunity to put this team together over the winter, and its finally paying off. I can not thank my guys enough for the time they put in. I'm glad I could get Chuck Eberhardt and Fred Zirzow of EZR  their first USAC win.  " 

– Boespflug reflects on his win at Eldora Speedway.



Thank You to All Continued Supporting Partners:
Amsoil, Bell Helmets, Butlerbuilt Seats, Claxton Engines, Creative Finishing, DLG, FK Indy, Hinchman Indy, HRP, Indy Race Parts, Manvel Motorsports, Maxim Racing, Midwest Shades, PAC Springs, RevvedUp Industries, Rockwell Time, Shaws, and STIDA.


 
USAC at Eldora Speedway – Rossburg, OH
5/6: Qualifying: 2nd / 35 Cars – Heat Race: S 6th F 2nd – AMain: S 5th F 7th
5/7: Qualifying: 9th / 28 Cars – Heat Race: S 5th F 2nd – AMain: S 1st F Won
Upcoming Events:
5/14: Local at Lincoln Park Speedway – Putnamville, IN – 41
5/15: Local at Kokomo Speedway – Kokomo, IN – 41
Be sure to follow Chad Boespflug via Facebook / Twitter / Instagram (@chadboespflug)