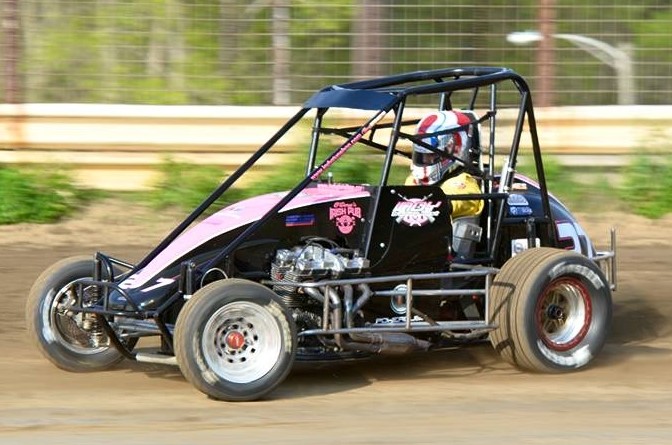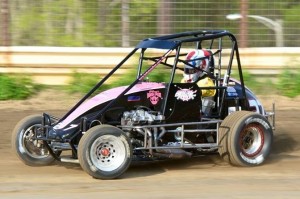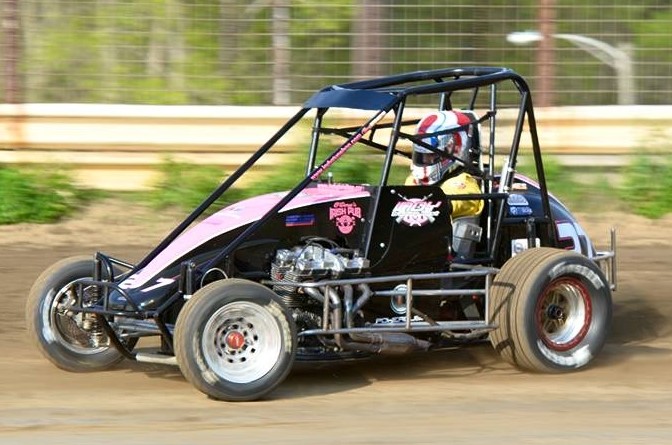 By Eric Bunn
(Lebanon, IN)  In a battle of driving styles and car types, Chase Jones and Kent Kriegbaum controlled the UAW American Made Mel Kenyon Midget Series 30-lap feature at US 24 Speedway Saturday night.  Winner Jones worked the top of the racetrack and the cushion in his car while Kriegbaum owned the bottom of the track in his Ford powered car.
Kriegbaum started the race from the pole position while Jones was on the inside of the fourth row.  Jones patiently picked off 5 cars, taking advantage of a lap 5 yellow to close up on the tail of next car in line.  Jones finally moved around Kriegbaum on lap 11 to grab the lead for good.
Four more caution periods would bring Kriegbaum back to Jones' bumper. Kriegbaum was unable to take advantage with Logan Huggler keeping him busy holding on to the number two spot.  Ashlea Albertson and Cole Christy, in his first dirt race, rounded out the top five.
For the second race in a row a last lap incident forced scoring to revert to last completed lap when Nathan Foster spun in turn two after Jones and Kriegbaum had received the checkers.  When there is a red or yellow flag on the last lap and at least one car has received the checkered flag, USSA does not race to the scoring line for safety reasons.
Three different winners in three races are keeping the early UAW American Made Mel Kenyon Midget series point battle tight.  After the US 24 Speedway event Logan Huggler jumped his brother Ryan to earn the point, with Ashlea Albertson in 3rd, Kriegbaum in 4th with Dameron Taylor and Trey Osborne tied for the 5th spot.
Jones' victory marks his first trip to victory lane in a UAW Kenyon Midget.  His win also propelled him to the top of the Simpson World Indy Rookie of the Year standing, shading Cole Christy by one point.
The UAW American Made Mel Kenyon Midget Series returns to action at the Lincoln Tech Indianapolis Speedrome on Saturday May 21, followed by its traditional Wednesday night show at Anderson Speedway as a part of Pay Less Little 500 presented by UAW-GM week on May 25.