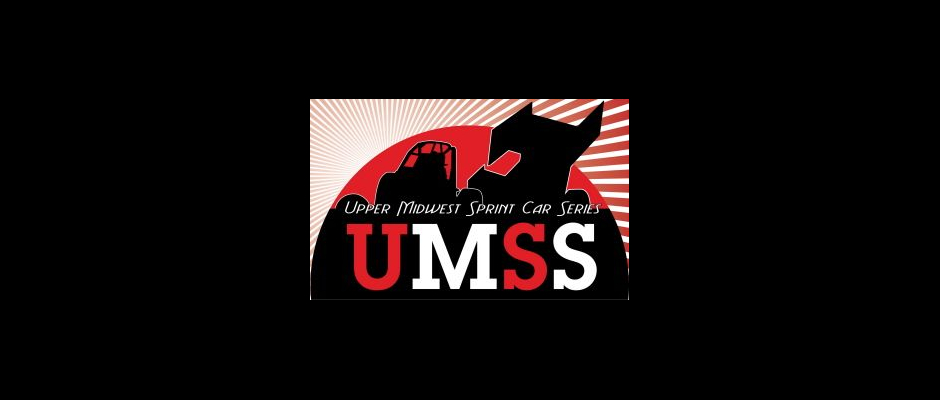 When the UMSS Traditional sprint cars make their annual visit to the Granite City Speedway, it is a common occurrence to see Mike Mueller of Stacy, Minnesota sitting in Rock Auto Victory Lane at the end of the feature event.  For the third time in his four appearances with his #87 Traditional sprint car, Mike Mueller celebrated a victory at the Sauk Rapids track in what proved to be another entertaining race for this popular division.  A field of (17) cars were on hand and the feature race was only slowed once under caution.  In fact, in the five times the series has visited the track, this was the first caution in a feature event.  The track was well-prepared with a top and bottom lane for most of the race.  For Mueller, it was his sixth career Traditional Sprint Car Series victory and first since the 2014 racing season when he won at Granite City on July 20.  Indeed, Mueller is becoming "The Master" of Granite City working his "magic" at the 1/3 mile dirt oval for a .750 winning percentage!
The three Traditional sprint car heat races were won by Rick Kobs, Ty Sampair and Mueller.  Although Sampair is a rookie this year in the Traditional sprints, he is a two-time UMSS micro sprint champion and is running stronger and stronger each night out in his non-winged sprint car.  Sampair had the most passing and finishing points following the heat races and drew the number three pill.  Rick Kobs, who already has four wins this season, drew the pole position with Jimmy Kouba to his outside.  Mueller started fourth.  Misfortune for the second time this season fell upon Neal Matuska in his heat race.  A second blown engine, possibly from the same cause, ended his night early while running second in the third heat.  Another rookie driver, Hunter Custer, led three laps in the second heat race before finishing in third.
Kobs bolted into the early lead generally running up on the cushion.  Mueller worked his way past Sampair and Kouba to settle into the second position in the early going.  Mueller, of course, was running his "patented" bottom groove at Granite City.  James Giossi soon jumped up top on the cushion and began moving forward.  With laps clicking off under the green, Giossi closed on Mueller in second with both drivers gaining on the leader.  The battle up front was a good one, as the race approached the halfway mark.  Also making a notable move forward was thirteenth starter Jeremy Kerzman up on the cushion.
On lap 17, Mueller ducked under Kobs coming off turn four and took the lead with Giossi close behind.  Giossi also moved past Kobs coming off turn two and a very good battle for the lead continued.  The race was slowed under caution with 18 laps scored for a spin in turn two by Hunter Custer.  This seemed to change the complexion of the race a bit, as both Giossi and Kerzman were kind of neutral for the final seven laps.  The car on the move during the latter stages of the race was once again, like the previous week at CLS, Anna Hippe.  Anna had fallen back several positions in the early laps but stormed back on the bottom.  Mueller led the final seven circuits for the win and Kobs regained second.  Hippe passed Giossi for third a few laps from the finish and closed in on the leaders.  Once again, she ran out of laps but turned in a solid third place finish.  Giossi and Kerzman completed the top five.  Only two of the sixteen starters dropped out with all cars still on the lead lap at the finish.  Rookie driver Kyle Wehking was impressive with his first top ten, as he drove to an eighth place finish.  The crop of rookies continues to be impressive in this division just seven races into the season.
Earning GRP Motorsports bonus money on this night was Jeremy Kerzman with the $100 Hard Charger Award, having advanced eight positions to finish fifth.  Mike Mueller earned the $100 Highest Finishing Past Champion/Rookie bonus for his victory.  GRP also paid Anna Hippe $100 from the previous week for her Hard Charger Award at CLS.  The drivers held an autograph session during intermission and several of them went into the stands to collect funds for injured driver Chase Viebrock.  It was a great gesture on the part of Granite City Speedway, and a decent amount was collected from a good-sized crowd on hand on what turned out to be a fantastic spring evening for racing.
The UMSS Traditional sprints will complete their double header weekend with their fifth appearance of the season slated for the Cedar Lake Speedway on Saturday night May 21 with another big event planned for Chase Viebrock.  Rick Kobs has won three out of the four races at CLS so far.  The Traditional sprints return the following weekend May 27-28 with yet another double header scheduled for Friday night May 27 at the Red Cedar Speedway and Saturday night May 28 at the Rice Lake Speedway.  Both the May 27 & 28 programs will also feature the UMSS winged sprints in a true double-double Memorial Day Weekend sprint car mania at the two popular Wisconsin tracks.  Stay updated on the Traditional sprints by checking out our website at
www.umsprints.com
with a click on the blue logo or you can follow the wingless warriors on our Facebook page.
UMSS TSCS Race Results – Granite City Speedway May 20, 2016 (Race #7)
GRP Motorsports A Feature (25 Laps): 1. 87-Mike Mueller[4]; 2. 81-Rick Kobs[1]; 3. 16-Anna Hippe[6]; 4. 11-James Giossi[5]; 5. 3K-Jeremy Kerzman[13]; 6. N1-Ty Sampair[3]; 7. 24-Brian VanMeveren[9]; 8. 12W-Kyle Wehking[11]; 9. 2K-Jimmy Kouba[2]; 10. 95-Kevin Bradwell[16]; 11. 6-Jake Kouba[7]; 12. 69S-Jon Lewerer[8]; 13. 7B-Scott Brandt[10]; 14. 29-Hunter Custer[12]; 15. (DNF) 99-Bryan Roach[14]; 16. (DNF) 90-Tony Klose[15]; (DNS) 48-Neal Matuska.
Lap Leaders: Kobs 1-16, Mueller 17-25. Cautions: (1) with 18 laps in for 29 spin turn 2. GRP Motorsports Hard Charger Award – Kerzman +8. GRP Motorsports Highest Finishing Past Champ/Rookie – Mueller.
Track Rat Photos Heat 1 (10 Laps): 1. 81-Rick Kobs[1]; 2. 11-James Giossi[2]; 3. 6-Jake Kouba[3]; 4. 24-Brian VanMeveren[5]; 5. 3K-Jeremy Kerzman[4]; 6. 99-Bryan Roach[6].
Lap Leader: Kobs 1-10. No cautions.
Meeks Video Heat 2 (10 Laps): 1. N1-Ty Sampair[4]; 2. 2K-Jimmy Kouba[3]; 3. 29-Hunter Custer[1]; 4. 7B-Scott Brandt[5]; 5. 90-Tony Klose[6]; 6. (DNF) 95-Kevin Bradwell[2].
Lap Leaders: Bradwell 1-3, Custer 4-6, Sampair 7-10. Cautions: (1) with 3 laps in for 95 into infield tire in turn 4.
Hoosier Racing Tire Heat 3 (10 Laps): 1. 87-Mike Mueller[2]; 2. 16-Anna Hippe[1]; 3. 69S-Jon Lewerer[3]; 4. 12W-Kyle Wehking[5]; 5. (DNF) 48-Neal Matuska[4].
Lap Leader: Mueller 1-10. Cautions: (1) with 4 laps in for blown engine on 48, done for the night.