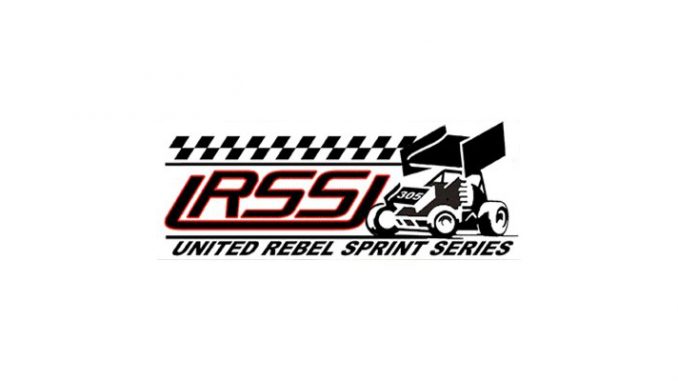 The United Rebel Sprint Series made its way back to the 3/8's oval at the Thomas County Fairgrounds in Colby Kansas Saturday night and the fans were on their feet for a classic green, white checker finish. Arcadia Oklahoma's Ty Williams in the 911 Christopher Ryan Kruse tribute sprint car wired the field to take his first URSS victory of the season.
Ty Williams along with outside pole sitter Nate Berry brought the field to the green with Williams jumping into the lead with Steven Richardson, Nate Berry, Jeff Radcliffe and Luke Cranston rounding out the top five after lap one. Cranston and Radcliffe got by Berry to relegate him to the fourth spot on lap two. Lap five saw Radcliffe pull off the track with a shattered rear brake rotor ending his promising run early.
Lap five saw the caution come out when Nate Berry looped his mount in turn one. On the restart Liberal's Tracey Hill jumped up to the fifth spot with fellow Liberal racer Koby Walters in tow. Hill took over the fourth spot on lap seven as Zach Blurton made his way to fifth passing Walters. Up front Williams was starting to get into lapped traffic by lap eleven and on lap twelve the caution flew for a spin of the second place Richardson.
On the restart Williams once again took the point with Cranston, Hill, Blurton and Jeremy Huish rounding out the top five. Huish soon closed up on the tail tank of Blurton and on lap thirteen both Huish and Koby made their way past Blurton who fell back to the sixth spot. Blurton took back the fifth position the following lap and set his sights on Huish. John Webster and Jed Werner were in a battle for the seventh spot with Nate Berry closing in on the pair. Berry made the pass to drop Webster back a spot on lap sixteen.
The caution flew once again on lap eighteen as Steven Richardson clipped a tire on the inside of the track and spun in turn one with front end damage ending his night and setting up a green, white checkers finish.
On the restart Williams once again took the lead with Cranston, Hill, Huish and Werner rounding out the top five. John Webster made his way past Blurton to pick up the sixth spot as the white flag fell. Williams took the checkered flag for his first win the of the 2016 URSS season with Cranston, Huish, Hill and Werner making up the top five.
The Keizer Aluminum Racing Wheels Hard Charger was won by Jed Werner who finished fifth coming from his fourteenth starting spot.  Heat Race winners were Koby Walters and Nate Berry.
Colby Kansas Results 6/4
1 Ty Williams
2 Luke Cranston
3 Jeremy Huish
4 Tracey Hill
5 Jed Werner
6 John Webster
7 Nate Berry
8 Zach Blurton
9 Koby Walters
10 Craig Jecha
11 Aaron Ploussard
12 Ryan Walters DNF
13 Steven Richardson DNF
14 Jeff Radcliffe DNF