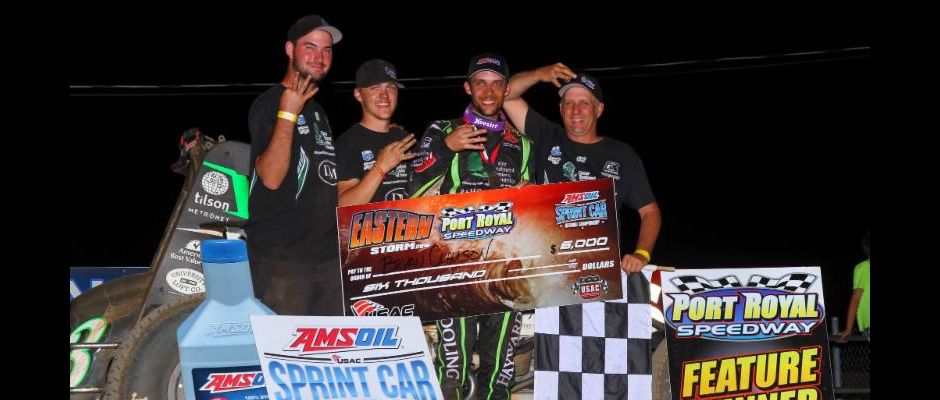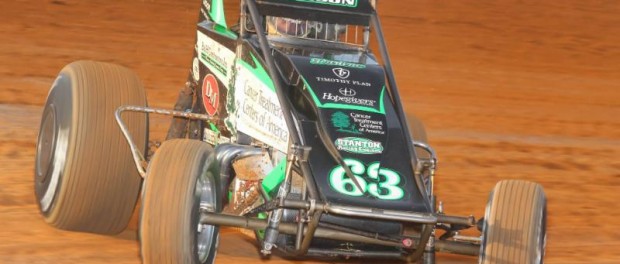 From Richie Murray
Sometimes good fortune falls your way. Sometimes the dominoes fall where they may. Not that the red-hot Bryan Clauson needed any luck with how successful he's been throughout the 2016 season, but any little bit helps.
Port Royal, PA — (June 11, 2016) — Sometimes good fortune falls your way. Sometimes the dominoes fall where they may. Not that the red-hot Bryan Clauson needed any luck with how successful he's been throughout the 2016 season, but any little bit helps.
After falling to 15th on the opening lap, and mired back in 10th at the halfway point, Clauson steadily worked his way through the field, using timely cautions and the misfortune of several frontrunners that played into his favor and put him in position to make the winning move on Brady Bacon on lap 24 and put the finishing touches on his 40th career USAC AMSOIL National Sprint Car victory, tying USAC Hall of Famer Gary Bettenhausen for seventh on the all-time series win list.
Clauson would start on the inside of row six at the start, but it was the winningest USAC Sprint Car driver of all-time, pole sitter Dave Darland, who bolted out to the early lead.
On lap three, Chase Stockon was able to take the third spot from Thomas Meseraull, but the side-by-side battle continued one lap later when the two banged wheels at the start/finish line, narrowly avoiding catastrophe.
On the sixth circuit, Meseraull pressed Stockon for the spot, but got the car completely sideways on the high side at the exit of turn four, slamming the right rear tire and right side of the tail tank against the guardrail with enormous force, sending Meseraull into a series of mid-air spirals before landing cage-first into the clay. Meseraull gingerly got out of the car under his own power, but was otherwise okay.
Brady Bacon entered the fray up front, battling with Darland for the lead on lap seven and eventually securing the spot one lap later.
Robert Ballou became the next driver to throw his helmet into the ring of frontrunners on lap 11, overtaking Chase Stockon for third on the outside of the second turn, and then running down Darland between turns three and four, speeding past the USAC Triple Crown champion at the exit of four for the second position.
Ballou made quick work erasing Bacon's ever-decreasing gap, as the defending USAC AMSOIL National Sprint Car champion squared up the 2014 champion he dethroned one year ago, in a run for his money at the halfway mark.
Lap 15, with Bacon down low and Ballou up high, Bacon drifted up in front of Ballou at the exit of two, slamming the door on him to slow his momentum, allowing Bacon to remain out front.
Two laps after a lap 16 yellow stopped the action, Ballou threw his number one deep into turn three in front of Bacon for the lead, but Bacon countered the move, slicing down to the inside guardrail at the exit of turn four, but to no avail. Ballou, last year's Port Royal winner and defending "Eastern Storm" champion, staked his claim at the top and appeared to be the one that everyone would be chasing.
Attrition started to wear on several of the top contenders down the stretch. Thursday's New Egypt winner Chad Boespflug was the first to fall by the wayside, slowing with mechanical trouble on lap 19. After a contentious, see-saw battle between Stockon and Bacon for second, the expensive sounds of a misfiring engine began to emanate from underneath the hood of Stockon's machine, sending him to the infield with seven laps to go.
Simultaneously, fourth-running Aaron Farney jumped the cushion and banged the guardrail between turns one and two before coming to a rest backwards against the Armco.
Under the yellow, race leader Ballou pulled into the work area in the infield with an apparent loose power steering line. He would restart, but was relegated to the tail of the field with just a handful of laps remaining.
The reshuffled starting order left Bacon out front with new neighbors Clauson and Max McGhee in his shadow running second and third.
Immediately, Clauson went to work on Bacon and, on lap 24, dove low at the entrance of turn three, throwing a massive slider on Bacon to pull ahead and put the race to bed. As Clauson peeled off lap-after-lap of perfection, evidenced by posting his fastest lap of the race just four laps from the end, he began to distance himself from Bacon in the remaining laps and drive into the history books with his milestone 40th USAC AMSOIL National Sprint Car victory, something only seven other men have been able to accomplish. Clauson was followed to the checkered flag by Bacon, McGhee, Darland, C.J. Leary, Jerry Coons, Jr., KSE Racing Products Hard Charger Shane Golobic, Ballou, Carmen Perigo and Isaac Chapple.
After winning his third USAC National Sprint Car race this week, Clauson extended his commanding point lead in the "Eastern Storm" standings to 52 over Chris Windom heading into Sunday night's finale at Susquehanna Speedway in York Haven, Pennsylvania. Meanwhile, Clauson continues to add more accolades to his world-class racing profile, earning his 40th series win at the age of 26 years, 11 months. The man he tied, Gary Bettenhausen, was just shy of his 39 birthday when he won his 40th and final at Winchester (Ind.) Speedway in 1980.
"I struggle to run in the top-five every time we come to this place, but we kind of sold out on this thing knowing we were starting 11th," Clauson said. "Watching the first 10 laps of the race, nobody would've guessed we'd be in victory lane. We decided to leave it alone under that open red and let the car come to us. We caught some breaks with some yellows and those guys falling out. When I restarted behind Brady, I was committed to doing whatever he didn't. I got my momentum up through turns one and two and pulled the trigger. This thing was flawless."
In Clauson's three "Eastern Storm" wins this week in his Dooling-Hayward/B & H Contractors – Cancer Treatment Centers of America/Spike/Stanton Mopar, the Noblesville, Indiana driver has taken the lead for good on lap 24 (Grandview & Port Royal) and lap 25 (Lincoln), exemplifying that Clauson knows when it's "go-time."
"I got by Farney for fourth and hadn't really had an opportunity to size myself up to those guys up front. We'd driven up to them, but they were so far out that I couldn't gauge how good we were compared to them. Robert and Brady get going really well on these big, sweeping tracks so we were happy to just run with them, but when you get that close, you don't want to let them slip away and you want to close them out. Last night, I didn't get it done, but we stole one tonight."
Brady Bacon's second place finish, coupled with Meseraull's misfortune, allowed Bacon, of Broken Arrow, Oklahoma, to re-emerge as the series point leader by 21 points in his Dynamics, Inc./Mean Green – Lykins Oil/Triple X/Williams Mopar.
"I hadn't realized Chase pulled off and you race according to who you're racing with," Bacon described. Chase isn't normally somebody who is going to rip the top, so I went to the bottom to protect and it turned out that Bryan was actually behind me. He got a good enough start to slide me into three and then I just couldn't get back by him. Then, I was trying stuff to catch him and ended up having to race back into second and, by then, Bryan was already gone."
"We got back to square one tonight," a relieved Bacon said. "We changed some things on the car and got it back to normal and had a really good points night. Wish we could've gotten the win though; this is one of my favorite tracks."
Camby, Indiana's Max McGhee earned a career best third-place result in his Sam McGhee Motorsports/Brown & Miller Racing Solutions – Mike McGhee & Associates/Maxim/Foxco.
"We've been working really hard this week and haven't gotten the finishes we wanted to," McGhee lamented. "The car has been really good; it's just been on me to step up a little bit. Racing with Bryan and Brady is a big confidence booster. Just to be able to hang with them is great. We worked on some stuff tonight and got better, so from here on out, I think we'll be in good shape."
Contingency award winners at Port Royal Speedway included Chase Stockon (ProSource Fast Qualifier), Robert Ballou (Simpson Race Products First Heat Race Winner), C.J. Leary (Competition Suspension, Inc. (CSI) Second Heat Race Winner Max McGhee (Benic Enterprises Third Heat Race Winner) Aaron Farney (Indy Race Parts Semi Winner), Shane Golobic (KSE Racing Products Hard Charger) and Dustin Smith (Wilwood Brakes 13th Place Feature Finisher).
—————————————————————————-
USAC AMSOIL SPRINT CAR NATIONAL CHAMPIONSHIP RACE RESULTS: June 11, 2016 – Port Royal, Pennsylvania – Port Royal Speedway – "Eastern Storm"
PROSOURCE QUALIFYING: 1. Chase Stockon, 32, 32 TBI-19.148; 2. Aaron Farney, 15F, Farney-19.385; 3. Thomas Meseraull, 66, Amati-19.428; 4. Robert Ballou, 1, Ballou-19.434; 5. Chad Boespflug, 98E, NineEight/EZR-19.503; 6. Brady Bacon, 69, Dynamics-19.521; 7. Dave Darland, 11, Walker/Curb-Agajanian-19.627; 8. Jerry Coons, Jr., 39, TWH-19.635; 9. Bret Mellenberndt, 97, Mellenberndt-19.776; 10. Isaac Chapple, 52, LNR-19.876; 11. Bryan Clauson, 63, Dooling/Hayward-19.972; 12. Max McGhee, 17, McGhee-19.973; 13. Landon Simon, 24, LSR-20.008; 14. C.J. Leary, 17GP, Dutcher-20.073; 15. Chris Windom, 5, Baldwin-20.074; 16. Shane Cottle, 65, Franckowiak-20.076; 17. Dustin Smith, 77, Smith-20.110; 18. Tony DiMattia, 50, DiMattia-20.199; 19. Mark Smith, 3R, Rock Steady-20.360; 20. Kyle Moody, 99m, Moody-20.383; 21. Tom Harris, 5E, East-20.385; 22. Carmen Perigo, 21, Stehman-20.387; 23. Shane Golobic, 60, Ely-20.761; 24. J.R. Berry, 74, Berry-20.951; 25. Dick Mahoney, 79, Mahoney-21.176; 26. Kevin Thomas, Jr., 4J, 4J Motorsports-21.540.
SIMPSON RACE PRODUCTS FIRST HEAT: (8 laps) 1. Ballou, 2. Stockon, 3. Simon, 4. Darland, 5. Chapple, 6. M.Smith, 7. Perigo, 8. Cottle, 9. Mahoney. NT
COMPETITION SUSPENSION (CSI) SECOND HEAT: (8 laps) 1. Leary, 2. Clauson, 3. Coons, 4. D.Smith, 5. Boespflug, 6. Golobic, 7. Farney, 8. Moody, 9. Thomas. 2:40.92
BENIC ENTERPRISES THIRD HEAT: (8 laps) 1. McGhee, 2. Bacon, 3. Windom, 4. Meseraull, 5. DiMattia, 6. Mellenberndt, 7. Harris, 8. Berry. 2:43.28
INDY RACE PARTS SEMI: (12 laps) 1. Farney, 2. M.Smith, 3. Mellenberndt, 4. Golobic,
5. Moody, 6. Thomas, 7. Perigo, 8. -Harris, 9. Berry, 10. Mahoney. NT
FEATURE: (30 laps) 1. Bryan Clauson, 2. Brady Bacon, 3. Max McGhee, 4. Dave Darland, 5. C.J. Leary, 6. Jerry Coons, Jr., 7. Shane Golobic, 8. Robert Ballou, 9. Carmen Perigo, 10. Isaac Chapple, 11. Kyle Moody, 12. Chris Windom, 13. Dustin Smith, 14. Bret Mellenberndt, 15. Tony DiMattia, 16. Chase Stockon, 17. Aaron Farney, 18. Chad Boespflug, 19. Landon Simon, 20. Mark Smith, 21. Thomas Meseraull, 22. Kevin Thomas, Jr. NT
—————————-
**Cottle flipped over the guardrail during the first heat. Meseraull flipped on lap 6 of the feature.
FEATURE LAP LEADERS: Laps 1-7 Darland, Laps 8-17 Bacon, Laps 18-23 Ballou, Laps 24-30 Clauson.
KSE HARD CHARGER: Shane Golobic (21st to 7th)
NEW AMSOIL NATIONAL SPRINT POINTS: 1-Bacon-1,028, 2-Meseraull-1,007, 3-Stockon-938, 4-Ballou-914, 5-Darland-900, 6-Leary-891, 7-Boespflug-830, 8-McGhee-781, 9-Clauson-739, 10-Kyle Cummins-658.
NEW EASTERN STORM POINTS: 1-Clauson-311, 2-Ballou-259, 3-Windom-255, 4-Stockon-236, 5-Bacon-224, 6-McGhee-222, 7-Meseraull-220, 8-Leary-218, 8-Darland-216, 10-Boespflug-212.
NEXT AMSOIL NATIONAL SPRINT RACE: June 12 – York Haven, PA – Susquehanna Speedway – "Eastern Storm"
305 sprints, 18 laps: 1. Jeff Miller, 2. Tyler Reeser, 3. Dave Grube, 4. Nathan Gramley, 5. Dave Brown Jr., 6. Colby Dice, 7. Scott Ellerman, 8. Scott Lutz, 9. Kyle Ganoe, 10. Jake Waters, 11. Cale Reigle, 12. Drew Ritchie, 13. Stephanie Dodson, 14. Erin Statler, 15. Brad Mellott, 16. Reed Thompson, 17. Mike Alleman, 18. Jon Haegele, 19. Billy Ney, 20. John Martin, 21. Zach Newlin, 22. Alan Kumpf, 23. Dave Guss Jr., 24. John Fiore
DNQ: Jack Thornton, Kristen Hess, Kassidy Kreitz, Billy Burkholder, Tom Worrick, Paul Snyder