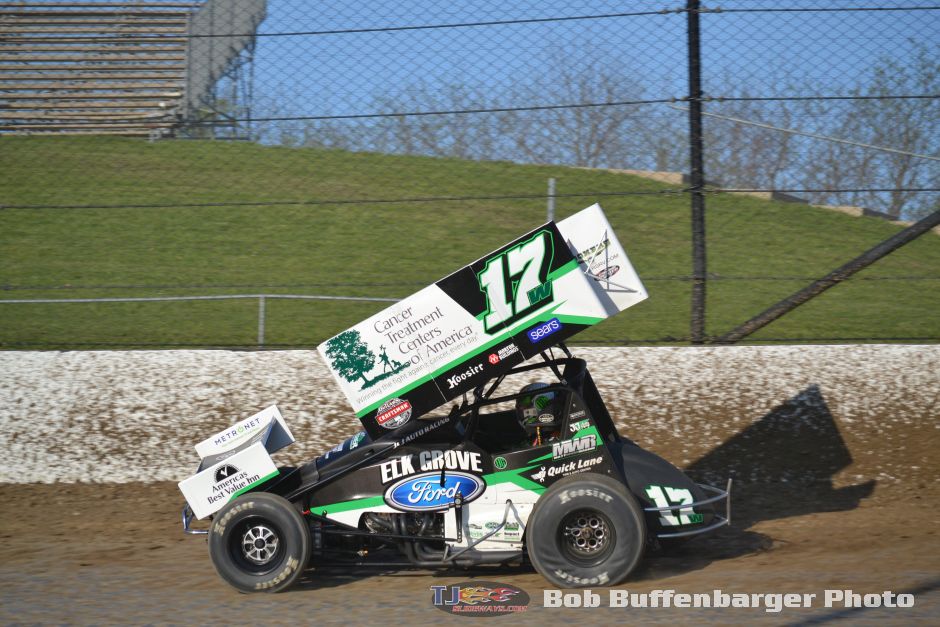 By Bill W
June 27, 2016 – The Matt Wood Racing #17w team and driver Bryan Clauson are in the middle of a chaotic Speedweek schedule that has encompassed both Ohio and central Pennsylvania. The Noblesville, Indiana driver picked up his first winged 410 sprint car win of the year last Tuesday at Sharon Speedway near Hartford during Ohio Speedweek. They registered a second place finish last night at Path Valley Speedway as they are in the midst of PA Speedweek. This week will see them at Grandview Speedway near Bechtelsville tomorrow night, Hagerstown Speedway in Maryland Wednesday, Port Royal Speedway Thursday and Saturday, Williams Grove Speedway near Mechanicsburg Friday and Selinsgrove Speedway on Sunday.
Bryan and the team started the Ohio Speedweek a week ago Sunday at Millstream Speedway in Findlay. Eleven of the twelve cars in his heat group at Wayne County Speedway near Orrville the following night made the main event. "We just kind of struggled for speed all night and missed the show at Millstream," he says. "At Wayne County, we didn't qualify the greatest, but we went from eighth to fourth in the heat. That started us 14th in the feature, and we kind of settled in to about 11th or 12th. Unfortunately, we had a brake issue and had to pull in. That was kind of a bummer."
Things went really well at Sharon on Tuesday. "We were looking forward to Sharon, because we had done fairly well there last year. We qualified second in our group, and second overall. That was a good start to the night, and then we got through the heat (third), which got us in the Dash."
A fourth place finish in the Dash lined Bryan up outside row two for the feature. "We got a good start in the feature and settled into third," he says. "We were moving around trying to figure out where we needed to be, and the two leaders got together racing in traffic. That handed us the lead, and we were able to set sail and check out. It was a really good win. It's a tough week to go in to when you don't run those tracks very often. We were happy to pick up an Ohio Speedweek win."
Wednesday, it was on to Atomic Speedway near Chillicothe. "We had another solid night," says Bryan. "We timed in second quick overall again and got into the Dash. We drew the seven which was tough. We finished eighth in the Dash and dropped back to 13th or so to start the feature. We struggled early, but we were able to come back late and finish ninth. We were hoping to do a little better with the way our night started. But looking at last year (a fifth place finish in the B), it was certainly a step forward."
The team made its first ever foray into Pennsylvania. Unfortunately, events at both Susquehanna Speedway Park near Newberrytown and Williams Grove were rained out after hot laps. Lincoln Speedway would host the official opener for PA Speedweek and Bryan would time in ninth quick at a track he won at a few weeks ago in USAC competition. "We went out late, so we were happy with that," he says. "We didn't quite get the start we needed in the heat and ended up running third. We were all over the leaders, we just didn't really have anywhere to go."
He would start outside row eight for the feature. "Not knowing the place kind of bit us early," says Bryan. "They watered the top and I got a little too aggressive on the start. I jumped the cushion and dropped back to last. When you're back there, you're struggling to find where you need to be. Where you want to be, everyone else is, so you're trying to make something that's not there work. We had a yellow towards the end, and we finally got going. We ended up getting back by five or six cars to eighteenth."
Path Valley Speedway hosted last night. "We went out last and ended up timing in ninth," says Bryan. "That was a solid start to the night. We were able to win the heat from outside the front row. (Brian) Montieth actually beat us through one and two, but we were able to get going on the top and get by him."
Bryan started fifth in the feature. "We got going early on the bottom," he says. "Eventually, we found our way to the top, and got to second. We were all over (Greg) Hodnett. We gave him everything he could handle, but he did a good job through lapped traffic. He kind of took away anything we had to throw at him, and held on. We had a late race restart, and got to him. He just held us off. Without ever being at these places in a wing car and running second…it was definitely a positive."
Matt Wood Racing would like to thank: Elk Grove Ford, Cancer Treatment Centers of America, Jonathan Byrd's Hospitality and Restaurant Group, America's Best Value Inn, Quick Lane and Impact Signs, Awnings & Wraps!
Photo: Bryan with the wing dance after his Ohio Speedweek win at Sharon (Vince Vellello Photo for the All Stars)