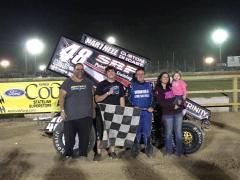 By Bill W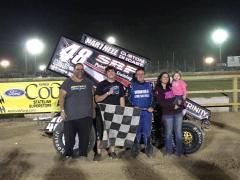 July 5, 2016 – It was a great weekend of racing for Brandon Wimmer and Chris Hartnell's #48 team in Wisconsin. After a second place finish with the IRA on Friday at Manitowoc Speedway where the team won earlier this season, they picked up a victory Saturday at Wilmot Speedway. The Fairmount, Indiana driver plans on being in John Shewbrooks' #A67 this weekend in OSCS action at Atomic Speedway near Chillicothe, Ohio.
The speedway in Manitowoc will be shut down after this season, and Brandon was hoping to sweep the IRA events there in its last year. He would time in sixth quick after coming out 18th in the 27-car field. After going from fifth to third in his heat, he lined up third for the feature. "We actually got the lead in the first five to ten laps," he says. "We led most of the race from there. The cautions really hurt us. There were at least two yellows and two reds towards the end of the race."
That made it tough to keep heat in the tires. "Our tires weren't hurt, but the heat cycle on them didn't help with the cautions and the reds," says Brandon. "As the track got wider, the bottom started to come in. It was one of those deals where it was better to be in second. (Scott Uttech) could try things, while I thought the top was pretty good, so I stayed up there."
That's when the battle began for Brandon. "We raced back and forth a few laps," he says. "Then, going into three and four, I drove it into the cushion a little hard. That pulled the front end in and he got me by a car length. We won the first one there this year, and we were second in this one, so I can't complain."
The team decided to go to Wilmot on Saturday. "We were actually really bad in our heat," says Brandon. "We started third and ran fourth. We made wholesale changes, which is really why we went there Saturday. We were trying some things, because the IRA is there in a couple of weeks and the World of Outlaws after that. We were playing around with some different things."
Brandon started seventh in the feature. "I got to third pretty fast," he says. "Luckily, there was a yellow, because the leaders were getting away a little. That got us back up on the leaders. I didn't actually see the white flag. I was diving under them coming out of four to get to the bottom of turns one and two. That's where I passed them. I saw the flag and thought it was the white, but it was the checkered."
The win was Brandon's second of the year with the team. "I was able to accomplish one of my goals that night," he says. "We got (daughter) Kennedy in her first Victory Lane photo. She hadn't been at the races when we won earlier in the year. It was special to have her there for the first time."
Hartnell Motorsports would like to thank SFR Painting and Staining, Pure Air Heating and Air Conditioning, Trinity Homes and May Roofing.
Brandon would like to thank his own long-term partners Simpson Racing Products, Butlerbuilt Professional Seat Systems and All Star Performance.
Brandon on the Web
Check out Brandon's website at www.BrandonWimmer.com!
Also, follow Brandon on Twitter @BrandonWimmer and on facebook at https://www.facebook.com/brandon.wimmer!
Photo: Brandon in Victory Lane at Wilmot (Jeff Burba Photography – www.JeffBurba.com)