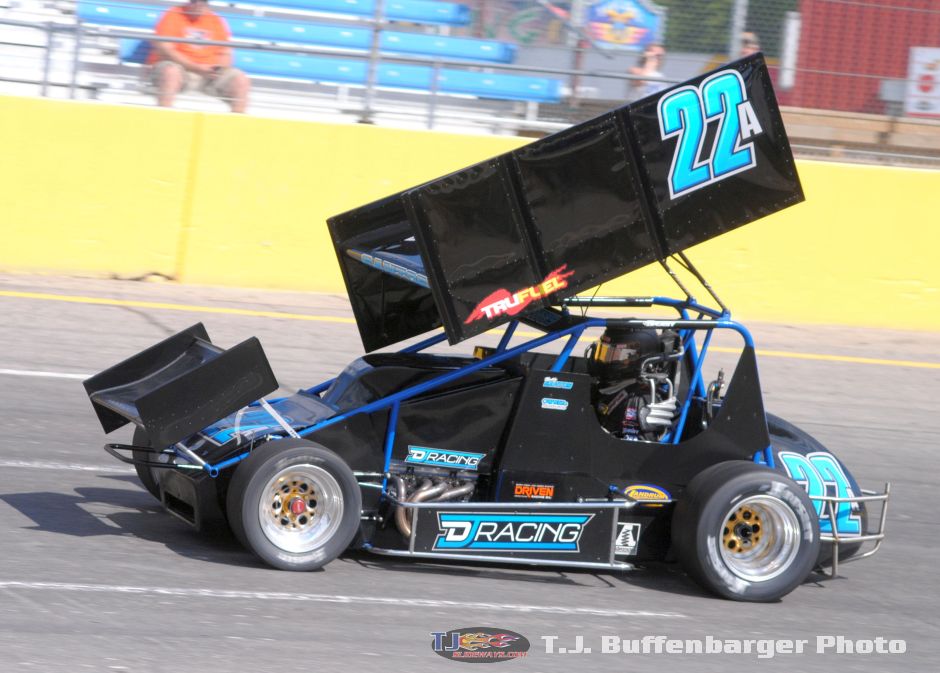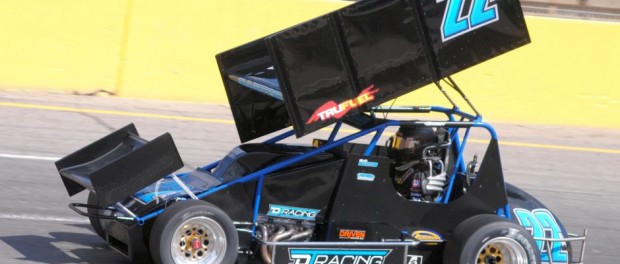 From T.J. Buffenbarger
Marne, MI – (July 9, 2016) – Bobby Stantos, III won the feature event during the Berlin Fair at Berlin Raceway Saturday night with the Auto Value Bumper to Bumper Super Sprints. Santos started seventh and worked his way through the field to pass fast qualifier Derek Snyder for the victory.
Kevin Feeney and Teddy Alberts started on the front row for the 30-lap main event. Feeney led the first six laps with Blonde on his back bumper. Synder quickly moved up through the field driving by Blonde and Ryan Litt to go from fourth to second on lap five. Two laps later Snyder passed Feeney for the lead on lap seven.
Further back in the field Santos started to move up as well around Litt for fourth on lap nine. Santos also made a two for one pass of Blonde and Feeney on lap ten. Santos then set out after Snyder for the lead, making the pass on lap 23.
With two laps to go Blonde was able to get by Snyder for the second spot, but Santos was able to motor away to the victory over Blonde, Snyder, Feeney, and Jeff Bloom.
Auto Value Bumper to Bumper Sprint Car Series
Berlin Raceway
Marne, MI
Saturday July 9, 2016
Qualifications:
1. 22 – Derek Snyder, 13.074
2. 22A – Bobby Santos III, 13.190
3. 07L – Ryan Litt, 13.284
4. 42 – Jason Blonde, 13.306
5. 26 – Jeff Bloom, 13.452
6. 21 – Mike Stutsman, 13.649
7. 61 – Kevin Feeney, 13.766
8. 44A – Teddy Alberts, 13.818
9. 12 – John Turnbull Jr., 13.848
10. 27 – Nick Landon, 14.173
11. 25 – Keith Stepke, 14.208
12. 11G – Tom Geren, 14.815
13. 100 – Tom Pattason, 15.836
14. 35 – Mark Strpko, 17.422
Heat Race #1:
1. 12 – John Turnbull Jr.
2. 07L – Ryan Litt
3. 22 – Derek Snyder
4. 61 – Kevin Feeney
5. 26 – Jeff Bloom
6. 100 – Tom Pattason
7. 25 – Keith Stepke
Heat Race #2:
1. 42 – Jason Blonde
2. 11G – Tom Genen
3. 22A – Bobby Santos
4. 27 – Nick Landon
5. 44A – Teddy Alberts
6. 21 – Mike Stutsman
7. 35 – Mark Strpko
Feature:
1. 22A – Bobby Santos, III
2. 42 – Jason Blonde
3. 22 – Derek Snyder
4. 61 – Kevin Feeney
5. 26 – Jeff Bloom
6. 12 – John Turnbull Jr.
7. 44A – Teddy Alberts
8. 27 – Nick Landon
9. 100 – Tom Pattason
10. 21 – Mike Stutsman
11. 11G – Tom Geren
12. 07L – Ryan Litt
13. 35 – Mark Strpko
14. 25 – Keith Stepke