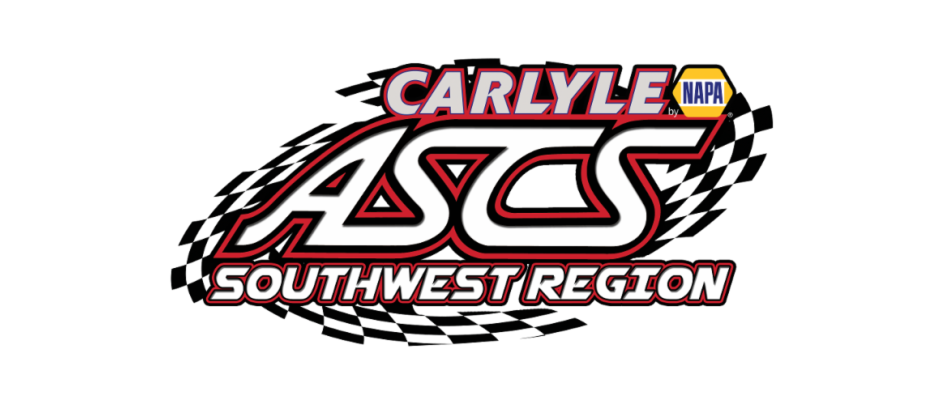 From Bryan Hulbert
LAS CRUCES, N.M. (July 30, 2016) — In an exciting display of "win it or wear it", New Mexico's Lorne Wofford held off the hard charging No. 224 of John Carney II in the closing laps for his first Carlyle Tools ASCS Southwest Region victory of the 2016 season at the Southern New Mexico Speedway in Las Cruces, N.M.
The win is Wofford's eighth overall with the Southwest Region and was worth $2,000 thanks to Consolidated Solar Technology.
Leading the opening two circuits, Wofford relinquished the top-spot for current ASCS Southwest Regional point's leader, Rick Ziehl. Trailing the No. 20z until Lap 13, Wofford regained the top spot with John Carney II not far behind after starting seventh in the Steward No. 224.
Catching Wofford on Lap 18, the slide cometh as Carney dove the bottom of the first turn. Keeping the slide job as tight as possible, Wofford had other things in mind as the wily veteran set up the bump and run; moving his MTS No. 18 back to the top spot where he would remain for the remainder of the night's 25 lap affair.
Carney would settle for second with Arizona's Colton Hardy third. After leading early on, Rick Ziehl slipped to a fourth place finish with Wes Wofford coming from 12th to complete the top-five.
Bob Ream, Jr. was sixth with James Mosher seventh. Don Grable from 14th made it to eighth with Royal Jones and C.J. Hulsey making up the top-ten.
The Carlyle Tools ASCS Southwest Region returns to Queen Creek, Ariz. for a date at the Arizona Speedway on September 10 then again on September 24. For continued updates on the Carlyle Tools ASCS Southwest Region, log onto http://www.ascsracing.com.
Race Results:
ASCS Southwest Region
Southern New Mexico Speedway – Las Cruces, N.M.
Saturday, July 30, 2016
Car Count: 19
Heat 1 (8 Laps): 1. 18-Lorne Wofford; 2. 8-Bob Ream Jr; 3. 224-John Carney II; 4. 40X-Don Grable; 5. 19-Wes Wofford; 6. 131-Royal Jones
Heat 2 (8 Laps): 1. 20Z-Rick Ziehl; 2. 91-Casey Buckman; 3. 77C-C.J. Hulsey; 4. 6-Jett Carney; 5. 90-Lance Norick; 6. 29-Darrell Sickles
Heat 3 (8 Laps): 1. 74-Colton Hardy; 2. 12-James Mosher; 3. 22B-Jesse Baker; 4. 1-Steve Gonzales; 5. 22L-Justin Lasiter; 6. 14-Cody Sickles; 7. 48-Shawn Sander
A Feature (25 Laps): 1. 18-Lorne Wofford[1]; 2. 224-John Carney II[7]; 3. 74-Colton Hardy[3]; 4. 20Z-Rick Ziehl[5]; 5. 19-Wes Wofford[12]; 6. 8-Bob Ream Jr[2]; 7. 12-James Mosher[4]; 8. 40X-Don Grable[14]; 9. 131-Royal Jones[16]; 10. 77C-C.J. Hulsey[10]; 11. 22B-Jesse Baker[6]; 12. 22L-Justin Lasiter[19]; 13. 6-Jett Carney[17]; 14. 1-Steve Gonzales[18]; 15. 48-Shawn Sander[13]; 16. 90-Lance Norick[11]; 17. 91-Casey Buckman[8]; 18. 29-Darrell Sickles[15]; 19. 14-Cody Sickles[9]