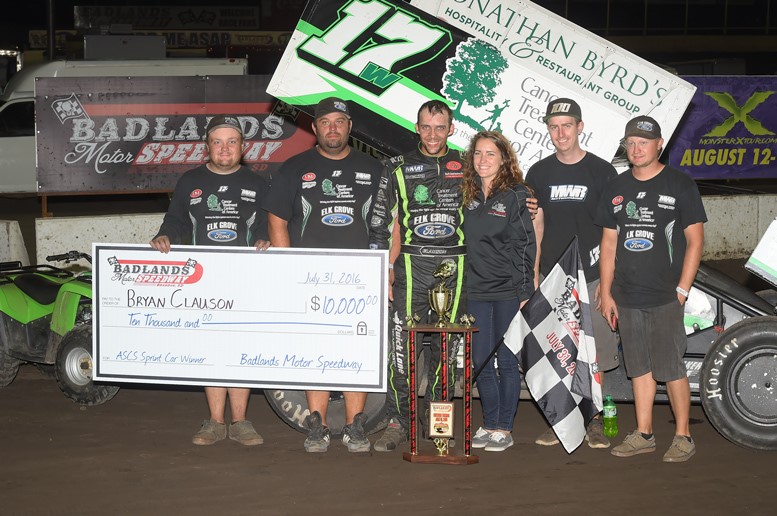 Lonnie Wheatley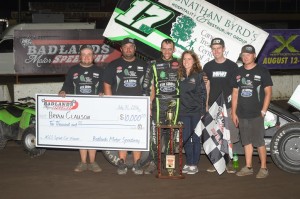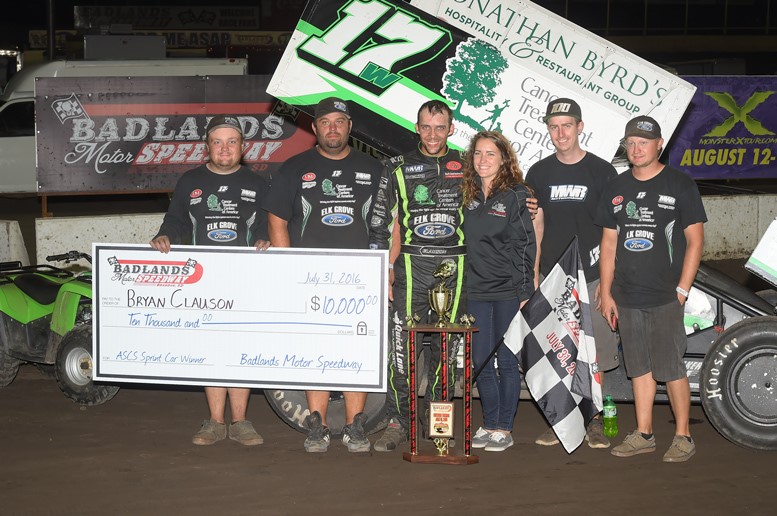 BELOIT, Kan. (August 3, 2016) – From Indiana to South Dakota, Minnesota and Iowa.
Right into a week that began in Nebraska before meandering into Kansas and then to Iowa and back again.
It's just the route for Bryan Clauson on the "Circular Insanity" pursuit of 200 races.  The number has climbed to 113 and counting going into Wednesday night's USAC Midget action at Beloit, KS.  And the win count has moved up to as well to 26 after taking Sunday night's $10,000 ASCS payday at the Badlands Motor Speedway.
With the Knoxville Nationals just one week away, a full complement of events precedes with a Knoxville 360 Nationals night on Thursday before returning to Kansas' Belleville High Banks for a Midget Nationals title defense on Friday and Saturday.  And Clauson will even throw in a winged 305 outing on Saturday night with the URSS group.
Two hundred races.  Into the final half and picking up steam.
The most recent in "Circular Insanity"…
Race 105
After two idle days, Clauson and Matt Wood's Elk Grove Ford/Cancer Treatment Centers of America No. 17w winged Sprint Car took on the All Stars for two nights of Indiana Dirt Classic competition at Kokomo Speedway on July 22-23.  While the speed was there, it was two nights that didn't go as planned.
"Kokomo was bad.  Friday started bad and ended bad.  We ran up front there quite a while, then got caught battling Rico there for second and got in the fence, ended the night."
Race 106
Night two of the Dirt Classic at Kokomo produced a similar result.
"We were able to dig ourselves out of a little bit of a hole in the heat races and started 12th.  I got down to the bottom where we wanted to be then got jammed up going into turn one and became the pinball.  It was my fault putting myself in a bad spot that early and ended what was a bad weekend."
Race 107
Following a four day break, action shifts to ASCS competition at South Dakota's Park Jefferson Speedway last Thursday, July 28, with Clauson racing to his 51st top-five finish of the year with a fourth-place run.
"It was a solid night for us.  We started on the outside front row and won the heat race, then redrew the five.  By the time the feature came around, the track got pretty tough to move, it was limited to the bottom.  We had to stay patient there, we ran right with Johnny (Herrera) and Josh (Baughman) for second and third, but just never could mount anything to make a run at them."
Race 108
A double-dip at Minnesota's Jackson Motorplex followed with Clauson rebounding from a cut tire while leading early to salvage a seventh-place finish in the winged 360-ci feature.
"We started ninth in the heat and ran second, so that put us on the pole for the feature.  We got out front and set sail, but ended up getting a flat left rear.  We ran over something, there was a pretty good gash in the tire.  We went back to 26th at that point right before halfway, we were able to get back to seventh.  Overall it was still a really good run, but obviously a heartbreaker."
Race 109
The $20,000-to-win NSL 410 portion followed with Clauson an unfortunate early casualty.
"We qualified ninth, then started third in the heat and won it.  That put us fifth in points, so with the inversion we started third.  I didn't get the best of starts and fell back a little bit.  I was kinda rolling around there and then had a left front issue that ended our night.  It was kind of a bummer, it was a big paying show at a place that we've ran well in the past.  At the time we were running right behind Kerry (Madsen) who ended up winning the race, so who knows what could have happened."
Race 110
Another double followed on Saturday night at Knoxville Raceway with Clauson earning a podium finish of third in 360-ci action.
"We started front row outside with the inversion.  We were alongside Clint (Garner), so that was a tough draw for the front row.  I fell into second on the start and was trying to chase him down, but just wasn't quite good enough to do anything with him.  While we were moving around, I let Jamie (Ball) by late and ended up third."
Race 111
One more 410-ci outing at Knoxville before this Sunday's Capitani Classic netted an eighth-place showing.
"We didn't qualify that well, ended up 12th.  We got through the heat race, started fourth and ran second.  We started 11th in the feature, got a decent start and kind settled in tenth then took advantage of a restart to get to eight.  We were using it as a little bit of a test and tune.  We have a package that we really like there at Knoxville.  We tried to deviate from it a little bit and it didn't work.  We were okay, it was still a solid night."
Race 112
A $10,000 payday was up for grabs at Sunday's ASCS card atop the Badlands Motor Speedway oval and Clauson cashed in by capturing his 26th win of the year.
"We started third in our heat and got a really good start and actually slide Baughman for the lead in the first corner.  Once we got out front we were able to drive away, that put us in the redraw and we got a three.  I got another good start and still settled in third, then kind of picked off a car there five or six laps and set our sights on the 75 (Tommy Barber).  I didn't have time to go to work on him because he got caught up in some lapped traffic issues and kinda handed us the lead.  From there, it was about making another 20 good laps.  I moved around enough to when it did finally lay rubber, we were able to find it and make sure we didn't give them any opportunity."
Race 113
It was back to USAC Midget action on Tuesday night at Fairbury, Nebraska's Jefferson County Speedway aboard the Dooling Machine/Cancer Treatment Centers of America/Jonathan Byrd's Restaurant & Hospitality Group No. 63 Midget.  After some qualifying issues, Clauson earned Hard Charger honors by racing from 13th to fourth in the feature.
"After we got some early issues straightened out, we had a good car.  We actually would have been better without that caution, the top was cleaned off and we were making progress.  The top got dirty under that yellow and we didn't get going quite as well."
2016 Circular Insanity Tour Quick Stats:  113 races, 26 wins, 54 top-fives, 74 top-tens.
Up Next:
Wednesday – USAC Midgets at Solomon Valley Raceway in Beloit, KS (Dooling Machine/Cancer Treatment Centers of America/Jonathan Byrd's No. 63 Midget)
Thursday – Knoxville 360 Nationals at Iowa's Knoxville Raceway (Elk Grove Ford/Cancer Treatment Centers of America No. 17w winged Sprint Car)
Friday – USAC Midgets at Belleville (KS) Highbanks (Dooling Machine/Cancer Treatment Centers of America/Jonathan Byrd's No. 63 Midget)
Saturday – USAC Midgets at the Belleville (KS) Midget Nationals and winged 305-ci Sprint Cars (Dooling Machine/Cancer Treatment Centers of America/Jonathan Byrd's No. 63 Midget and Webster No. 9 Sprint Car)
Sunday – Knoxville (IA) Raceway Capitani Classic (Elk Grove Ford/Cancer Treatment Centers of America No. 17w winged Sprint Car)
Monday – Southern Iowa Speedway (Oskaloosa) Front Row Challenge (Elk Grove Ford/Cancer Treatment Centers of America No. 17w winged Sprint Car)
Keep Track:  Keep track of Bryan Clauson's 2016 Circular Insanity Tour at www.bryanclauson.com, on Facebook at https://www.facebook.com/bryanclausonracing/?fref=ts and on Twitter at @bryanclausoninc.
If you would like Bryan Clauson "Circular Insanity Tour" press releases e-mailed directly to you, send your e-mail address to Lonnie Wheatley at lonniewheatley@gmail.com.
Penning the recurring series of "The Wheatley Chronicles" articles on www.sprintcarmania.com, Lonnie Wheatley provides media, public relations and more for select tracks, drivers and events.  For more information, Wheatley may be contacted at lonniewheatley@gmail.com.