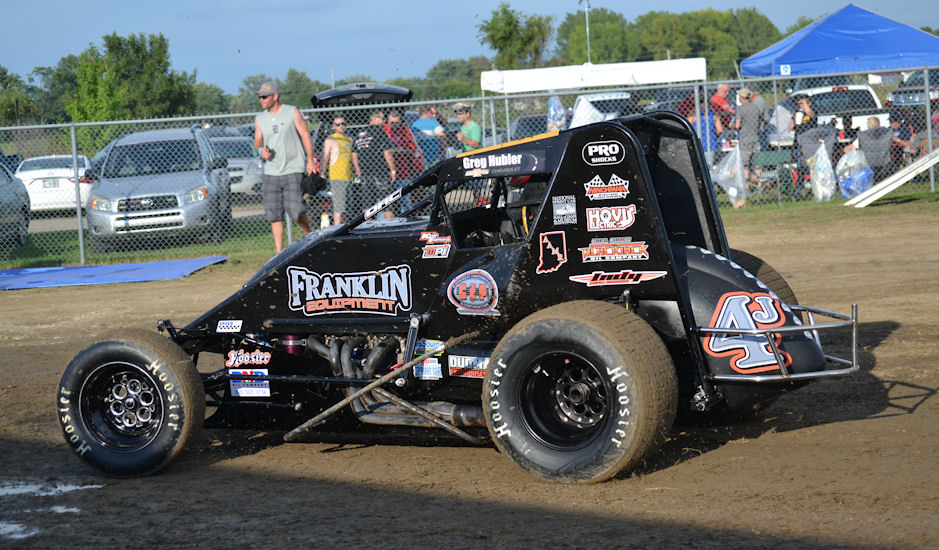 By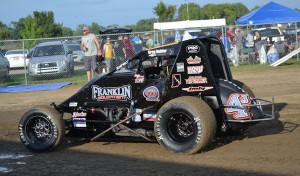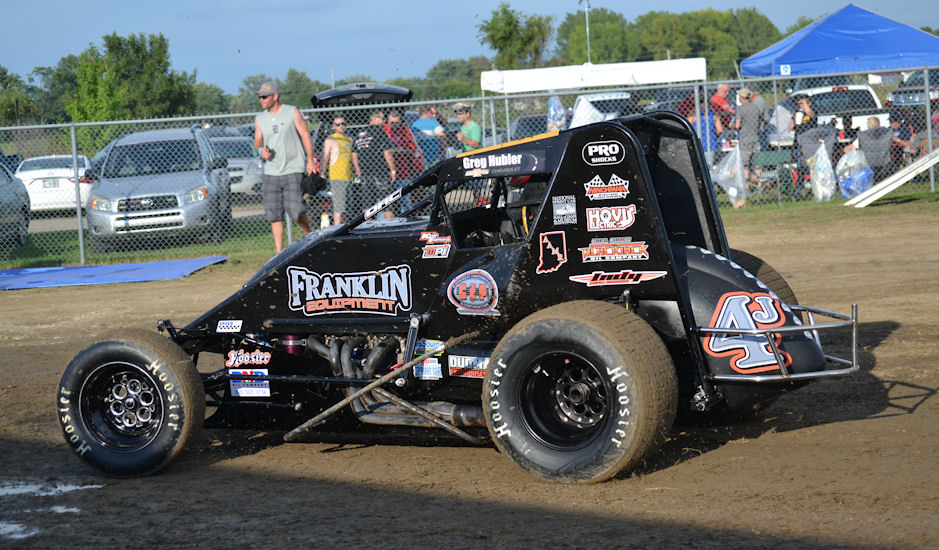 Bob Buffenbarger
Kokomo,In (8-27-2016)-Kevin Thomas Jr. Took command of "Sprint Car Smackdown V" on lap six after passing Tyler Courtney and Chad Bosepflug and went on to capture the 40 lap feature at Kokomo Speedway Saturday night.
Courtney and Thomas Meseraull started on the front row with Courtney leading the initial circuit with T Mez right on his bumper. But on lap two, something broke on Meseraull's mount sending him into the turn four wall bringing out the yellow.
When the green flew again Courtney led Bosepflug and Thomas but the tables quickly turned with Thomas leading on lap six with Bosepflug and Courtney trailing. Then a red stopped action as Zach Daum tumbled going into one on lap eight. Daum was okay.
Back to green with Thomas leading Bosepflug. Shortly after, Kyle Robbins brought out the red as he took a hard spill in turn two. Robbins was not injured.
At the half way mark Thomas still led with Bosepflug, Chris Windom, Dave Darland, Kyle Cummins and Justin Grant trailing.
With 30 in the books, Thomas caught traffic and Bosepflug and Windom quickly closed on the leader but Thomas would have none of it leaving the duo in the dust. The remaining laps saw Thomas maintain his advantage followed by Bosepflug, Windom, Dave Darland, Kyle Cummins and Justin Grant.
USAC AMSOIL SPRINT CAR NATIONAL CHAMPIONSHIP RACE RESULTS: August 27, 2016 – Kokomo, Indiana – Kokomo Speedway – "Sprint Car Smackdown V"
      SIMPSON RACE PRODUCTS FIRST QUALIFYING RACE: (10 laps) 1. Robert Ballou (#1 Ballou), 2. Zach Daum (#5D Daum), 3. Kyle Cummins (#3R Rock Steady), 4. Logan Jarrett (#29 Jarrett), 5. Isaac Chapple (#52 LNR), 6. Tyler Thomas (#04 Burton), 7. Josh Spencer (#66J Spencer). 2:13.80
      CONPETITION SUSPENSION (CSI) SECOND QUALIFYING RACE: (10 laps) 1. Dave Darland (#11 Walker/Curb-Agajanian), 2. Shane Cottle (#57 Hazen), 3. Jarett Andretti (#18 Andretti), 4. Aaron Farney (#15F Farney), 5. Tyler Hewitt (#97x One More Time), 6. Brian Karraker (#23K Karraker), 7. Tim Creech (#2c Creech). 2:13.45
      BENIC ENTERPRISES THIRD QUALIFYING RACE: (10 laps) 1. Brady Bacon (#69 Dynamics), 2. Jon Stanbrough (#81 Stanbrough), 3. Brent Beauchamp (#34 Olson), 4. Colten Cottle (#1RL Lambertson), 5. Kyle Robbins (#17R Robbins), 6. Joe Bares (#19 TEST). 7. Cole Ketcham (#41K, Ketcham). NT
      ALSO AT THE TRACK:Hunter Schuerenberg (#2E Epperson).
      B & W AUTO MART "KING OF THE HILL" 2-CAR SHOOTOUTS: (3 laps each) Round 1: Thomas Meseraull (#17GP Dutcher) defeated Chase Stockon (#32 32 TBI); Chad Boespflug (#98E NineEight/EZR) defeated C.J. Leary (#66 Amati); Tyler Courtney (#23c TOPP) defeayed Chris Windom (#5 Baldwin); Kevin Thomas, Jr. (#4J 4J Motorsports) defeated Justin Grant (#17, McGhee). Round 2: Meseraull defeated Boespflug and Courtney defeated Thomas Jr. Final Round: Courtney defeated Meseraull.
      INDY RACE PARTS B MAIN: (15 laps) 1. T.Thomas, 2. Farney, 3. Jarrett, 4. C.Cottle, 5. Robbins, 6. Karraker, 7. Hewitt, 8. Chapple, 9. Spencer, 10. Bares, 11. Creech. 3:28.93
      FEATURE: (40 laps) 1. Kevin Thomas Jr., 2. Chad Boespflug, 3. Chris Windom, 4. Dave Darland, 5. Kyle Cummins, 6. Justin Grant, 7. Tyler Courtney, 8. Brady Bacon, 9. C.J. Leary, 10. Tyler Thomas, 11. Shane Cottle, 12. Jon Stanbrough, 13. Logan Jarrett, 14. Robert Ballou, 15. Aaron Farney, 16. Chase Stockon, 17. Jarett Andretti, 18. Brent Beauchamp, 19. Kyle Robbins, 20. Colten Cottle, 21. Zach Daum, 22. Thomas Meseraull. NT
——————————–
**Ketcham flipped during the third heat. Daum flipped on lap 9 of the feature. Robbins flipped on lap 15 of the feature.
FEATURE LAP LEADERS: Laps 1-5 Courtney, Laps 6-40 K.Thomas Jr.
KSE HARD CHARGER: Tyer Thomas (18th-10th)
NEW USAC AMSOIL SPRINT CAR NATIONAL CHAMPIONSHIP STANDINGS: 1-Bacon-2,092, 2-Ballou-1,919, 3-Stockon-1,859, 4-Meseraull-1,851, 5-Darland-1,748, 6-Boespflug-1,725, 7-Leary-1,702, 8-Windom-1,580, 9-Max McGhee-1,264, 10-Farney-1,155.
NEXT USAC AMSOIL SPRINT CAR NATIONAL CHAMPIONSHIP RACE (Special Event): September 2 – Kokomo (IN) Speedway – "Bryan Clauson Celebration of Life"