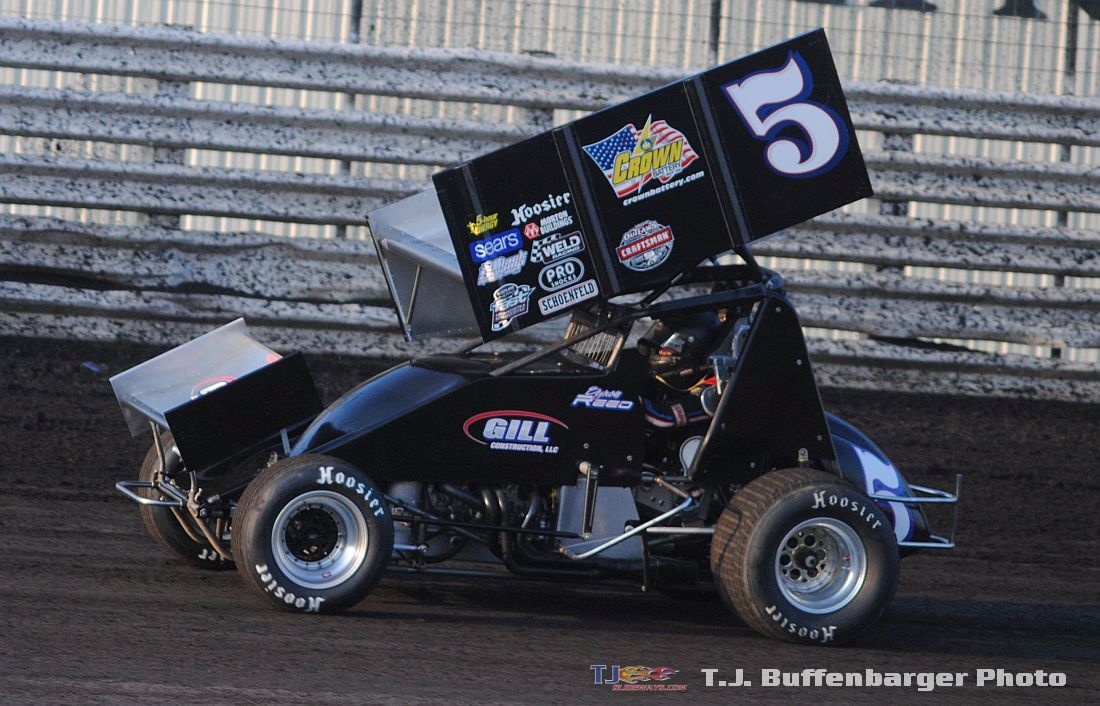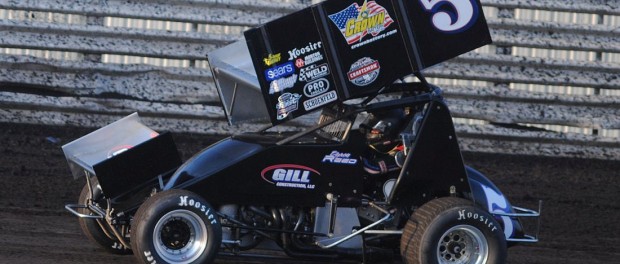 From Brian Liskai
ATTICA, Ohio (September 2, 2016) — In the O'Reilly Auto Parts 410 sprints Friday night at Attica Raceway Park recently crowned track champion Byron Reed would grab the lead at the white flag just before a red flag and held on the final one lap shoot out to score his fourth win of the year at Attica. It was the 35th career win at the track for the eight time champion. And, it pads his point lead in the $10,000-to-win Kistler Racing Products FAST Championship Series presented by KS Sales and Service with just one point night left, that at Fremont Speedway in a couple of weeks.
"The slower you enter on the bottom, the better you come off. It was good racing…good guys to race with. It's tough to be the leader in lapped traffic (Craig Mintz) and I was able to go where they weren't," said Reed beside his Crown Battery, Ken Gill Construction backed machine.
With 12 laps scored it was a tremendous three car battle for the lead with Martin, Price-Miller and Craig Mintz. Reed would join the fracas by lap 15. Mintz drove into the lead on lap 16 with Martin and Reed challenging. The four car battle up front got very interesting as they raced into heavy lapped traffic by lap 17. That allowed Travis Philo to close. A caution would halt the tremendous action on lap 20 with Mintz leading Reed, Price-Miller, Philo and Tim Shaffer.
Back to green and Mintz was holding off Reed with Philo blasting into third, bringing Shaffer to fourth. Following a caution on lap 23, Mintz would find his groove and pulled away slightly as Reed was left to try and fend off Philo with Shaffer, Price-Miller and D.J. Foos giving chase.
With four laps to go, Mintz was racing through lapped traffic, making a fantastic move to split two in the middle of turns three and four. That allowed Reed, who found the extreme bottom groove to his liking, to close quickly. Coming to the white flag Reed rocketed off the bottom to take the lead over Mintz and Philo just as the red flew for a small engine fire on Spithaler's machine. For the one-lap sprint to the checkers the running order was Reed, Mintz, Philo, Shaffer, Price-Miller, Foos, Randy Hanagan and Jacobs.
Reed got an excellent restart and drove to the win over Mintz, Philo, Shaffer and Price-Miller.
The 2016 season wraps up at Attica Raceway Park on Saturday, Sept. 3 with the first ever Dirt Classic Ohio paying $10,000 to the winner and featuring the Arctic Cat All Star Circuit of Champions Sprints with the Attica late models and 305 sprints in competition.
1.2-Parker Price-Miller, 12.344; 2.09-Craig Mintz, 12.492; 3.49-Tim Shaffer, 12.528; 4.5R-Byron Reed, 12.559; 5.33M-Max Stambaugh, 12.691; 6.38-Dean Jacobs, 12.724; 7.83M-Broc Martin, 12.730; 8.97-Gary Taylor, 12.741; 9.5T-Travis Philo, 12.749; 10.9X-Cole Duncan, 12.780; 11.68G-Tyler Gunn, 12.790; 12.11N-Randy Hannagan, 12.871; 13.23-DJ Foos, 12.877; 14.5J-Jarrod DeLong, 12.906; 15.16-Stuart Brubaker, 12.915; 16.60-Jody Keegan, 12.924; 17.22M-Dan McCarron, 13.156; 18.19-Brandon Spithaler, 13.170; 19.9Z-Duane Zablocki, 13.199; 20.45L-Brian Lay, 13.216; 21.8J-Jess Stiger, 13.242; 22.7-Shawn Valenti, 13.313; 23.9-Jordan Ryan, 13.463; 24.33K-Kyle Patrick, 13.535; 25.73-Chris Andrews, 14.303; 26.6-Sean Hosey, 99.990;
Heat 1, Group A – (8 Laps, top 6 to A)
1. 38-Dean Jacobs[1] ; 2. 49-Tim Shaffer[3] ; 3. 5R-Byron Reed[2] ; 4. 2-Parker Price-Miller[4] ; 5. 97-Gary Taylor[5] ; 6. 68G-Tyler Gunn[7] ; 7. 9Z-Duane Zablocki[8] ; 8. 8J-Jess Stiger[9] ; 9. 9X-Cole Duncan[6]
Heat 2, Group B – (8 Laps, top 6 to A)
1. 83M-Broc Martin[2] ; 2. 09-Craig Mintz[4] ; 3. 23-DJ Foos[5] ; 4. 11N-Randy Hannagan[1] ; 5. 33M-Max Stambaugh[3] ; 6. 9-Jordan Ryan[8] ; 7. 60-Jody Keegan[7] ; 8. 5J-Jarrod DeLong[6] ; 9. 73-Chris Andrews[9]
Heat 3, Group C – (8 Laps, top 6 to A)
1. 16-Stuart Brubaker[3] ; 2. 19-Brandon Spithaler[1] ; 3. 5T-Travis Philo[4] ; 4. 22M-Dan McCarron[2] ; 5. 33K-Kyle Patrick[7] ; 6. 45L-Brian Lay[5] ; 7. 7-Shawn Valenti[6] ; 8. 6-Sean Hosey[8]
B-Main 1 – (12 Laps, top 6 to A)
1. 60-Jody Keegan[2] ; 2. 9Z-Duane Zablocki[1] ; 3. 73-Chris Andrews[8] ; 4. 7-Shawn Valenti[3] ; 5. 9X-Cole Duncan[7] ; 6. 5J-Jarrod DeLong[5] ; 7. 8J-Jess Stiger[4]
A-Main 1 – (35 Laps)
1. 5R-Byron Reed[10] ; 2. 09-Craig Mintz[3] ; 3. 5T-Travis Philo[6] ; 4. 49-Tim Shaffer[8] ; 5. 2-Parker Price-Miller[4] ; 6. 23-DJ Foos[5] ; 7. 11N-Randy Hannagan[12] ; 8. 38-Dean Jacobs[1] ; 9. 33M-Max Stambaugh[15] ; 10. 73-Chris Andrews[21] ; 11. 97-Gary Taylor[11] ; 12. 45L-Brian Lay[18] ; 13. 83M-Broc Martin[2] ; 14. 16-Stuart Brubaker[9] ; 15. 33K-Kyle Patrick[16] ; 16. 60-Jody Keegan[19] ; 17. 9-Jordan Ryan[17] ; 18. 68G-Tyler Gunn[14] ; 19. 22M-Dan McCarron[13] ; 20. 5J-Jarrod DeLong[24] ; 21. 19-Brandon Spithaler[7] ; 22. 9X-Cole Duncan[23] ; 23. 9Z-Duane Zablocki[20] ; 24. 7-Shawn Valenti[22]
Hard Charger: 73-Chris Andrews +11