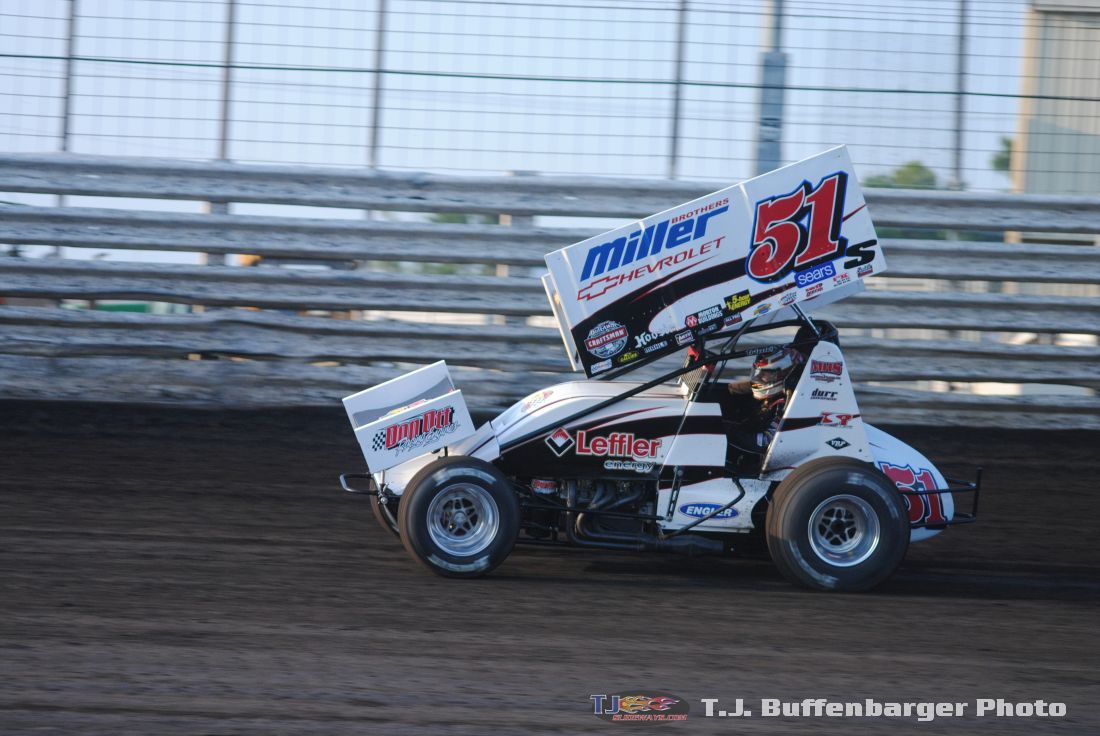 From Williams Grove Speedway
MECHANICSBURG, Penn (September 4, 2016) – Stevie Smith doesn't visit Williams Grove Speedway too often for regular handicap shows, but he was in the field Sunday night for the Billy Kimmel Memorial and he made the most of it by picking up the $4,300 win in Fred Rahmer's No. 51.
"It has been tough this year," said Smith. "We just haven't been able to get out here (victory lane). It feels good to get back to victory lane. Fred is a great car owner. It's nice to be a part of this."
Rodney Westhafer –who had his sprinter painted like the Kimmel No. 47 – started on the pole and drove into the lead to start the 25-lap main event over Cory Haas, who slid to second starting spot after Eric Tomecek failed to start.
Westhafer reached lapped traffic with seven laps completed and a 1.198 second lead. He slipped a little on the cushion in turn two allowing Haas to close. Westhafer and Haas would get by the lapped car and Haas challenged for the lead once again.
Smith was originally scheduled to start eighth, but moved up to sixth. He'd take third from Ryan Smith just before the first caution flag of the event on lap 11 for a slowing Austin Burke in turn four.
Westhafer pulled away as Smith worked Haas for second. An inside move off turn two got Smith the spot on lap 13. He was 1.701 seconds behind.
He slowly gained on the leader, but when Westhafer tried to duck low on a lapped car, Smith closed dramatically.
Westhafer went low off turn two to lap Nicole Bower as Smith worked the top groove. The next time through the turns, Smith went low and drove by off the corner to take the lead with three laps to go.
"When you're running second or third, you just go the opposite direction or take a chance, but when you're leading you're trying to hold onto the lead and sometimes that's a disadvantage," said Smith. "The caution came out and bunched us first three up. I had just passed two in the same corner. It was a good night tonight."
Westhafer tried to get under a lapped car in turn three and lost control spinning across the track collecting fourth running Ryan Smith and fifth running Brock Zearfoss with three laps to go. Nobody was hurt.
Smith controlled the restart although Haas stayed with him. As they headed for the checkers, the yellow flag flew instead for Zearfoss who spun in turn two.
An uneventful final lap saw Smith take the win over Haas, Hodnett, Lincoln track champion Alan Krimes and Doug Esh. Lucas Wolfe, Brian Montieth, Danny Dietrich, Freddie Rahmer and Tim Glatfelter rounded out the top 10.
Dietrich, Hodnett and Montieth won the sprint car heats.
In the companion 20-lap super sportsman feature, it was Kenny Edkin starting on the pole grabbing the early race lead. Nine time track champion Frankie Herr moved into second with 10 laps to go. Herr would pass Edkin on the frontstretch with six laps to go. He would go on to pick up his 28th career super sportsman win at the Grove.
Edkin, Scott Dellinger, Scott Geesey and Jay Fannasy completed the top five. Paul Miller, Russ Mitten, Rich Eichelberger, Davey Walsh and Steve Fannasy rounded out the top 10.
Herr, Dellinger and Geesey won the super sportsman heats.
Sprint Car Feature (25 laps): 1. Stevie Smith. 2. Cory Haas. 3. Greg Hodnett. 4. Alan Krimes. 5. Doug Esh. 6. Lucas Wolfe. 7. Brian Montieth. 8. Danny Dietrich. 9. Freddie Rahmer. 10. Tim Glatfelter. 11. Chase Dietz. 12. Chad Trout. 13. Ryan Smith. 14. Carl Bowser. 15. Brock Zearfoss. 16. Nicole Bower. 17. Troy Fraker. 18. Rodney Westhafer. 19. AJ Flick. 20. Steve Buckwalter. 21. Kyle Pruitt. 22. Austin Burke. 23. George Streaker. DNS: Eric Tomecek.
Super Sportsman (20 laps): 1. Frankie Herr. 2. Kenny Edkin. 3. Scott Dellinger. 4. Scott Geesey. 5. Jay Fannasy. 6. Paul Miller. 7. Russ Mitten. 8. Rich Eichelberger. 9. Davey Walsh. 10. Steve Fannasy. 11. Tony Jackson. 12. Justin Foster. 13. Teddy Thomas. 14. Rick Barr. 15. Bruce Buckwalter. 16. Lanny Hake. 17. Russ Lebo. 18. Troy Hockenberryy. 19. John Stoll Jr. 20. Gregg Foster. 21. Dave Berkheimer. 22. Dave Conrad.