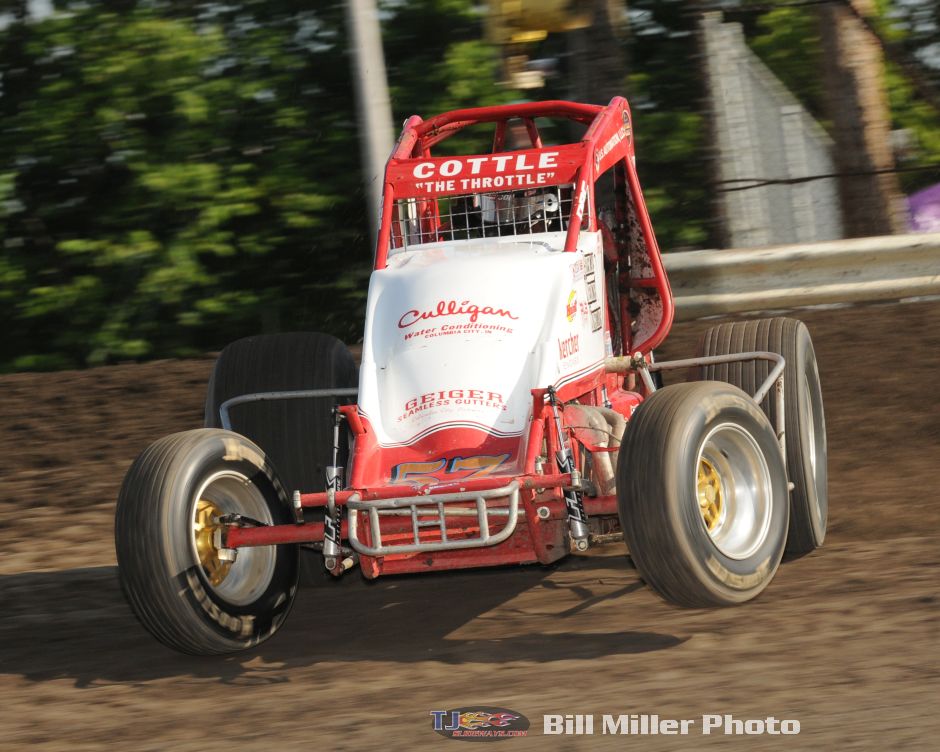 By Brian Liskai
FREMONT, Ohio – Shane Cottle had a lot to live up to Saturday night at Fremont Speedway. The Paul Hazen owned sprint car has visited victory lane at "The Track That Action Built" on a couple occasions with other drivers.
"The Throttle" Cottle, from Kokomo, Ind., used lapped traffic to take the lead in the Rick's Truck and Equipment Buckeye Outlaw Sprint Series (BOSS) feature on lap 10 and held off Dustin Smith for his first career Fremont victory.
It was a lightening quick track on Kear's Speed Shop/Fort Ball Pizza Palace Open Wheel Shoot Out Night. After 10 heats were completed in just over an hour, a shower hit the track causing a 50 minute delay and creating a very tacky surface.
"Every time we've been here we've been pretty darn fast. I let one get away here last year and one this year. She was pretty hooked up tonight. I had to keep hitting my marks. I about busted my butt in turn three one time so I kind of slowed down getting into there. The track crew did a heck of a job getting this track back in shape after the rain. I have to thank Kercher Engines, Paul Hazen, Dave Booth and everyone who helps on this car," said Cottle in the Engine Pro Victory Lane.
Genoa, Ohio's Brian Lay survived a crash-filled 410 winged sprint feature, leading all 30 laps for his second win of the year at Fremont Speedway. It was his fourth career win at the track.
"Almost on every restart I carried the front tires from the cone all the way into turn one. And you really don't know what's going to happen when it sits down. Sometimes it's a little spooky. I have to thank Rich Farmer (track promoter) for doing one hell of job to get this race in for you fans. I want to thank all the fans who stuck around through the rain," said Lay beside his Robert Mucha Law; Seagate Sandblasting;Varga Farms; American Quality Stripping; Dave Story Equipment; Wood County Collision backed #45.
In the Fremont Federal Credit Union 305 sprint feature, a caution with six laps to go was the break Fremont's Paul Weaver needed. It wiped out a 4.5 second lead by Alvin Roepke and gave Weaver, who started 9th, a shot. Weaver used a lapped car in the final two corners on the last lap to get around Roepke for his fifth win of the year at Fremont Speedway. It is his 41st career win at the track and moves him into 9th on the track's all-time win list.
"I think he (Roepke) moved up thinking I was going to zoom around the top and the lapped car kind of boxed him in and I closed one eye and hoped I didn't hit the infield tire and squeezed it in there. I never got a chance to really watch Harold McGilton (who Weaver passed on the all-time win list) but they say he was one of the greats so this is a special accomplishment," said Weaver beside his Hampshire Racing Engines, M&L Excavating, Schiets Motorsports, WeaverPerformanceCenter backed #1w.
In the 25 lap non-wing sprint feature, Cottle and Shane Westerfeld brought the field to green, but Cottle was penalized for jumping the start and moved back to the second row. On the second attempt Westerfeld grabbed the lead over Dustin Stroup, Cottle, Dustin Smith and Chad Wilson. Westerfeld pulled away while a tremendous battle ensued for second between Stroup, Cottle and Smith. Cottle finally took the runner-up spot on lap four with Smith moving into third a circuit later.
Westerfeld drove into heavy lapped traffic by the eighth circuit, allowing Cottle to slowly close while Smith, Stroup and Wilson gave chase. Cottle used the traffic to drive into the lead on lap 10 with Smith grabbing second two laps later. The only caution of the feature flew on lap 13 for Derek Hastings who stopped on the track. On the restart Cottle now had his hands full with Smith who was glued to the leader's rear bumper.
Cottle, Smith and Westerfeld ran nose to tail the rest of the feature. Smith kept waiting for Cottle to make a mistake, but the veteran hit his marks perfectly and drove to the win. Smith, Westerfeld, Stroup and Wilson would round out the top five.
When he took the green, Westerfeld locked up the 2016 BOSS championship, his second consecutive series title.
Lay and Craig Mintz brought the field to green for the 30-lap 410 winged sprint feature with Lay blasting into the lead over Mintz, Max Stambaugh, D.J. Foos, Chris Andrews and Bryan Sebetto. Stambaugh drove into second on lap two with Mintz staying glued to his rear bumper. Lay held a commanding lead as he raced into traffic on the fifth circuit. Cole Duncan brought the action to a halt on lap seven when he got upside down. He was uninjured but done for the night.
On the ensuing restart Jody Keegan took a tumble. He too was unhurt but done for the night. When the green flew again rookie Joey Pendergrass flipped and he too was okay but done for the night. Lay drove away on the next restart with Stambaugh, Mintz, Foos and Brubaker in tow. Just as Lay caught the back of the field again, Broc Martin flipped on lap 12. He was okay but done for the feature.
When the green flew so did Lay, pulling away to another commanding lead as Stambaugh and Mintz battled for second. Lay drove into traffic once again on lap 17 with Stambaugh, Mintz, Foos, Brubaker, Shawn Valenti and Brian Smith in pursuit. With eight laps to go smoke began to billow from Stambaugh's mount and finally let go on lap 23 as Foos got tangled with the powerless machine. The restart order was now Lay, Mintz, Brubaker, Valenti, Smith, Joe Swanson, Roger Campbell and Dakota Busche.
Lay motored away the final seven laps to score the win over Mintz as third running Brubaker got into the turn three fence on the final lap, moving Valenti to a third place finish. Smith and Swanson would round out the top five.
Roepke and Landon LaLonde brought the field to green for the 25-lap 305 sprint feature with Roepke gaining the advantage. LaLonde, Jason Keckler, Steve Rando, Matt Foos, Nate Dussel, Stroup and Weaver gave chase. Roepke set a blistering pace, encountering heavy lapped traffic by the sixth circuit. Roepke sliced his way through the traffic like a surgeon, building a huge lead as LaLonde continued to run second while a great four car battle ensued for third involving Keckler, Dussel, Weaver and Foos.
Roepke appeared to be on his way to his second win of the year, building a 4.6 second lead when Jordan Ryan would spin on lap 19. Weaver, who had just taken second from LaLonde, would restart right on Roepke's bumper. When the green flew Roepke held the point over Weaver as Keckler and Dussel got around LaLonde. As they took the white flag Weaver ran in Roepke's tire tracks. As they prepared to enter turn three on the final lap, Roepke got held up by a lapped car and drifted high to try and make a move, opening a narrow lane for Weaver who pounced.
Weaver drove under Roepke as they raced to the checkers with Weaver winning by half a car length. Dussel, Keckler and Foos rounded out the top five.
It was the season ending race for "The Track That Action Built" and Farmer passed on his thanks to all the fans, race teams and marketing partners, track workers, the emergency team and all the push trucks for making 2016 a great year.
For more information go to www.fremontohspeedway.com.
Fremont Speedway
Saturday, Oct. 1, 2016
Fort Ball Pizza Palace/Kear's Speed Shop Night
Starting Position [*]
BOSS
Heat 1 (8 Laps, top 4 to A)
77-Dustin Smith[4] ; 2. 14-Chad Wilson[8] ; 3. 2DI-Dustin Ingle[10] ; 4. 18-Arnie Kent[7] ; 5. 74-Drew Rader[2] ; 6. 71-Straton Briggs[6] ; 7. 13-Jeremy Duposki[3] ; 8. 08-Andy Feil[1] ; 9. 18N-Frank Neill[9] ; 10. J1-Mark  Shultz[5]
Heat 2 (8 Laps, top 4 to A)
57-Shane Cottle[3] ; 2. 69R-Dallas Hewitt[2] ; 3. 21-Carmen Perigo[6] ; 4. 91x-Aaron Middaugh[5] ; 5. 4J-Justin Owen[7] ; 6. 53-Steve Little[1] ; 7. 18D-Bobby Distel[9] ; 8. 97J-Andy Fike[4] ; 9. 3-Joe Butera[8]
Heat 3 (8 Laps, top 4 to A)
4-Michael Fischesser[6] ; 2. 57B-Brandon Spithaler[7] ; 3. 2+-Brian Smith[4] ; 4. 2-Mike Galajda[9] ; 5. 9-Cody Gardener[1] ; 6. 87-Brian Gibbs[3] ; 7. 97-Scott Hardman[5] ; 8. 19-Matt Cooley[2] ; 9. 0-Steve Irwin[8]
Heat 4 (8 Laps, top 4 to A)
89-Shawn Westerfeld[2] ; 2. 1M-Dustin Stroup[5] ; 3. 33M-Matt Westfall[7] ; 4. 32M-Derek Hastings[1] ; 5. 9N-Luke Hall[8] ; 6. 9X-Cooper Clouse[9] ; 7. 0C-Chris Vandewiele[4] ; 8. 5-Bob McMillen[6] ; 9. 23L-Corbin Loggins[3]
B-Main 1 (10 Laps, top 3 to A)
74-Drew Rader[1] ; 2. 71-Straton Briggs[3] ; 3. 9-Cody Gardener[2] ; 4. 08-Andy Feil[7] ; 5. 87-Brian Gibbs[4] ; 6. 18N-Frank Neill[8] ; 7. 97-Scott Hardman[6] ; 8. J1-Mark  Shultz[9] ; 9. 13-Jeremy Duposki[5] ; 10. 19-Matt Cooley[10]
B-Main 2 (10 Laps, top 3 to A)
9N-Luke Hall[2] ; 2. 9X-Cooper Clouse[4] ; 3. 4J-Justin Owen[1] ; 4. 53-Steve Little[3] ; 5. 0C-Chris Vandewiele[6] ; 6. 18D-Bobby Distel[5] ; 7. 5-Bob McMillen[8] ; 8. 97J-Andy Fike[7] ; 9. 23L-Corbin Loggins[10] ; 10. 3-Joe Butera[9]
A-Main 1 (25 Laps)
57-Shane Cottle[1] ; 2. 77-Dustin Smith[5] ; 3. 89-Shawn Westerfeld[2] ; 4. 1M-Dustin Stroup[3] ; 5. 14-Chad Wilson[4] ; 6. 33M-Matt Westfall[12] ; 7. 4-Michael Fischesser[8] ; 8. 21-Carmen Perigo[10] ; 9. 9X-Cooper Clouse[20] ; 10. 2DI-Dustin Ingle[9] ; 11. 9N-Luke Hall[18] ; 12. 4J-Justin Owen[22] ; 13. 91x-Aaron Middaugh[14] ; 14. 2-Mike Galajda[15] ; 15. 71-Straton Briggs[19] ; 16. 18-Arnie Kent[13] ; 17. 2+-Brian Smith[11] ; 18. 9-Cody Gardener[21] ; 19. 32M-Derek Hastings[16] ; 20. 69R-Dallas Hewitt[7] ; 21. 74-Drew Rader[17] ; 22. 57B-Brandon Spithaler[6]
Hard Charger: 9x-Cooper Clouse +11
410 Sprints – FortBallPizzaPalace
Qualifying
1.97-Broc Martin, 12.305; 2.35-Stuart  Brubaker, 12.435; 3.8-Bryan Sebetto, 12.621; 4.16-Chris Andrews, 12.645; 5.33M-Max Stambaugh, 12.698; 6.23-DJ Foos, 12.699; 7.09-Craig Mintz, 12.723; 8.45L-Brian Lay, 12.741; 9.7V-Shawn Valenti, 12.755; 10. 22-Cole Duncan, 12.801; 11 .2+-Brian Smith, 12.907; 12.60-Jody Keegan, 13.085; 13.0-Steve Irwin, 13.100; 14.59-Bryan Nuckles, 13.294; 15.51-Roger Campbell, 13.395; 16. 7-Joe Swanson, 13.980; 17.1K-Joey Pendergrass, 14.238; 18.12X-Lou Scudere, 15.807; 19.10S-Jay Steinebach, 99.040; 20.16B-Dakota Busche, 99.180;
Heat 1 (8 Laps)
09-Craig Mintz[2] ; 2. 97-Broc Martin[4] ; 3. 60-Jody Keegan[5] ; 4. 16-Chris Andrews[3] ; 5. 7-Joe Swanson[1] ; 6. 51-Roger Campbell[6] ; 7. 10S-Jay Steinebach[7]
Heat 2 (8 Laps)
22-Cole Duncan[1] ; 2. 33M-Max Stambaugh[3] ; 3. 45L-Brian Lay[2] ; 4. 35-Stuart  Brubaker[4] ; 5. 0-Steve Irwin[5] ; 6. 16B-Dakota Busche[7] ; 7. 1K-Joey Pendergrass[6]
Heat 3 (8 Laps)
7V-Shawn Valenti[2] ; 2. 2+-Brian Smith[1] ; 3. 23-DJ Foos[3] ; 4. 8-Bryan Sebetto[4] ; 5. 59-Bryan Nuckles[5] ; 6. 12X-Lou Scudere[6]
A-Main 1 (30 Laps)
45L-Brian Lay[1] ; 2. 09-Craig Mintz[2] ; 3. 7V-Shawn Valenti[9] ; 4. 2+-Brian Smith[11] ; 5. 7-Joe Swanson[16] ; 6. 35-Stuart  Brubaker[7] ; 7. 51-Roger Campbell[15] ; 8. 16B-Dakota Busche[20] ; 9. 33M-Max Stambaugh[4] ; 10. 23-DJ Foos[3] ; 11. 8-Bryan Sebetto[6] ; 12. 12X-Lou Scudere[18] ; 13. 97-Broc Martin[8] ; 14. 16-Chris Andrews[5] ; 15. 22-Cole Duncan[10] ; 16. 60-Jody Keegan[12] ; 17. 1K-Joey Pendergrass[17] ; 18. 59-Bryan Nuckles[14] ; 19. 0-Steve Irwin[13]
Hard Charger: 16B-Dakota Busche +12
305 Sprints – Fremont Federal Credit Union
Heat 1 –  (8 Laps)
20I-Dustin Stroup[1] ; 2. 4M-Jamie Miller[3] ; 3. 13-Jeremy Duposki[2] ; 4. 1W-Paul Weaver[6] ; 5. 97-Kyle Peters[4] ; 6. 2-Ricky Peterson[7] ; 7. 7K-Brad keckler[5] ; 8. 47-Matt Lucius[8]
Heat 2 –  (8 Laps)
25-Jason Keckler[1] ; 2. 19R-Steve Rando[2] ; 3. 1X-Jordan Ryan[5] ; 4. 1-Nate Dussel[7] ; 5. 12-Kyle Capodice[4] ; 6. 51-Chase Dunham[3] ; 7. 5JR-Jimmy Mcgrath Jr[6] ; 8. 1J-Jeremy Shambaugh[8]
Heat 3 –  (8 Laps)
99-Alvin Roepke[2] ; 2. 77I-John Ivy[7] ; 3. 2F-Matt Foos[5] ; 4. 2L-Landon Lalonde[3] ; 5. 11G-Luke Griffith[6] ; 6. 32H-Dan Hennig[1] ; 7. 18R-Tony Beaber[4] ; 8. 14-Luke Daughtery[8]
A-Main 1 –  (20 Laps)
1W-Paul Weaver[9] ; 2. 99-Alvin Roepke[1] ; 3. 1-Nate Dussel[8] ; 4. 25-Jason Keckler[3] ; 5. 2F-Matt Foos[5] ; 6. 19R-Steve Rando[4] ; 7. 2L-Landon Lalonde[2] ; 8. 4M-Jamie Miller[7] ; 9. 12-Kyle Capodice[14] ; 10. 2-Ricky Peterson[16] ; 11. 77I-John Ivy[11] ; 12. 1X-Jordan Ryan[12] ; 13. 18R-Tony Beaber[21] ; 14. 32H-Dan Hennig[18] ; 15. 97-Kyle Peters[13] ; 16. 11G-Luke Griffith[15] ; 17. 5JR-Jimmy Mcgrath Jr[20] ; 18. 7K-Brad keckler[19] ; 19. 13-Jeremy Duposki[6] ; 20. 14-Luke Daughtery[24] ; 21. 1J-Jeremy Shambaugh[23] ; 22. 20I-Dustin Stroup[10] ; 23. 51-Chase Dunham[17] ; 24. 47-Matt Lucius[22]
Hard Charger: 1w-Paul Weaver +8