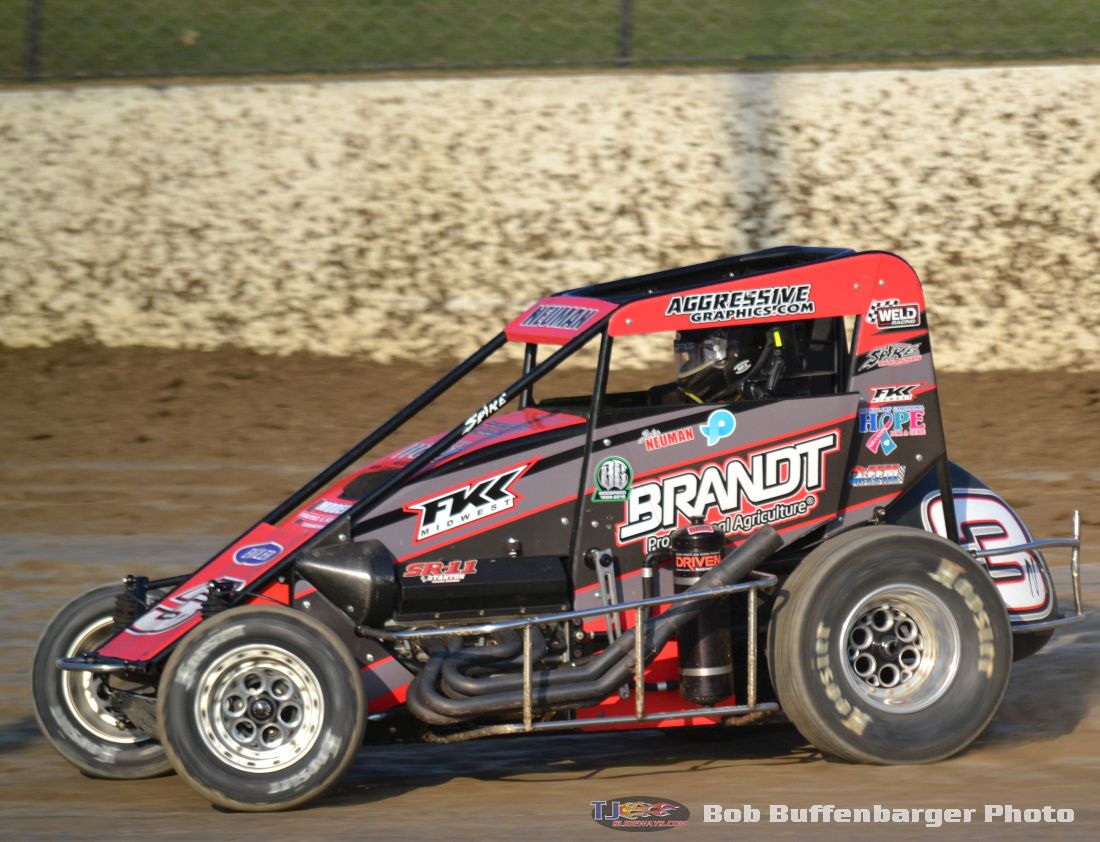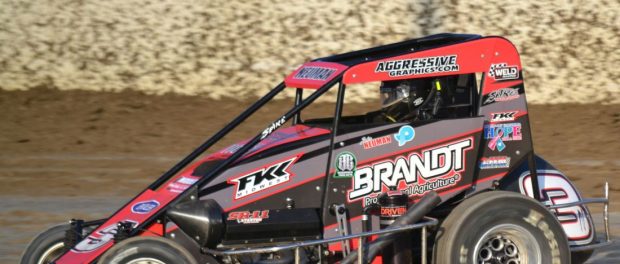 From POWRi
JACKSONVILLE, Ill. (October 14, 2016) — In typical thrilling fashion, Friday night's action at Jacksonville Speedway amazed fans by crowning a first time winner with the POWRi Lucas Oil National Midget Series. The icing on the cake was that the first time winner was New Berlin, Illinois' own, Jake Neuman. With his third place finish, Zach Daum was able to mathematically secure the 2016 POWRi Lucas Oil National Midget Series championship.
Neuman started in the seventh position as the field was led to the green flag by Tucker Klaasmeyer and Austin Brown. Getting the jump, Brown was able to take the early lead over Klaasmeyer, Justin Peck and Zach Daum. As Klaasmeyer closed in on Brown, it would be a matter of laps until he made his move for the lead, bringing Daum with him.
Two laps past halfway, Daum appeared ready to make his move for the lead, only for misfortune to strike in turn one as Andy Malpocker collided with a lap car and spun, collecting Andrew Felker and Kyle Schuett, while simultaneously Daum and Klaasmeyer collided in an attempt to avoid the commotion. After the caution was cleaned up, Brown inherited the lead with Neuman running second. At the drop of the green, Neuman went into attack mode and was wheels up on the high-banked quarter mile curb.
Gathering momentum, Neuman slid Brown for the lead and then went unchallenged in route to his first-career POWRi Lucas Oil National Midget Series feature victory. Brown followed in second with freshly minted 2016 champion, Zach Daum recovering to round out the podium. Rookie Ariel Biggs took home fourth, while Tucker Klaasmeyer rebounded to a fifth place finish.
"We were fast tonight," said first time victor, Jake Neuman. "This is big for me. Over drove it in the last few laps, but we got by Austin and we just made a run and made it up here."
"We didn't really have the car setup to lean against the cushion that much," commented Austin Brown. "It was good the first five or six laps. I couldn't really enter it the way I wanted to after that. But, I have to thank my guys. Congrats to Jake on the first win, I know how special mine was."
"It's nice to clinch the championship, but when you give a win away, it kind of sucks," stated Zach Daum. "But, a championship isn't won with a few races; it's won over a year. We started in March and were consistent and it paid off. Looking at the results, a third place finish isn't terrible."
Midgets
Speedway Motors Heat Race Winners: Heat 1: 5D – ZACH DAUM, Heat 2: 5X – JUSTIN PECK, Heat 3: 7 – AUSTIN BROWN
Great Clips Feature Winner: 3N – JAKE NEUMAN
POWRi Lucas Oil National Midget Series Feature Results (30 laps): 1. 3N – JAKE NEUMAN 2. 7 – AUSTIN BROWN 3. 5D – ZACH DAUM 4. 5B – ARIEL BIGGS 5. 27 – TUCKER KLAASMEYER 6. 1K – BRAYTON LYNCH 7. 5X – JUSTIN PECK 8. 7T – ADAM TAYLOR 9. 9K – KYLE SCHUETT 10. 22 – ANDY MALPOCKER 11. 1 – ZANE HENDRICKS 12. D33 – AJ HILL 13. 83B – JEFF BEASLEY 14. 73 – BROC HUNNELL 15. 11A – ANDREW FELKER 16. 88 – TERRY BABB 17. 5C – COLTEN COTTLE 18. 51J – RYAN JAMISON 19. 0 – JOHNNY MURDOCK 20. 15M – SHANE MORGAN 21. 13 – TYLER ROTH 22. 27B – AJ BURNS